I really appreciate the connection you make between art and map making.  I share your enthusiasm for historic maps and the remarkable perceptions and observations early explorers made in regions we have spent our lives in.
Thank you Lisa. You've been go great to deal with.  I really appreciate all the work you put into making the map of the Rainy River and the US / Canada border.
I am so pleased with my map of Lake Norman. It went to the frame shop two days after arriving. My husband and I have lived in this "inland sea" area for the majority of our 49 years of marriage. Your artwork will be forever cherished.
I  just love it will be perfect in our little bunkhouse at lake!! Thank you!
Love it! Great addition to our home.
I love the maps from Great River Maps. So colorful and great to hang in a home.
My husband absolutely loved it! High quality craftsmanship here and highly recommend! Thank you so much!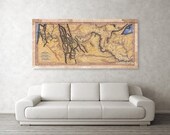 Perfect gift for my brother. His family skis Big Sky often so it's fun to talk about their favorite runs and memories of their trips.
Your work is amazing! My goodness. I had a hard time deciding between your beautiful Florida maps!!
I am thrilled to have stumbled across you, your business, and your maps.  Your call-back yesterday made my wife and I smile…Thank you for promptly returning my call!