Books published by Great River Publishing: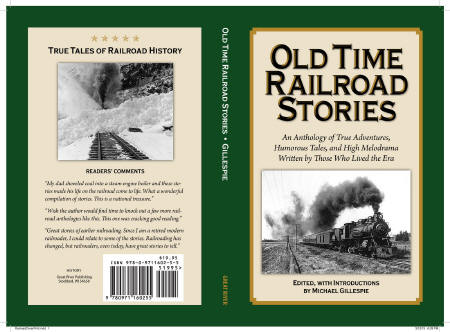 Our newest publication is for all those RAILROAD BUFFS who've requested a print version of Mike Gillespie's newest addition to his "Steam Era" collection. Michael offers the same thorough yet entertaining attention to historic accuracy that characterize both COME HELL OR HIGH WATER, and WILD RIVER, WOODEN BOATS! Full index, full glossary, and dozens of historic photographs!
Please Click here to order Old Time Railroad Stories.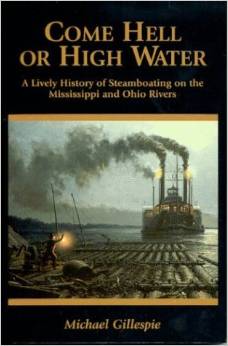 A Lively History of Steamboating… with a delightful and informative anthology of accounts from steamboat passengers, crews and journalists of the 19th century. Personal accounts of all aspects of steamboat travel from the development and construction of vessels, to steamboat races, accidents and the pleasures of Mississippi & Ohio river travel.
Please click here to order Come Hell or High Water.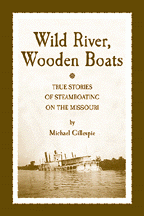 Steam Historian, Michael Gillespie, offers a rare intimate and fascinating look at the history of Steamboating on the Missouri River. Described as one of the very best histories of the era of steam on the Missouri River.
Please click here to order Wild River Wooden Boats.
To see Lisa's Book reading recommendations please Visit her Book Blog.
"…Nisbet turns his attention to David Douglas, the premier botanical explorer in the Pacific Northwest and throughout other areas of western North America. Douglas's discoveries include hundreds of western plants–most notably the Douglas Fir. The Collector tracks Douglas's fascinating history, from his humble birth in Scotland in 1799 to his botanical training under the famed William Jackson Hooker, and details his adventures in North America discovering exotic new plants for the English and European market. The book takes readers along on Douglas's journeys into a literal brave new world of then-obscure realms from Puget Sound to the Sandwich Islands. In telling Douglas's story, Nisbet evokes a lost world of early exploration, pristine nature, ambition, and cultural and class conflict with surprisingly modern resonances."
"In this true story of adventure, author Jack Nisbet re-creates the life and times of David Thompson: fur trader, explorer, surveyor, and mapmaker. From 1784 to 1812, Thompson explored western North America, and his field journals provide the earliest written accounts of the natural history and indigenous cultures of the what is now British Columbia, Alberta, Montana, Idaho, Washington, and Oregon. Thompson was the first person to chart the entire route of the Columbia river, and his wilderness expeditions have become the stuff of legend. Jack Nisbet tracks the explorer across the content, interweaving his own observations with Thompson's historical writings. The result is a fascinating story of two men discovering the Northwest territory almost two hundred years apart.
Jack and I both participated in celebrating the 75th Anniversary of the Founding of theSinlahekin Wildlife Area. He spoke about David Douglass and I restored and painted a map that features one of the earliest Indian allotments in Washington, predating the wildlife area, but in the same valley. It was featured in the Okanogan Valley Gazette-Tribune! (you have to zoom in and pan to the upper right to see the map.)  I love the opportunity to make a map for folks who treasure it.
DANCING AT THE RASCAL FAIR
by Ivan Doig
  "The central volume in Ivan Doig's acclaimed Montana trilogy, Dancing at the Rascal Fair is an authentic saga of the American experience at the turn of this century and a passionate, portrayal of the immigrants who dared to try new lives in the imposing Rocky Mountains."I'd highly recommend the audio version!  The reader speaks lovely Scottish brogue.  It's easy to care about the story because I live not-too-far from where it takes place!Dancing at the Rascal Fair, Ivan Doig
Magnificent Maps: Power, Propaganda and Art 
This book is a nod to the golden era of maps, " the period between 1450 and 1800, when maps were as much a practical tool for navigation as they were works of art and affirmations of cultural hegemony or social status ."
I just finished this book and wanted to mention it again.  Dear David Thompson was shipped from England at the age of 14, a ward of the state.  He worked for free until 17, at which time he was a clerk for 10 years for the Hudson's Bay Company.  He dreamed of a more fulfilling future and risked breaking with his countrymen to risk a future with the French Canadian company, the Northwesters.  For the rest of his career he dreamed of drawing a map-A great map-of his travels in the Canadian west he so methodically calculated all his life.  He did create this national treasure.  You'll have to read to see what happened next in a lifelong struggle to offer Canada a map of it's magnificent frontier.
Please see my monthly newsletter for other reading suggestions!