We now offer a one of a kind Family Legacy Service, which includes a 6 step by mail hands on custom map service for family properties.
Testimonials from other custom map customers:
"Lisa's custom-made map communicates both the rural nature of our area, natural beauty and the fiercely independent spirit of our residents in a beautiful color palette with rich, hearty colors." Private Client, Martha's Vineyard CT
"Working with you was a charm and so easy. You had a very tight framework and each deadline was met including helping me find a framer to complete the work. The entire experience was a dream and one I want to thank you from all of us." Corporate Client, Palo Alto CA 
"A group of us pooled our resources and ordered a custom map for our director and she cried over how beautiful it was! Lisa was very helpful and easy to work with and she created our map to be better than I could have imagined." Corporate Client, Issaquah WA 
"The [Danube]  map blew everyone away. I know it was a challenge when I contacted you and I personally cannot thank you enough for solving my challenge. The captains of the ships loved the prints so much, I gifted the framed samples to them at the end of the trip. They were very touched by your work!" Corporate Client, Traverse City MI
"Throughout the process of creating the map Lisa was in contact with me about the area to cover, and specific towns and features I wanted to include to personalize the map for us. The finished product is beautifully done, and made such a special, personal gift. I found Lisa very accommodating and easy to work with and would recommend her without reservation." Corporate Client, DE
"I was part of an organization that was looking for a retirement gift for a founding member. She had been a great preservationist of the Flathead Valley. The board wanted to honor her work and we thought of a map being a way to give her the area she had worked so hard to protect. I was thrilled when I found your custom maps. The Flathead Valley  was a perfect solution. You did a fabulous job customizing different aspects of the map and she was over the moon when she received it.
I had seen tour maps at an art show in Whitefish and had taken your card as tour work was so unique and special.
Over the weekend I was at a friends house and she had just purchased the map of Whitefish Lake from a gallery in Whitefish. She was hanging it in her new home. Beautiful piece also."
Click here for pricing details.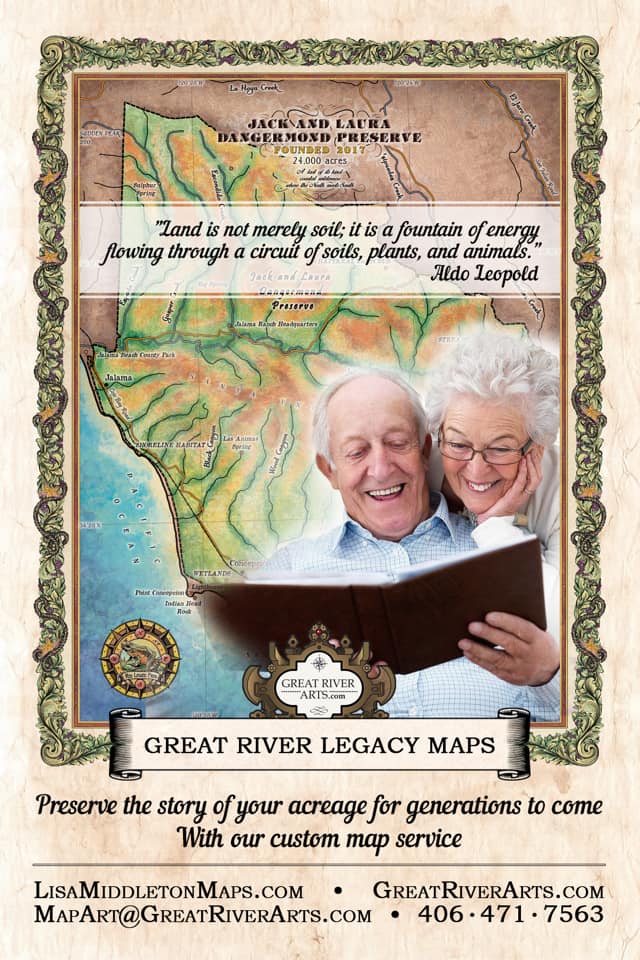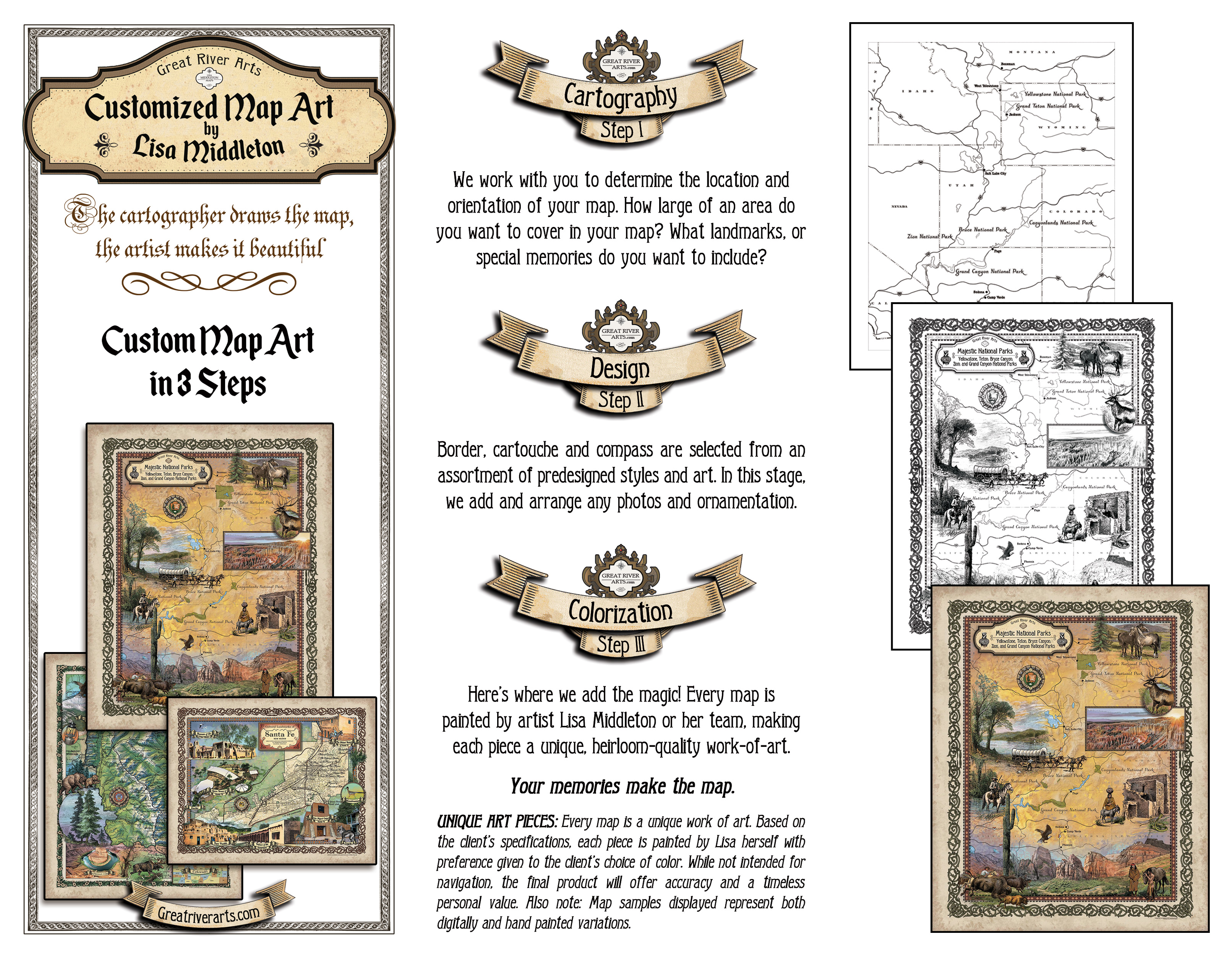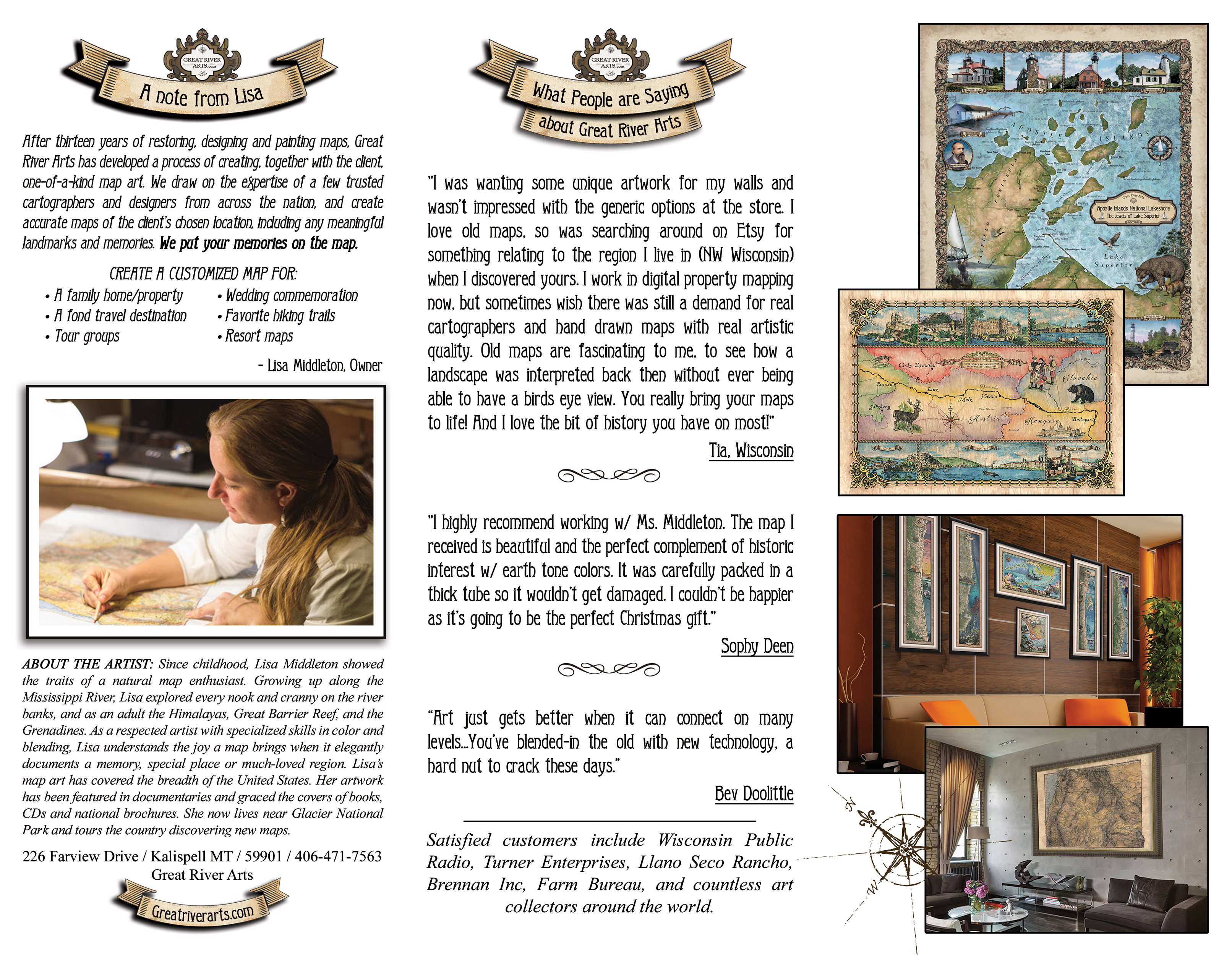 Our Custom Designed commemorative maps are fabulous for, fundraisers, weddings, families, resorts, travel groups and more!
"Throughout the years I have worked with many artists and not many of them get it as they like to create and not duplicate and not willing to change their work to make it marketable. Lisa has broken that mold and is very responsive and understand the our customer's needs when it comes to their local area. I carried one of her paper maps she sent me so my stores get an impression of her work as well as showed them images on a screen that we were working on. They liked the look and two stores that ordered from these images have already re-ordered." Chuck, Fish Box, Inc.
Whether it's a simple modification to a map we already have or building a custom map for you from scratch, we can build a delightful map that suits your purposes!
Please email [email protected] to schedule a free consultation.
Or Call 1888-255-7726.
View some fun videos below.
Here are some samples of some map designs below. It's important you look at our collection and let us know which ones you like best.