The Importance of a Thank-You Gift for Travel Companies
In these uncertain market times, retaining customers is of paramount importance. According to market research done by the company Virtual Incentives, 56% of customers said that
"receiving a personalized incentive would improve their consideration of the brand."
To put it another way; a personalized, commemorative gift would be a great way to ensure that clients keep coming back. After a great tour and adventure, giving something special to customers will especially make them remember their time with the tour group.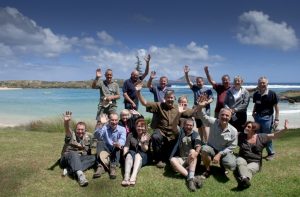 Little key chains and t-shirts are a dime a dozen. These are often tossed aside and forgotten by customers. But what if there was something more prominent, personal and unique to give to your travelers? This is something they could display and remember forever. They would talk to their friends and family members not only about the trip but the commemorative gift received afterwards as well.
Don't underestimate the power of word of mouth. Market research done by Nielsen, the network ratings agency "84% of consumers reported always or sometimes taking action based on personal recommendations. 70% said they did the same of online consumer opinions."
Word of mouth is still one of the best ways to establish a brand and gain new business. This effect applies across all mediums of communication as well.
A crafted, custom map makes a perfect commemorative gift for a trip that will help customers recommend your company.
The item serves several useful business functions. First of all it's practical! It's something clients can actually use while on one of your trips or tours. People tend to appreciate practical gifts.
Another way a custom map will help ensure customer loyalty is it can serve as a huge, framed business card. These maps are pieces are art, and customers will be inclined to put them in a frame and use it as a conversation piece. Then, while on display, imagine having your company's name and contact info conveniently imprinted in the corner. This business card definitely won't get forgotten in a back pocket or left out on a table.
Don't underestimate the simple act of appreciation or a thank you as well. A survey done by TD Bank demonstrated that the vast majority (77%) of consumers liked and remembered appreciation from companies. Moreover, the same survey showed that 44% of these customers especially liked it when the appreciation came in the form of a personalized thank you.
One of Great River Art's custom maps would make an ideal thank-you to your customers. The item is not only functional but will be remembered as well. The whole trip and itinerary you put together for them would be immortalized in a personalized, handmade map.
This will certainly stand out among the typical, boring piles of oft forgotten t-shirts and trinkets so commonly handed out by travel companies. The maps will spread your brand both literally and through word of mouth recommendations. A commemorative, custom map will help ensure customer loyalty and generate genuine appreciation for your brand.