Historic Map Artist, Lisa Middleton to Exhibit in La Crosse, Wisconsin, July 26-27
PRESS RELEASE (Photos and contacts below the release)
Artist Lisa Middleton, originally from La Crosse, Wisconsin, has been painting historic Mississippi River maps for more than a decade and her maps can be found in homes and businesses throughout the United States.  Middleton will be sharing her historic map paintings and their stories at the ART FAIR ON THE GREEN, UW-La Crosse Campus, July 26-27, 2014. Her exhibit will include hand-painted historic maps of the Mississippi River and the Wisconsin/Iowa Territory, as well as the Old Northwest in various media.
"I like to work on maps with history; maps of places people love; maps that have stories," Middleton said. She scours library collections and old bookstores for interesting maps, enlarges them at very high resolutions, and paints them using watercolor and oil pastels.

Middleton's favorite maps include authentic depictions of wagon roads, native villages and railroads. If a large river, such as the Missouri or the Mississippi is described as "source unknown," so much the better!
Many different things can make a map interesting to customers who often spend a great deal of time browsing through the maps, according to Middleton. Sometimes places on the map have disappeared… like "Waterproof" on Glazier's 1887 ribbon map.  Sometimes maps represent hopeful guessing, such as the Northwest passage created by the Missouri River on her 1732 De l'Isle map, "Carte de la Louisiane".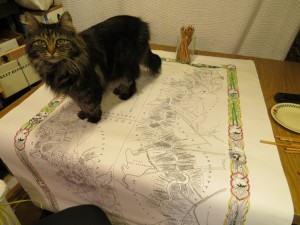 "Sometimes a map brings back a precious memory for a customer, or maybe there is just something about the colors or the location that 'lifts the spirit," as one map buff described it. Lisa offers her lively website at  www.greatriverarts.com for those interested in exploring map-related books, access to large galleries of Lisa's historic map paintings, or an insight into the artist's life.
In addition to historic maps of the Mississippi River Valley, Middleton's exhibit will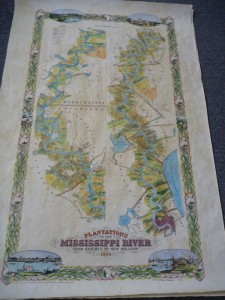 include a large selection of historic maps from the Old Northwest, and many other American and International locations from the Middle East to Norway and France. Visitors will find original paintings, giclee reproductions, and gift prints. She is also happy to accept commissions, with appointments available by visiting the contact page at www.greatriverarts.com
—
CONTACT INFORMATION
[email protected]
888-255-7726
Great River Publishing
Or Email the Artist:  [email protected]
www.greatriverarts.com