Bigfork gallery hosts reception for local map artist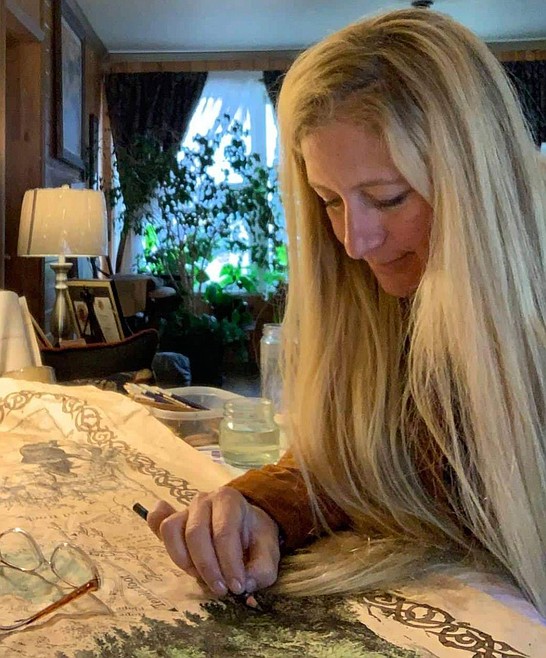 For the last 15 years, artist Lisa Middleton has resided in Kalispell where she started a unique map art business, inspired by historic Montana maps. Middleton first came to Montana from Wisconsin at the age of 19 as a Glacier National Park worker and made it her permanent home in 2008.
"The scenery brought me here and the people are why I stayed," Middleton said.
She settled in and made countless memories over the years hiking the Swan, Glacier Park and Jewel Basin with her friends.
Now that she has decided to leave the Flathead Valley, Middleton would like to have the opportunity to say farewell to local friends and supporters. Nancy O's Interiors, located at 7935 Montana 35 in Bigfork, will be hosting a reception Aug. 20 from 4 to 7 p.m. where Middleton will be displaying and selling some of her personal favorite framed maps and prints. Hors d'oeuvres and beverages will be offered.
"Flathead Valley shop owners have always been so supportive," Middleton said. "They were number one in line to try out my map prints."
This year you can find her products and designs at Electric Avenue Gifts in Bigfork, Western Outdoor and Hallmark in Kalispell, Huckleberry Patch in Hungry Horse, and the Glacier Park Inc. shops in Glacier National Park.
Eventually her art transcended the region to include other states and regions throughout the United States. She started painting maps full time in 2014, traveling seasonally to shows.
"Compared to other states, Montana maps hold some of the most historically satisfying details of any maps I've researched and painted," Middleton said.
Today Middleton's design company, Great River Arts, not only celebrates historic maps, but also designs maps of today's most treasured places. Her additional collections of maps include modern-day cartography with bright colors, ornate illustrations and elaborate borders. Expanding her collection to the Great Lakes Region, Eastern seaboard, the southeast and Florida,
Middleton's work has been showcased at major art shows across the country, as well as locally. Her art has adorned book covers, been props in films, and is printed on blankets, paper and wood signs by Meissenburg Designs in Bigfork.
For more information, to view her work and sign up for her newsletter, visit her website at greatriverarts.com.