Educational Map Series: Manhattan 1638- the first true map of Manhattan Island!
This beautiful manuscript map is the work of Dutch cartographer and watercolorist Joan Vinckeboons, published in 1639. Vinckeboons came from a family of artists and started out drawing for his father. Around 1640, he got into map-making and is known for his beautiful watercolor manuscript maps of the East and West Indies. His stunning works became sought-after collector's item by society elites and royalty, such as Queen Christina of Sweden. With only one copy of "Manatvs gelegen op de Noot [sic] Riuier (Manhattan Located on the North River)" made at the time, and currently housed in the Library of Congress, this early map of Manhattan and its environs, shows Staten Island, Long Island, landowners, Indian houses, plantations and farms. Did you know that a portion of New York was once the colony of New Netherland? The first Dutch North American colony of New Netherland, extended from Albany, New York, in the north to Delaware in the south and included parts of present-day New York, Delaware, New Jersey and Connecticut.
Examining the map, one notices that there are more than 40 separate structures, either houses or farms, some with property lines established, while a chart is provided in the lower right corner with a list of names belonging to the owners. Additionally, Staten Eylant (Staten Island), Coni Eylant (Coney Island), Eylant Manhattan (Manhattan Island), and the Noort Rivier (North River, now the Hudson River) are all clearly labeled. Did you know that Coney Island was once filled with rabbits? The island was inhabited by coneys (rabbits), and as such, the Dutch appropriately named it "Conyne Eylant," translated "Rabbit Island" in old Dutch. Regarded as the first true map of Manhattan island, in a rudimentary fashion, it also represents some of the topography and hydrology of the region. In the lower left corner is a compass rose featuring a "fleur de lys" or "flower of the lily" that points to the north, serving both a symbolic and ornamental purpose in representing the Dutch monarch.
Labeled as the number 10, the island of Rooden Hoeck is now attached to present-day Brooklyn and is called Red Hook. The name was given to the area, referencing to its red clay soil and the hook-like shape of its peninsular corner of Brooklyn. The island labeled E appears to be Roosevelt Island, a narrow strip of land across the East River from Manhattan, while boldly labeled in red ink is the East River, called Hilli Gadt (meaning "hell hole") by the Dutch.
The map was created for survey purposes, as well as for promoting Manhattan and its surrounding areas, by showing various land grants to attract settlers to New Netherland.
Purchase your own map here!
https://great-river-arts.myshopify.com/products/educational-map-series-manhattan-1638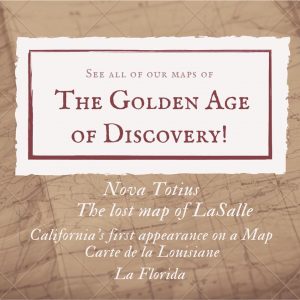 See our maps of early discovery!
https://great-river-arts.myshopify.com/collections/antiquarian-collection ; https://great-river-arts.myshopify.com/products/educational-map-series-californias-first-appearance-on-a-map ; https://great-river-arts.myshopify.com/products/educational-map-series-the-lost-map-of-sir-francis-drake, https://great-river-arts.myshopify.com/products/educational-map-series-universalis-cosmographia-1507, https://great-river-arts.myshopify.com/products/educational-map-series-carte-de-lamerique-septentrionnale-1910 , https://great-river-arts.myshopify.com/products/educational-map-series-orteliuss-regionis-typus-1570 , https://great-river-arts.myshopify.com/products/nova-totius-terrarum-1605-hand-colored-laser-reproduction