Discovery Map Series: Custom map of the Turquoise Trail, New Mexico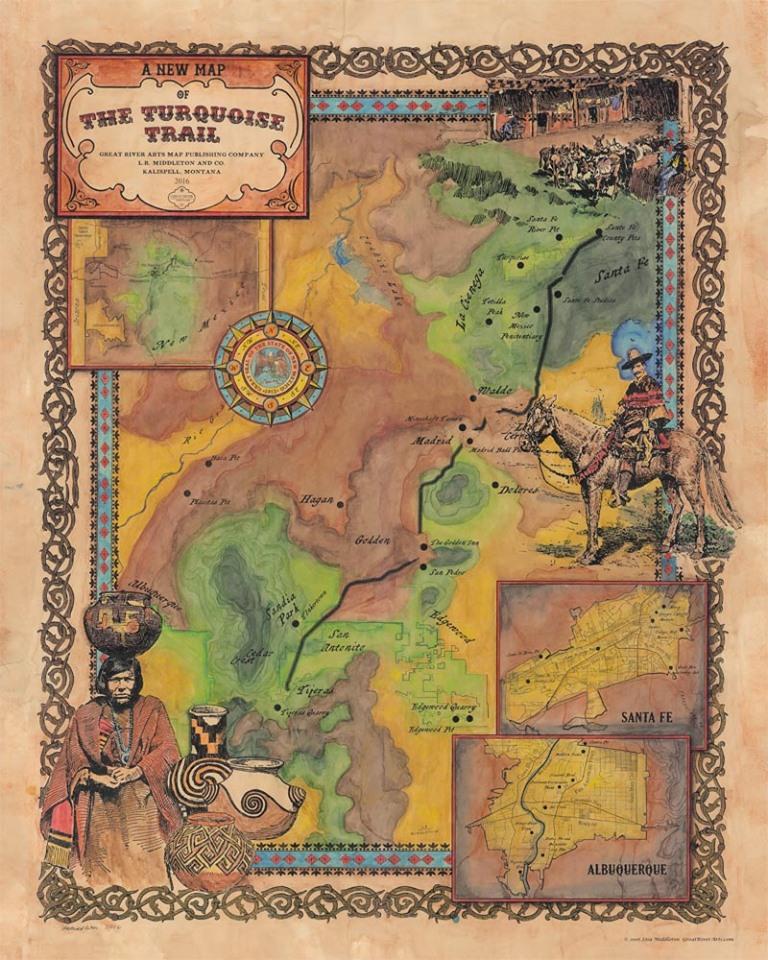 The Turquoise Trail, New Mexico
Situated in central New Mexico, beginning in Tijeras and the Cibola National Forest and ending in the San Marcos/Lone Butte Area, the Turquoise Trail is a scenic and historic area which covers roughly 15,000 square miles, and connects Albuquerque and Santa Fe. The name is derived from the blue-green turquoise precious stone first mined by the early Pueblo people, who lived along the Rio Grande River as far back as 900 A.D. Mining and the gold rush, Native American spirituality and customs, and pioneering and exploration are all themes that have shaped and helped to define the Turquoise Trail.
The scenic landscape of the Turquoise Trail features plateaus, hills, and mountains ascending to nearly 10,680 feet in the Sandia Mountains. This high, rugged desert terrain overlooks Albuquerque and the Rio Grande Valley, where wide open prairies stretch for miles of beautiful scenery. The vegetation of the Turquoise Trail is characteristic of the "pygmy forest," with piñon-juniper woodlands and sparse mountain mahogany. In the lower regions of the trail are evergreen shrubs and various oak plants which include Gambel oak and wavyleaf oak; Apache plume, New Mexico olive, four-wing saltbush, and wafer ash, are among other vegetation that are in this area. Ponderosa pines and white firs can be found at higher elevations. Turquoise Trail is also a birdwatching haven, and owls, hawks, and eagles, as well as hummingbirds in the summertime, are some of the beautiful birdlife that abounds on the trail. Other wildlife includes coyotes, bears, mountain lions, and Pronghorn antelope.
Several unique towns that remain historically quaint and Old West can be explored along Turquoise Trail. Golden was built in 1879, and was the site of the first gold rush west of the Mississippi. Madrid has a colorful history of coal mining, and is famous for its annual Christmas lighting display. Cerrillos is the place where the rare blue-green turquoise was mined as early as 900 AD.
Additionally, the Sandia Mountains and Cibola National Forest are scenic and recreational sites, where bicycling, hiking, horseback riding, climbing, and skiing can be enjoyed. Sandia Mountains' Tree Spring Trail and Cibola National Forest's Ellis Trail are two of the most popular trails in the area. History, scenic and panoramic views, wildlife, and recreational opportunities are all part of the charm of Turquoise Trail.
All sizes are approximate.