Discovery Map Series: Map of California Shown As An Island, 1650
A 1650 map, created by Joan Vinckeboon, titled "Map of California Shown as an Island," echoes the inaccurate belief of cartographers, whose early maps depicted California as an island, separate from mainland North America. The Dutch cartographer and engraver Vinckeboon was born into a Flemish family of artists and started out drawing for his father. About 1640, he started creating maps, and later was employed by the Dutch West India Company, where he spent roughly three decades creating maps that aided Dutch mercantile and military shipping. He was associated with the notable map and atlas publisher Joan Blaeu, and so, Vinckeboon is credited with compiling a series of 200 manuscript maps that were published in atlases, including Blaeu's Atlas Major.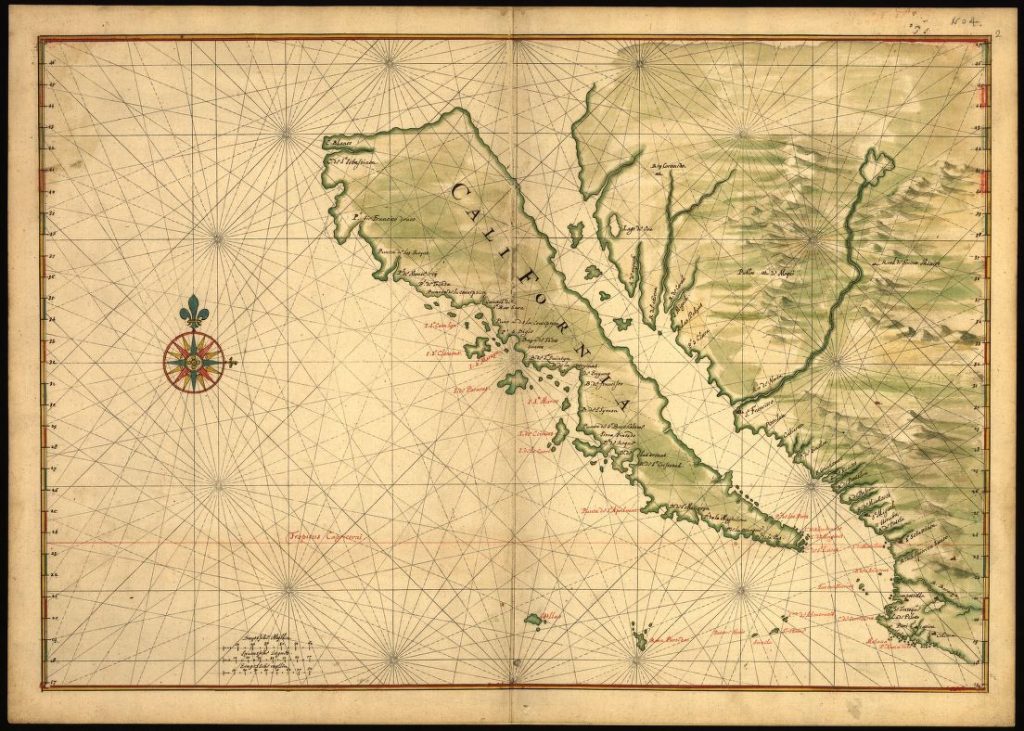 For more than a half-century, the myth of California as an island continue before Spanish explorers would change that belief to reflect one of certainty that California was a territory connected to mainland North America. But, how did the idea of California as an island come to be? It is said that a Spanish writer, Garci Rodriguez de Montalvo, in his 1510 romance novel, Las Sergas de Esplandian, describes "an island called California very close to the side of the Terrestrial Paradise; and it is peopled by black women, without any man among them, for they live in the manner of Amazons." Along the way, early explorers who ventured up the Gulf of California, mistook the Baja California peninsula for an island. This misconception continued through the 17th and 18th centuries.
The map depicts parts of western Mexico, extending from from Puerto Vallarta to Cape Blanco. It features coastline, streams and other bodies of water, missions and pictorial representation of relief. The map is enhanced by a compass rose with 16 cardinal points and a network rhumb lines, which served as sailing directions, perhaps suggesting that sailors could reach California from any direction based on the depiction. The earliest compass roses appeared on Portolan charts in the 14th century, and along with its rhumb lines, were the foundation of Portolan chart making. Place names are labeled on the map in red and black, with islands off the coast, such as Cape San Lucas and Isle of Alcatraz (Alcatraz Island) and the Tres Maria Islands.
This map served as a navigational tool for sailors and explorers who wanted to venture off the coast of California, and it became a point of reference for other map makers, however wrong Vinckeboon was about California as an island.
You will also love our antiquarian map collection! Click Here