Discovery Map Series: North and South Hutchinson Island
Hutchinson Island is known for its beautiful, pristine, sandy beaches, nature preserves and parks. The long, thin island stretches for 23 miles and is over a mile wide at various points. It is situated roughly Northwest to Southeast and bounded by the Atlantic Ocean on the east, and the Indian River on the west, the Fort Pierce Inlet on the north and the St. Lucie Inlet on the south. In Martin County is the most southern 7 miles of the island, while the northern 16 miles are located in St. Lucie.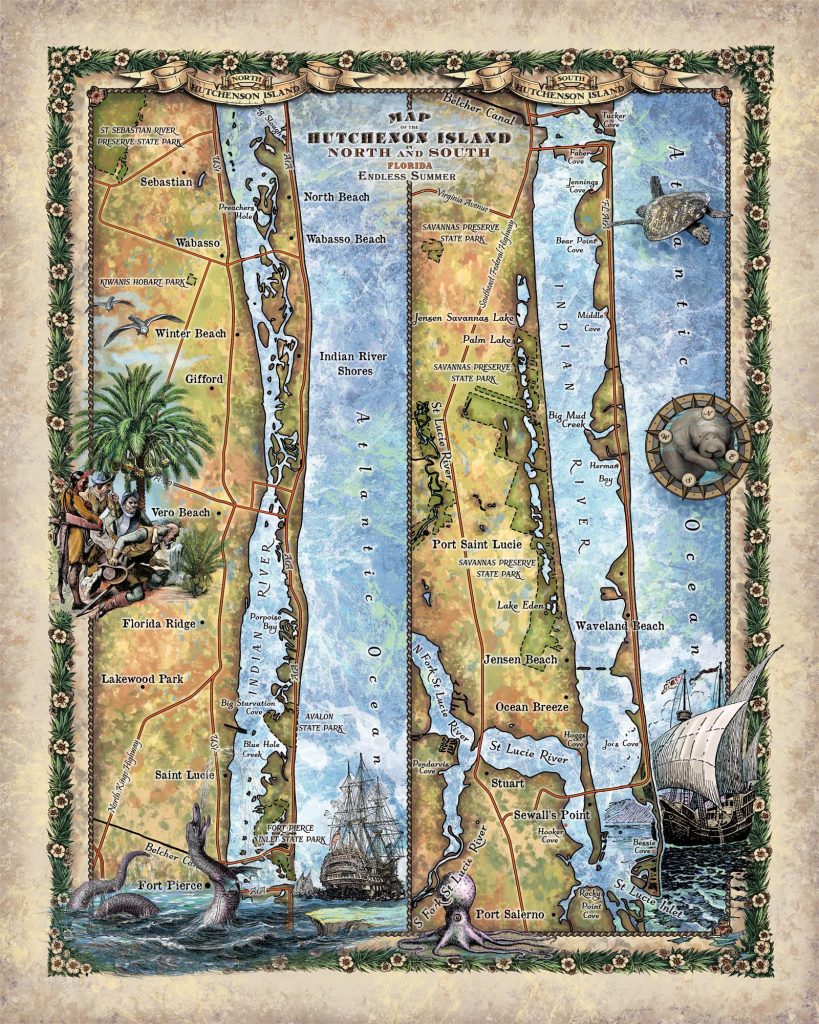 The island can be described as an environmentally sensitive area (ESA), needing special protection; on the Atlantic portion of the Island are the fragile coastal dunes, wildlife breeding grounds and waters suitable for recreation and the management of fish and wildlife. The island has extensive mangrove areas, aquatic preserves, marine grass beds and shellfish waters. It is also home to several endangered species, including the Florida West Indian manatee (sea cow) and sea turtles, like the green sea turtles and loggerhead sea turtles.
Hutchinson Island has dozens of unspoiled beaches that differ from access to access, from those featuring natural sand dunes to those with gorgeous rocky banks. Many beaches have limited crowds, providing a quaint and tranquil atmosphere. Jensen Beach Park is perhaps the most popular spot on Hutchinson Island, offering something for everyone, from volleyball to picnicking.
Located along the Atlantic Coast between Fort Pierce and Jensen Beach, Savannas Preserve State Park is mostly savanna, featuring open grasslands and is made up of pine flatwoods, basin marsh, scrubby flatwoods, wet prairie and the Atlantic scrub ridge. It covers 550 acres, has five distinct biological communities, and is a habitat for the threatened Florida scrub jay, along with the gopher tortoise, the American alligator and the sandhill crane. Savannas Preserve State Park provides the opportunity for camping, boating, and fishing.
There are numerous ways to appreciate and enjoy the physical, cultural, and historical beauty of Hutchinson Island. Fishing, snorkeling, boating, kayaking, hiking, biking, surfing, parasurfing, paddleboarding and wildlife observation are all popular recreational activities available for the enjoyment of those who visit. With Hutchinson Island, you get more than just beautiful beaches; you get a one of a kind experience, inclusive of fascinating ecosystems and habitats, along with fascinating historic sites and museums.
Description coming soon. Pre-order yours today!
All sizes are approximate.
You will also love our antiquarian map collection! Click Here