Travel Map Feature: Beaufort and the Sea Islands, South Carolina
Discovered by Spanish Captain Pedro de Salaza in 1514, Beaufort is the second oldest city in South Carolina, behind Charleston, and is situated in the heart of the Sea Islands and South Carolina Lowcountry, on Port Royal Island. It was chartered by the British in 1711, and is known for its scenic location and for preserving a historic character, present in the antebellum architecture in the city. The city's military establishments are also a significant part of what helps to shape Beaufort, being the site of U.S Naval Hospital Beaufort, and 5 miles south of Parris Island, the home of the Marine Corps Air Station Beaufort.
Called "The Queen of the Carolina Sea Islands," Beaufort was named in honor of Lord Proprietor Henry Somerset, 2nd Duke of Beaufort. Historical accounts place Native Americans in Beaufort as early as 4000 BC, as evident in the 3400 year old "Indian shell ring" in Hilton Head Island's Sea Pines Forest Preserve. A notable tribe is the Yemassee Indians, who occupied the Beaufort County area after moving from Georgia, and were a source of hostility for colonists, particularly the Spanish who tried to enslave them and send them to the West Indies. The Beaufort settlement grew slowly because of conflict stemming from both the Spanish and Yemassee Indians. Early attempts at establishing settlements failed, but it is said that ten flags have flown over the Beaufort area, including those of Spain, France, England, Switzerland, and Scotland.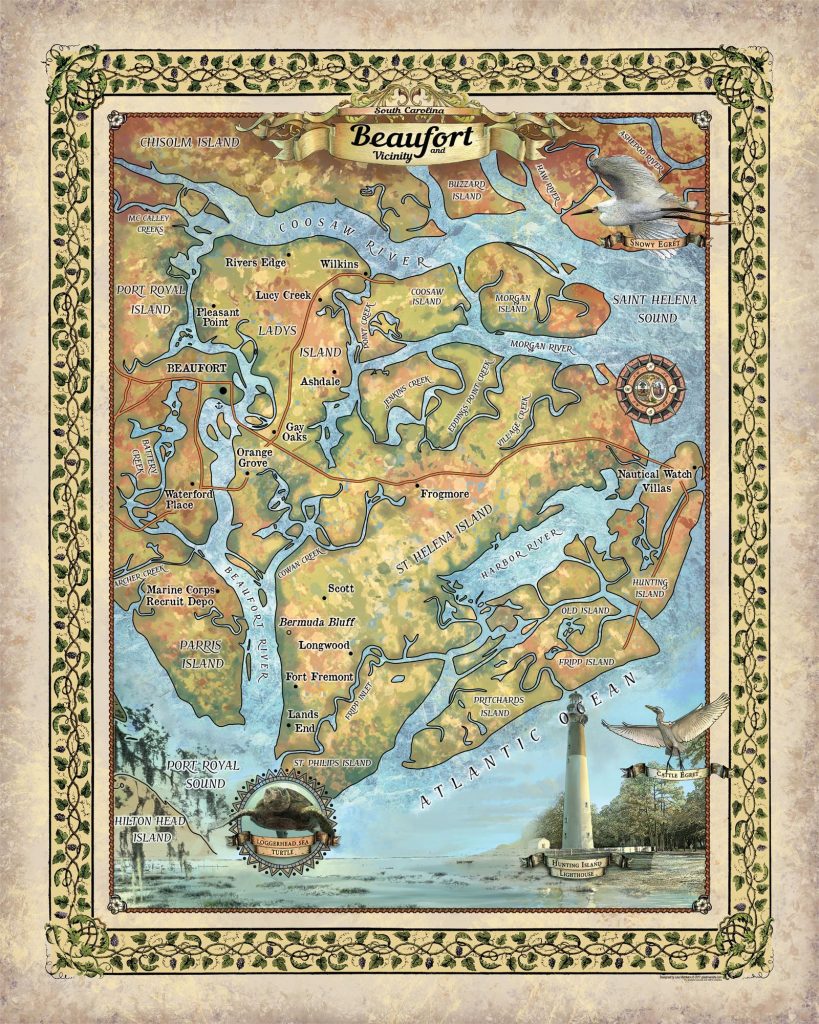 Over time, Beaufort became renowned for its large natural harbor and the establishment of several churches, including the distinguished St. Helena's Episcopal, created in 1712, with a beautiful sky-high steeple that towers over the lush trees below. Beaufort began as a shipbuilding center in the 18th century, but evolved into slave-based agrarian society, in which indigo and rice plantations thrived, bringing wealth to Beaufort. Antebellum affluent Beaufort drew wealthy and connected individuals to the Low Country to bask in its charm and elegant social life.
Being a gem of the Sea Islands, which numbers over 100, along the Eastern coast of South Carolina, Georgia, and Florida, Beaufort is an isolated natural beauty, with a rich and colorful colonial history, and abounding in wildlife, including the white-tail deer, birds, including the bobwhite quail, Canada goose, dove, turkey, waterfowl, a variety of freshwater and saltwater fish, along with mammals, such as bats, beavers, black bears and bobcat.
Beaufort and the Sea islands are jewels along the South Carolina Coast, whose history and natural beauty makes it a region unto itself.
All sizes are approximate.
You will also love our antiquarian map collection! Click Here