Travel Map Feature: Lakes of Vilas County Wisconsin
Vilas County has the most lakes of all the counties in Wisconsin, with 563 named and 755 unnamed lakes that covers roughly 93,889 acres. It is also home to one of the largest collections of freshwater lakes in the world. Lac Vieux Desert Lake in Phelps is the largest of the Vilas County lakes. These bodies of water allows for the exploration of remote wilderness lakes, expansive lake chains, aquatic habitats and beautiful shorelines. The lakes are of a variety of sizes and there are several lake chains in Vilas County: Eagle River Chain, Cisco Chain, Lac du Flambeau Chain, Manitowish Chain O Lakes and Minocqua Chain.
Eagle River Chain is the largest freshwater chain of lakes in the world. It connects with the Three Lakes Chain to the south, covering 29 lakes with 174 miles of scenic shoreline. The Eagle River chain itself includes ten lakes covering 3,600 acres, connected by the Eagle River and encompasses 14 miles, with 70 miles of shoreline. It includes small lakes like the 22-acre Lynx Lake and larger lakes such as Catfish Lake at roughly a thousand acres.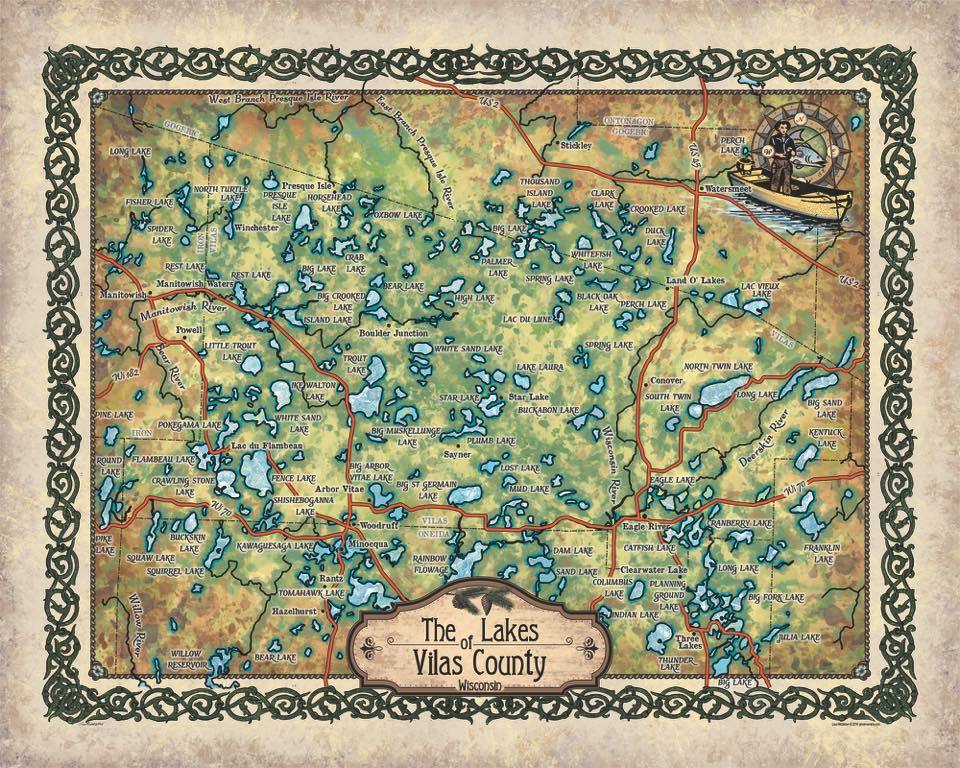 Situated in northern Vilas County is the Cisco Chain, with 15 lakes and 270 miles of shoreline. The lakes in the Cisco Chain are dotted with many islands and the spring-fed waters offer great opportunities for fishing for walleye, northern pike, muskies, bass and panfish. Some of the lakes in this chain include: Cisco Lake (567 acres), Thousand Island Lake (1,009 acres), Little African Lake (31 acres), (Record Lake 68 acres), Lindsley Lake (156 acres) and East Bay Lake with 277 acres.
The Lac du Flambeau Chain consists of 10 spring-fed lakes and is known for its crystal clear water and abundant fish. Fence Lake, at 3,483-acre, is the chain's largest body of water and contains musky, panfish, smallmouth bass, northern pike and walleye. Other lakes include Big Crawling Stone Lake with 1,483 acres and Little Crawling Stone Lake that offers 113 acres.
In Manitowish Waters is a 10-lake chain, the Manitowish Chain O Lakes, that includes Rest Lake, Stone Lake, Fawn Lake, Clear Lake, Island Lake, Alder Lake, Spider Lake, Wild Rice Lake and Manitowish Lake. Little Star Lake is home to Little Bohemia Lodge, site of a 1934 gangster shootout involving John Dillinger. This chain is one of the most popular lake chains in Wisconsin's Northwoods region, with 58.5 miles of stunning shoreline and a total of 4,074 acres of beautiful water and is known for its great fishing.
Just south of Woodruff is the Minocqua Chain, which includes the 700-acre Kawaguesaga Lake, Lake Minocqua, Mid Lake and Lake Tomahawk. This chain, also known as the Minocqua – Tomahawk Chain, surrounds the 'island city' of Minocqua with scenic beauty and abundant wildlife.
You will also love our antiquarian map collection! Click Here