Travel Tuesday Map Feature: Paradise Valley, MT
In southwestern Montana, just north of Yellowstone National Park and nestled between the Absaroka Range to the east and the Gallatin Range to the west is Paradise Valley. This Montana gem follows the Yellowstone River, and boasts 53 miles of breathtaking, scenic landscape, stretching through rich rolling farmland, hot springs, flowing crystal, clear rivers, acres of green meadows and majestic peaks that make for captivating and dramatic backdrops. Paradise Valley is truly a paradise, where you can soak up the natural environment and diverse wildlife of the region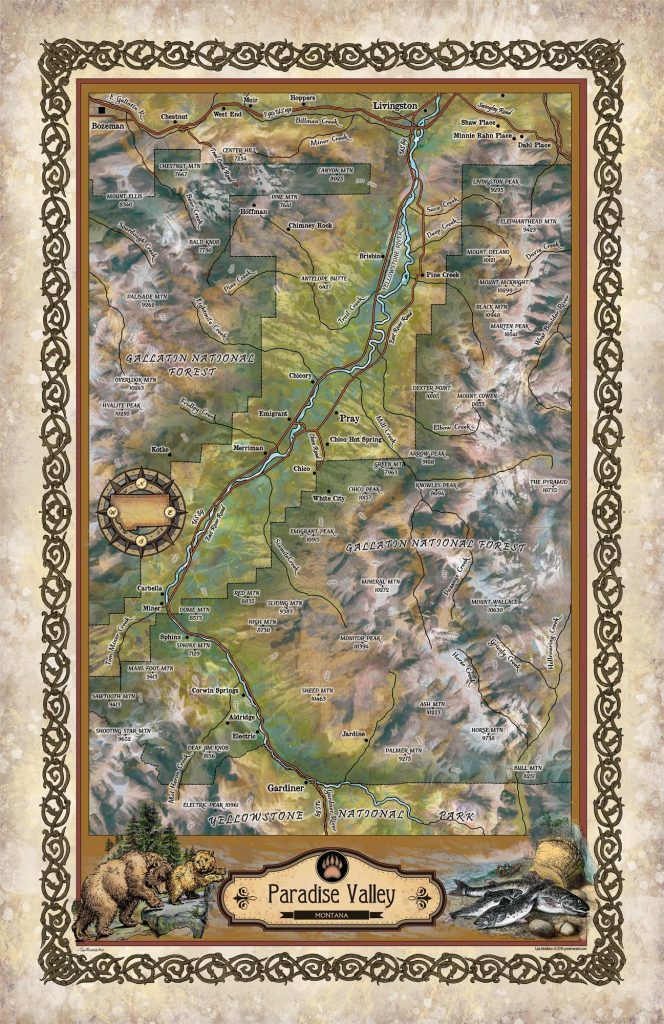 At the bottom of Paradise Valley is the town of Livingston, which is regarded as the Northern gateway to Yellowstone National Park, a title that was bestowed when the Northern Pacific Railway built a rail line running south to Yellowstone in 1882. Originally, Paradise Valley was the entrance to Yellowstone National Park, which is a national treasure, featuring the world's most active geysers, the highest concentration of large and small mammals in the lower 48 states, numerous bird and fish species, a variety of vegetation and miles and miles of trails.
The eastern sections of the Gallatin National Forest run through Paradise Valley and comprises of roughly 2.1 million acres, with the Absaroka-Beartooth and Lee Metcalf Wilderness areas within its boundaries. Founded in 1899, Gallatin National Forest is home to six different  mountain ranges, including Gallatin, Madison, Bridger and Beartooth Mountains. With numerous plant species, this habitat supports some 300 wildlife species, that includes the grizzly bear, bald eagle, peregrine falcon, elk, mule deer, bison, moose, bighorn sheep, mountain lion and  black bear. There are more than 2,290 miles of interlinking hiking trails in the forest that extends into wilderness areas and offers beautiful scenery of nature.
At the heart of Montana's fly-fishing and North American big game fishing is Paradise Valley. The Yellowstone River and the spring creeks of Paradise Valley meanders through the Yellowstone National Park, and downstream through Gardiner, Paradise Valley, Livingston, and below Big Timber, and is excellent trout water. Native Yellowstone cutthroat trout, rainbow, whitefish and big browns are common in these streams. Paradise Valley is regarded as home to Montana's finest "blue-ribbon" fisheries.
On the National Register of Historic Places is Chico Hot Springs, a place whose natural hot mineral spring water continues to be an attraction. The area's Native American tribes viewed Paradise Valley's waters as a source of renewal and spiritual cleansing. Paradise Valley is a gem unto itself and is still one of Montana's finest.
You will also love our antiquarian map collection! Click Here