Travel Tuesday Map Series: South Bay And Silicon Valley, California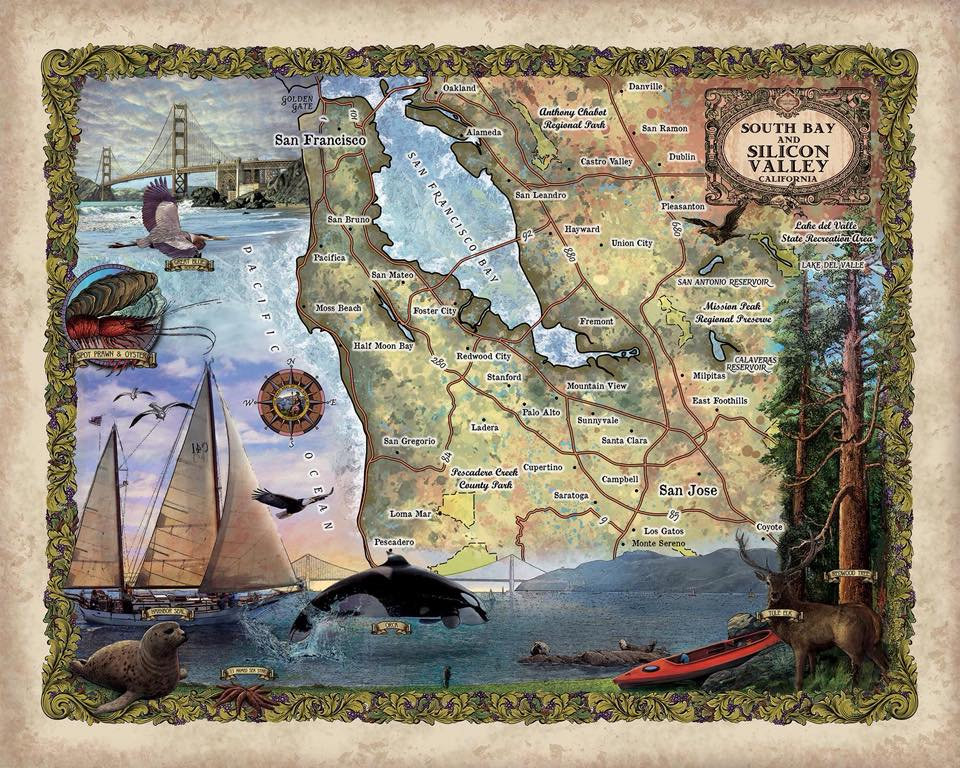 Perhaps one of the most well-known landmarks in architectural history, the Golden Gate Bridge stands in beautiful San Francisco, Califonia. This vintage map featuring Orcas, the Golden Gate Bridge and elements of the stunning Silicon Valley makes for the perfect San Francisco gift for any architecture lover, hiker or California native.
Although South Bay is viewed by many as synonymous with Silicon Valley, they are two different realms, boasting cultural differences that sets them apart, though proximity keeps them connected. South Bay refers to a specific geographical area, which according to the South Bay Cities Council of Governments is inclusive of "fifteen cities, portions of the City of Los Angeles and unincorporated portions of the County of Los Angeles." Silicon Valley, on the other hand, is a term that represents for some, a state of mind, fueled by passion and big ideas, by like-minded visionaries who maintain a tech-centric attitude as a business strategy, as well as the Santa Clara Valley, home to communities of high-tech corporations.

South Bay's boundaries are still open to debate, but it is generally accepted that it is situated in the northern end of the Santa Clara Valley. This industrial region was built around the aerospace industry, which boomed throughout the '80s, and later, South Bay became the epicenter of aerospace research and development. At the time, advancement and discovery attracted some of the brightest and best minds to South Bay's aerospace business. The rich culture of the region also revolves around this industry, with a focus on clean energy and green living. South Bay is described as a melting pot of diverse cities and people, with unique traditions, from food to architecture. Economically, geographically and socially, South Bay is a unique sphere onto itself, and some have even gone as far as to call the place "hipster."

In the heart of Silicon Valley, the global center of technology and innovation, is San Jose, which boasts a colorful history that includes its role during the Gold Rush of the mid-1800's. It is a place that features much cultural diversity that is characterized by an urban sprawl, thriving art communities and cultural elements that shapes the character and quality of life of the larger San José community. Silicon Valley is more popularly known as the birthplace and home of high-tech companies, such as Apple, Cisco, eBay, Facebook, Google, Oracle, Twitter and Yahoo, among others.

Beyond the cultural and economic magnetic pull of Silicon Valley and South Bay, its subtropical climate, beautiful flora, which includes oaks, redwoods and palm trees, and fauna, such as dark-tailed deer, badgers and tule elks, along with parks, like Pescadero Creek County Park, make for great opportunities to explore the region.
Available in four sizes, each art print is printed on acid free paper made from 29% recycled material. All of the prints feature rich and luxurious colors, perfectly consistent with the original image, which was hand-painted using refined watercolor techniques by the artist, Lisa Middleton. Your print will arrive professionally packaged in plastic acetate, ready for gift-giving, or to be excitedly opened and admired.
SMALL PRINTS
11″x17″ or 11″x14″
Our small prints feature 650 dpi (dots per square inch) digital printing. Each small print features a nearly-flat finish, with an almost imperceptible sheen. This print ships flat, with a stiff board backing, wrapped securely in a plastic acetate sleeve, and ships in 1-4 business days.
LARGE PRINTS
18″ x 24″ or 20″x24″
24″ x 36″ or 24″x30″
Fine art large prints are best for discerning customers who demand only the best in fine art printing. Every large print is giclée printed on heavyweight paper, with inks guaranteed not to fade for 100 years. It features a smooth, uncoated matte surface with no shine. The large format prints are archival limited editions, each numbered and stamped or signed. Your large print ships rolled in a hard tube, also containing a certificate of authenticity. Each print takes up to 10 days of processing prior to shipping.
HAND PAINTED ORIGINALS
36″ x 45″ or custom for your space
A truly unique gift for those who want nothing but the original- get your very own, one-of-a-kind, hand-painted watercolor painting by Lisa Middleton. his option is not a print, but your own painting, hand worked by the artist herself. Each painting is shipped rolled in a hard tube containing a certificate of authenticity, and arrives numbered and stamped with a registered signature stamp or signed. Each painting takes 4 weeks processing prior to shipping.
ABOUT GICLÉE PRINTING
What's the difference between digital printing and giclée printing? Giclée printing is one of the best print reproduction methods available, and allows us to provide a quality product that is guaranteed to not fade for over 100 years. It is a process that uses a specialized 12 color inkjet printer, acid free papers, and pigment based archival inks. Digital inkjet printing is a more cost-effective option for those who love the artwork but are not ready to invest in an archival-quality print.
FRAMES
All four print sizes come solely on the acid-free paper. Mats and frames are not included. It is strongly recommended to withhold frame purchases until after print is received, so as to precisely measure the print for the correct frame size, as slight variation in actual size may occur.
SHIPPING
Every print is shipped via USPS with tracking and insurance. We are print on command so allow 7-10 business days for delivery.
RETURN POLICY
Full refund if returned in original condition within 14 days. Buyer must contact via Etsy messages prior to return, and pay return shipping.