Tuesday Travel Map Series: Crater Lake National Park Oregon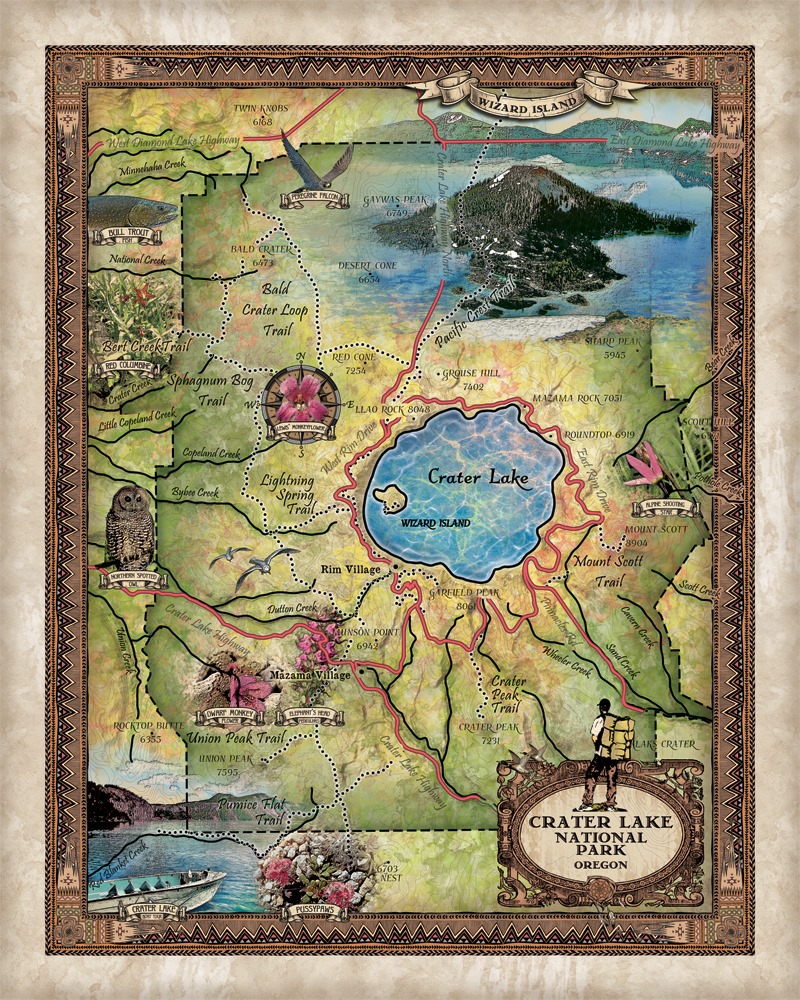 Located in the Cascade Mountains of southern Oregon, Crater Lake National Park was established on May 22, 1902. This natural wonder emerged from a cataclysmic volcanic eruption. The unique landscape covers some 180,000 acres of protected lush, vibrant forests, an abundance of wildlife, and Crater Lake aka 'lake majesty', the beautifully blue, awe-inspiring crown jewel of the park. This is Oregon's only national park and the fifth-oldest national park in the United States.
It's believed that local Native Americans, witnessed the post-eruption collapse of Mount Mazama, and from the event, legends were formed, keeping the event alive. One ancient legend of the Klamath people tells of two Chiefs, Llao of the Below World and Skell of the Above World who competed in a battle, ending in the destruction of Llao's home, Mt. Mazama, which led to the creation of Crater Lake.
Crater Lake is the deepest lake in the United States and extends beyond its depth at 1,943 feet deep and is best known for its intense blue and pristine waters, some of the purest in the world. The lake was formed from the eruption and collapse of the volcano Mount Mazama, a 12,000-foot-tall volcano roughly 7,700 years ago. Crater Lake receives a huge amount of snowfall because of its location just 100 miles from the Pacific coast and in the center of the Cascade Range, keeping the lake replenished.
Crater Lake National Park has a continental subarctic climate, with cold dry summers, and snow covering the park for eight months of the year. The park is home to incredible old-growth forest ecosystems that are prime for exploration, with four forest zones — ponderosa pine forest, lodgepole pine forest, mountain hemlocks zone, and whitebark pines zone — each named according to its dominant tree species.
Home to an amazing mix of wildlife– mammals, amphibians, fish, and birds, the park is an ideal place for wildlife viewing. It's home to birds like the American White Pelican, Bald Eagle, Rufous Hummingbird, Peregrine Falcon, Western Bluebird, warblers, owls, flycatchers, and woodpeckers. Deer and squirrels are also common in the park, while elk and bobcats might also be spotted.
The natural beauty that the park showcases makes it a magical place to explore and enjoy. Fishing, hiking, camping, and swimming can all be enjoyed in Crater Lake National Park. Popular trails for sightseeing includes Cleetwood Cove, Watchman Peak, Lightning Spring, and Castle Crest Wildflower Garden.
Crater Lake National Park is a splendid, natural beauty and one of Oregon's finest treasures.