Our "NEW MAP OF LAKE PEPIN ON THE MISSISSIPPI RIVER" is now available!
Our beautiful "New Map of Lake Pepin" drawn and illustrated by Wisconsin Map Artist, Lisa Middleton, is shown here framed. The 11×34″ gift prints are now available at better gift shops along both shores of Lake Pepin for about $24.95. Or call us at 888-255-7726 to order!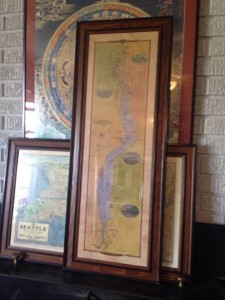 The map, based on current USACE river charts is both historical and geographical in nature, with no commercial notations. The original painting and one full size giclee are available at Abode Gallery in Stockholm, Wisconsin. The original is close to 40″ long and 12″ wide. The gift prints which are a quality offset print product sized 11″x34″
Abode also carries the large format original of Lisa's Pike Historico-Geographical Map of notations from Pike and other explorers traveling from north of Minneapolis to Lake Itasca.
Middleton also painted the 1887 Historic Reproduction of Glazier's ribbon map, "The Father of Waters." Gift prints of this map are also available at many fine gift shops along the river. Or call 888-255-7726 to order.