1878 Historic Door County Map Features Lighthouse Inset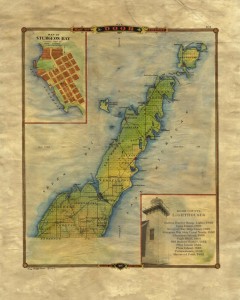 Today we are featuring our NEW 1878 Door County Wisconsin Atlas Map–it notes the location of each lighthouse at that time, all townships, villages, and sections, and a street plan for Sturgeon Bay in the upper left inset.
While the original map featured Jenny, Wisconsin (of Lincoln County), in the lower right, we have provided a list of names and construction dates for each of Door County's Lighthouses.
Door County was named after the passage between the tip of the Penninsula and Washington Island. The French called it, "Door of the Dead," and the English/American sailors shortened that to "Death's Door." Locals will notice that today's township of Sevastopol was intended to be Sebastopol, named after a Russian town.
Our map is available as either an 11×17″ map for $24.95 or a beautiful ivory 16×20 print for $50. Both are easy-frame versions for standard-sized frames. Call 888-255-7726 to order direct from Great River Arts, or  click the SHOP link above and go to the FINE ART AMERICA link to purchase the print in every imaginable size and medium! Normal trade discounts apply to retailers.