Travel Tuesday Feature Map: Cape Cod — By the Travel Map Specialists @ Great River Arts
Get 50% off this map with discount code: CAPE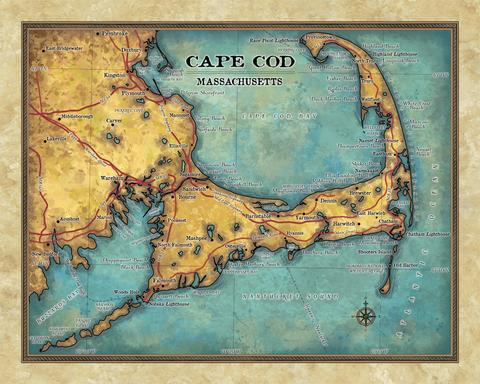 From beautiful, serene beaches, quaint seaside dining, charming villages, to panoramic shoreline and scenic bike trails, Cape Cod, Massachusetts is an East Coast retreat that is dreamy, rich in history and quite inviting. This peninsula is located on the Easternmost portion of Massachusetts, extending for 65 miles (105 km) into the Atlantic Ocean and covers more than 400 miles (640 km) of shoreline. Cape Cod has been separated from the mainland since 1914 by the Cape Cod Canal, but the Sagamore Bridge, the Bourne Bridge and the Cape Cod Canal Railroad Bridge provides access. Cape Cod is divided into 15 towns: Bourne, Sandwich, Falmouth, Mashpee, Barnstable, Yarmouth, Harwich, Dennis, Brewster, Chatham, Orleans, Eastham, Wellfleet, Truro, and Provincetown and each town has several villages. When the name "Cape Cod" was used for the first time in 1602, it only referred to the region situated at the tip of the peninsula, but 125 years later, the name was used to refer to all the territory east of the Manomet and Scusset rivers.

The Wampanoag Native American people were the earliest inhabitants of Cape Cod, centuries before the Pilgrims established a settlement in Plymouth. The tribes occupied the coastal area from Provincetown, Massachusetts all the way to Narragansett Bay, where they lived off the land and fish in the coastal waters. Today, the Mashpee Wampanoag Tribal Museum preserves and highlights the rich indigenous culture and historic significance of the Town of Mashpee, on Cape Cod.

Although the Vikings are often mentioned as the earliest Europeans to make contact on Cape Cod, official account places Englishman Bartholomew Gosnold in Provincetown at the beginning of the 1600s, sailing from Falmouth, England, to seek out trade opportunities along the coast. French explorer Samuel de Champlain followed suit and encountered the Wampanoag tribe in the Chatham. However, it was the Pilgrims who were successful at establishing a settlement in the region, and were aided by the Wampanoags who taught them how to live off the land and showed them how to strip and process blubber from whales.

Whaling was a major industry in Massachusetts up until it declined in the 1880s, and by the early 20th century, Provincetown became a magnet for artists. Today, the captivating beaches continue to draw visitors from near and far. Cape Cod exudes a charm with its quaint towns and cottages, beautiful lighthouses and breathtaking sunsets. Outdoor enthusiasts can enjoy biking, boating, fishing, whale watching and kayaking. This gem continues to sparkle in the New England region.