Travel map Tuesday: Our Feature Travel Map Explore San Juan Island…Created by your travel map specialists at Great River Arts!
50% off this map with discount code SALISHSEA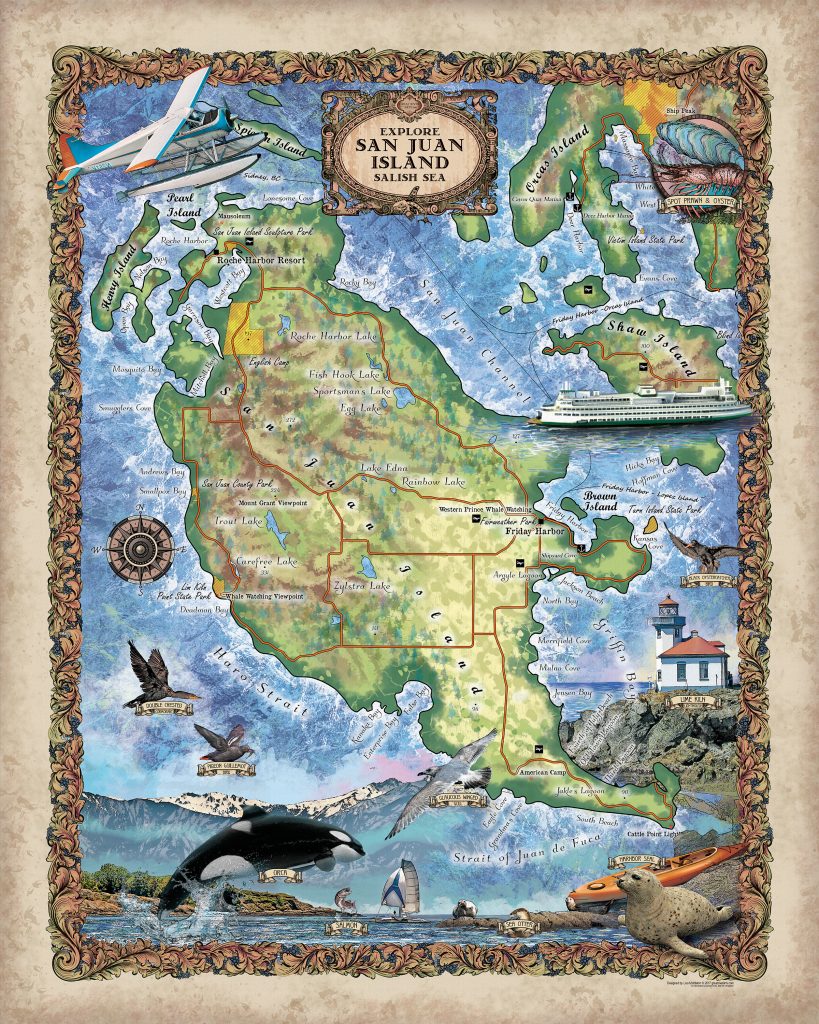 Lisa and the design team have carefully crafted this beautiful map of San Juan Island, Washington just for you! Great for your guest room or new residents our maps are a wonderful gift and home decor option! Forget about a tropical retreat for a moment and think of a panoramic valley, dotted with cows, vineyards, iconic lighthouses, whale watching in the distance, and lush forest. San Juan Island is one of four islands, and the second-largest of the San Juan Archipelago, located in the northwest region of the contiguous United States between the continental mainland and Vancouver Island, British Columbia, Canada. The island has a land area of 55.053 sq miles, and has the largest number of inhabitants of all the San Juan Islands. The name "San Juan" came about as a result of a 1791 expedition by Francisco de Eliza, who named the archipelago Isla y Archiepelago de San Juan upon discovery, in honor of Juan Vicente de Güemes Padilla Horcasitas y Aguayo, 2nd Count of Revillagigedo, who commissioned the expedition.
Also known as the Pig War Island, San Juan Island's temperate climate, secure harbors and abundance of natural resources made it a magnet for Native American tribes, such as the Sooke, Saanich, Songhee, Lummi, Samish and Semiahmoo, and later the first Europeans who came as pioneers, sailors, soldiers and smugglers. Early settlements, such as the town of Argyle, have long been buried beneath the soil, and some buildings have been rebuilt and kept as historic properties. History is embedded in San Juan Island, and Friday Harbor, regarded as the "Gateway to the San Juan Islands," is an example of that rich history. Dating back to the 1840s, when the Hudson's Bay Company laid claim to the San Juan Island, it grew into a busy and prosperous commercial harbor, and it is still a major commercial hub today.
San Juan Island has unique natural features and a variety of diverse ecosystems, supporting a variety of distinct species, such as red sea urchins and pinto abalone. The varied landscape was shaped by repeated glaciation and its closeness to the sea, and features raised beaches, terraced hillsides, moraines, bluffs and dunes of glacial till, and glacial erratics. Picturesque Roche Harbor is a scenic country village on the shorelines of the Salish Sea, that features a protected harbor and offers some of the most breathtaking sunsets in the region.
There is much to enjoy on San Juan Island, and some of its major attractions include Cattle Point Lighthouse, Lime Kiln State Park, Pelindaba Lavender Farm, and dolphin and whale watching, among other incredible attractions. San Juan Island is quaint meets spectacular.