Discovery Map Series: A Suggested Route Great Lakes through Rhode Island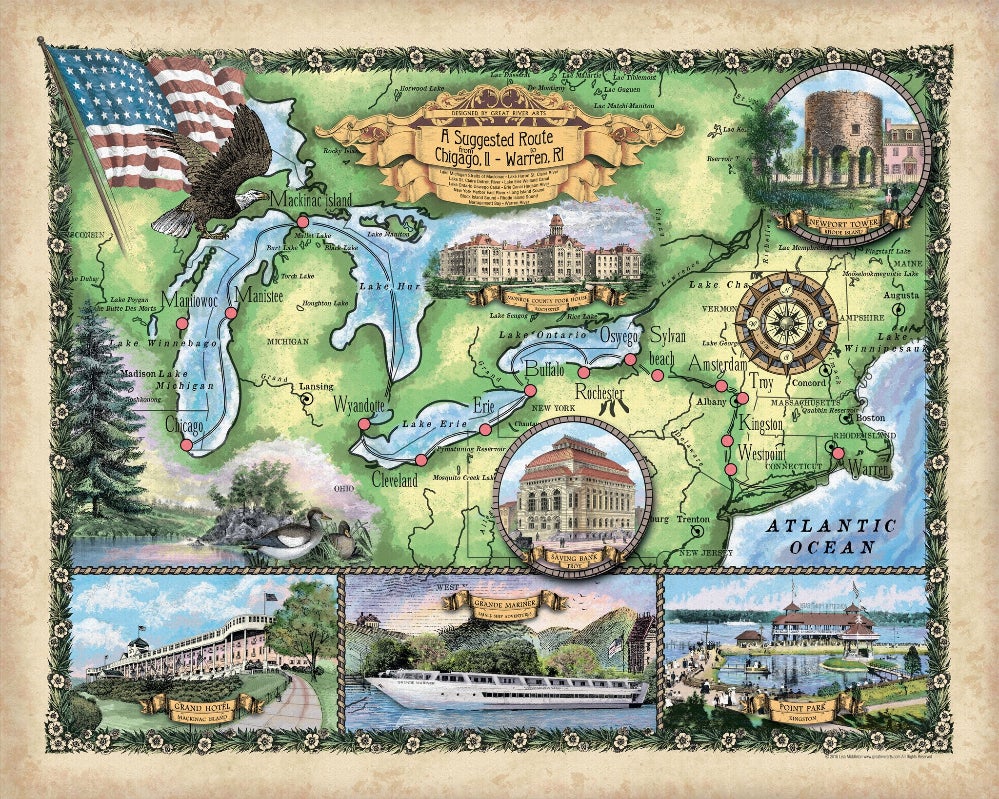 If ever one could suggest a route to travel and enjoy on the waters right inside "The Great U.S of A", Chicago, Illinois to Warren, Rhode Island should be at the top of the list. Who dreams of sailing between Chicago and Rhode Island? Yes, sailing… Such a dream is more than possible. Watery pathways can take you into the heart of America, where history, culture, picturesque scenery, and the charm of small towns and unsung cities can be explored and enjoyed. Journey into interior rivers, historic canals, and embrace the beauty of four of the Great Lakes as you make your way from The Windy City to Warren. This route takes you on what is arguably one of America's most historic waterways.
Capture scenic views of Lakes Huron, Erie, Ontario, and Michigan- four of the five Great Lakes. In the Lake Huron region, the second largest of the Great Lakes, water birds like the striking Great Blue Heron can be spotted. Lake Erie is the shallowest and the largest Great Lakes sport fishery. The smallest of the Great Lakes is Lake Ontario, but it packs scenic resort appeal sitting at the base of Niagara Falls. Linking to Lake Huron at the Straits of Mackinac, Lake Michigan- the inland sea, offers gorgeous city skyline views.
As you travel along the Chicago-Warren route, discover the port city of Manistee, MI, known for its distinct and stylish Victorian architecture and historic charm. Enter into the Erie Canal, the 363-mile path into America's interior that was completed in 1825. Preserved by its ban on motorized vehicles, quaint Mackinac Island, MI, is a historic summer retreat that exudes beauty and charm. Along the way, West Point, home of the prominent United States Military Academy, and historic Erie, PA, home of the only Great Lakes Port in Pennsylvania beckons to be explored.
This route presents the opportunity to discover and enjoy the eastern U.S. Lakes, rivers, and coastlines on the Grande Mariner Small Ship Adventure. Dock at Grand Hotel Mackinac Island, MI and enjoy spectacular views from the world's longest porch. Travel on to historic places in New York including Monroe County Poor House, as well as Troy Savings Bank founded in 1823, with a musical hall on the upper floor for patrons' enjoyment. Kingston Point Park, NY is a "must see" with its beautiful views of the Hudson River, Rhinecliff, and natural scenery that envelops the area. On the final stretch of the route, take a trip to Rhode Island's historic New Port Tower in Touro Park. The Chicago, Illinois to Warren, Rhode Island route will present you with the best of some of America's most historic waterways.
This is a digitally colored map.
All sizes are approximate.