Travel Map Feature: 258 Scuba Dives and Beaches of Cozumel
This map of the Scuba Dives of Cozumel is a wonderful tribute to the most beautiful diving in the world! Known to scuba divers everywhere, Cozumel is unquestionably the top destination. Show your support by giving this amazing map to the scuba diver in your life or commemorate this wonderful place in your own home! Beautiful color and excellent detail—we recommend you get a large print! Hand Crafted by Lisa and her map-making team.
Located ten kilometers off the coast of Mexico's Yucatán Peninsula, Cozumel, also known as the Island of Swallows, is an underwater marine park that protects the delicate balance of its spectacular coral reefs and its diverse marine life. Whether urban legend, historical fact, or still contested "truth", many believe that a Frenchman and undersea explorer by the name of Jacques Cousteau put Cozumel on the map when he declared the region the most beautiful scuba diving area in the world. Twenty-eight miles long and 10 miles wide, Cozumel is Mexico's largest island and was first settled by the Mayans in the early part of the 1st millennium AD.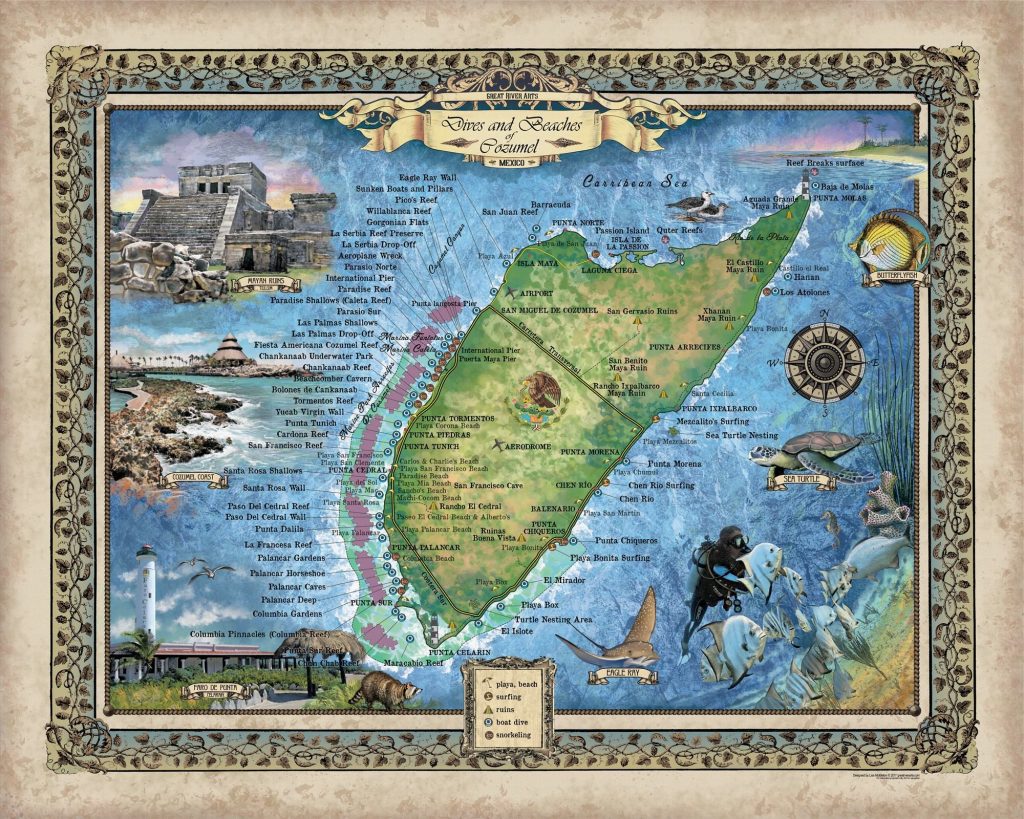 The Mayan civilization was advanced and featured a great culture, whose remnants survives today in the ruins on the island, with the largest remaining ruins at San Gervacio situated roughly in the middle of Cozumel. The Spanish first ventured into the region around 1518 when Juan de Grijalva made an expedition to Cozumel. Hernando Cortez followed closely behind Grijalva on his journey to Veracruz. About mid-1800s, the island was a refuge for migrants escaping the Caste War of Yucatan between 1847 and 1901. Today, Cozumel is a popular scuba diving destination that is known for its amazing white sandy beaches, dazzling dive spots, spectacular underwater visibility and coral formations, and warm inviting water.
Most of the best dive sites are located within the boundaries of Cozumel Reefs National Marine Park, which protects the Meso-American Barrier Reef System. Paradise Reef has a gentle currents and feature sea fans, gorgonians and brain coral, and an abundance of marine life, including spotted moray eels and seahorses. Punta Sur Reef has a fascinating, deep wall with caverns and fissures bursting with life, while The Devil's Throat has large black corals, gorgonian sea fans, and the devil's sea whip. Palancar Garden's finger coral formations, fissures and caverns, Santa Rosa Wall'smassive sponges and fire coral, and pelagic fish, turtles, and spotted eagle rays, and Columbia Wall's large barracuda and massive coral pinnacles are the magnets that pull many to Cozumel.
Cozumel's beaches also have the same appeal. Notable beaches includes Paradise Beach that boasts crystal clear water and opportunities for paddle-boarding and sea kayaking. Playa Mia's beautiful beach club has top class amenities and features diving, parasailing, jet skis, diving, banana boat rides, windsurfing, even a small zoo. Encounter dolphins at Chankanaab Beach Adventure Park, and enjoy the tranquility of Playa Palancar.
All sizes are approximate.
You will also love our antiquarian map collection! Click Here