Discovery Map series: The First Transcontinental Map of the U.S.
Regarded as one of the most significant maps of the 19th century, John Melish's "Map of the United States of America: With the Contiguous British and Spanish Possessions, 1816," depicts the United States extending from the Atlantic Coast to the Pacific Coast on the North American continent. It is said to be the first transcontinental map of the U.S, which Melish drew from knowledge derived from his extensive travel in the country's interior between 1807 and 1807. According to most accounts, he made Philadelphia his permanent home in 1811, where he established a map publishing company. Melish published his first of more than 20 editions of this map. Melish sent his map to Thomas Jefferson for his assessment, and in a 1816 letter to Melish regarding this influential map, Jefferson expressed pleasure with the execution and chosen scale with which Melish luminously depicted the possessions of various powers in America.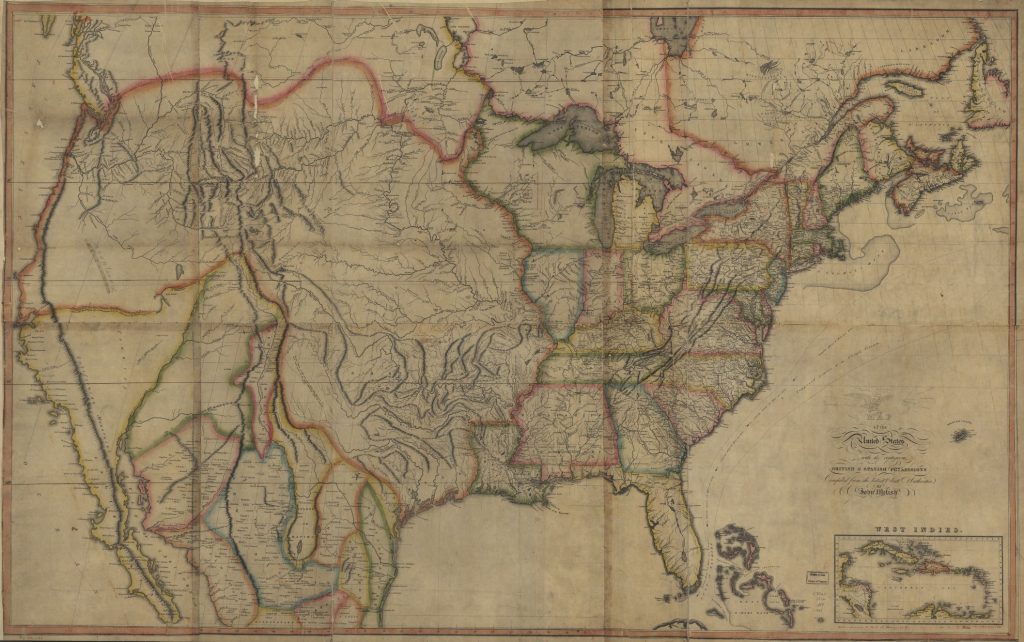 The map is color coded, with green representing the extent of the American territory to the Pacific. The map also illustrates the British possessions in red, as well as the Spanish possessions in yellow, and those of the Danes and Swedes in blue. The beauty and symmetry of the map allows for the depiction of a complete map, which Walter Ristow, former Chief of the Geography and Map Division, Library of Congress, saw as an achievement of Melish "in bringing together from many and varied sources the geographical and cartographical knowledge of the period, and presenting it systematically and graphically…"(Ristow, 179). The advocates of Manifest Destiny saw this map as a visual expression of national destiny or purpose of westward expansion. The term Manifest Destiny was coined in 1845 and was the belief that the United States was divinely ordained to expand its territory and spread democracy across all of North American.
The map features, partly, the territorial boundaries acquired by the U.S following the Louisiana Purchase and War of 1812. The Great Lakes- Superior, Michigan, Huron, Erie, and Ontario, and a chain of mountains, forming the dividing ridges, separating the waters of the east from the west are nestled within the incredible detail on Melish's map. With the competing powers in North America, Melish's map was used in future treaty negotiations with the European rivals, regarding boundary disputes in North America. Melish's map was the first comprehensive map of the US and was influential as a key cartographic tool.
Study this map with a Zoom lens or order your own copy here!