Travel Map Feature: Custom Travel Map of Jacksonville, Florida and The St. Johns River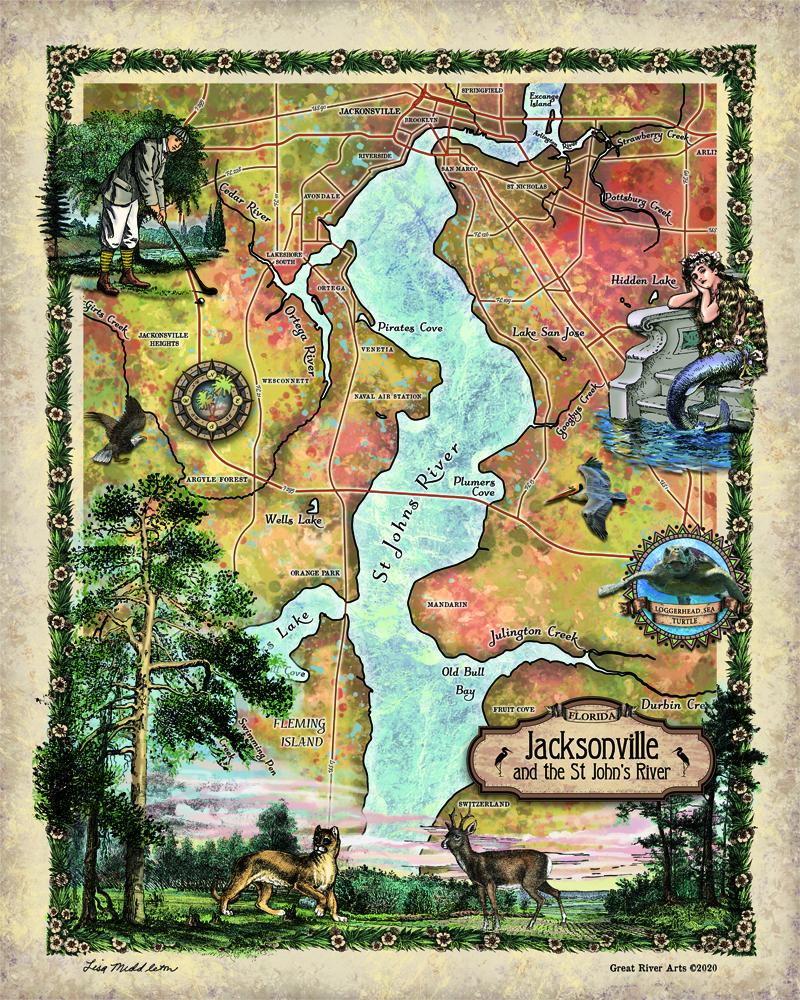 Called Jax by locals, Jacksonville is Florida's most populous city, the largest city by landmass in the nation, and the fourth largest metropolitan area in the state. Jacksonville resides on the banks of the St. Johns River, about 25 miles south of the Georgia state line and 340 miles north of Miami. It is a natural waterland, with 22 miles of breathtaking beaches, the longest stretch of the St. Johns River in Florida and 40 miles of the Intracoastal Waterway. With an extensive park system, historic neighborhoods, a vibrant art scene, world-class fishing, Jacksonville is a quintessential mix of Florida's history, culture, charm and mesmerizing natural beauty.
The Timucuan Indians were the first inhabitants of the region. Europeans arrived on the scene in the 16th century, beginning with a small group of French Huguenots, who established the Fort Caroline settlement on the south bank of the St. Johns River in 1562. The Spanish followed suit in 1565, destroying the Fort Caroline, upon which they established Fort San Mateo. Their empire lasted for almost 200 years, and at the end of the Seven Years War in 1763, the Spanish gave up the territory to the British in order to maintain control of the city of Havana. Florida gained statehood in 1845 and by then, Jacksonville was the center of commercial activity in the territory.
The St. John's River is Florida's longest river and one of it's primary commercial and recreational resources. It extends for 310 miles and meanders through or borders twelve counties. It flows northward at a low rate due to a slight slope in the river itself. The St. Johns is very connected, with 3.5 million people within its various watersheds, and it offers the opportunity to enjoy many fun activities.
Jacksonville has over 20 miles of picturesque beaches stretching along its shores. Neptune Beach is one of the best places to surf, offering a clean, beautiful coastline, with natural sand dunes and a quaint and charming vibe. Jacksonville Beach is a residential resort neighborhood that boasts warm, wavy water and plenty of sand for surfing and sunbathing. Synonymous with golf, Ponte Verde Beach is famous for its 40-foot sand dunes, sea glass on the coastline and miles of freshwater creeks and marshes. A favorite is Atlantic Beach, a small coastal community, rich in charm and history, and is great for surfers and beachcombers.
Jacksonville, Florida's charm, warm weather, rich history and culture and amazing natural beauty make it a great place live and visit.
Pre-Order yours today!