Discovery Map Series: Kid's Map of New Mexico
This pictorial and whimsical map illustration of New Mexico is believed to have its origin in a coloring book published in the 1950s. While the maker is unknown, the charm of this unique state map is obvious. It is a very detailed map, offering much knowledge into significant features of the State of New Mexico through pictures and identifiable names. The map shows the bordering states of Colorado, Arizona, Texas, and Oklahoma. The two major cities of Albuquerque and Santa Fe in New Mexico are shown on the map. It also shows the 1950 population number for the state.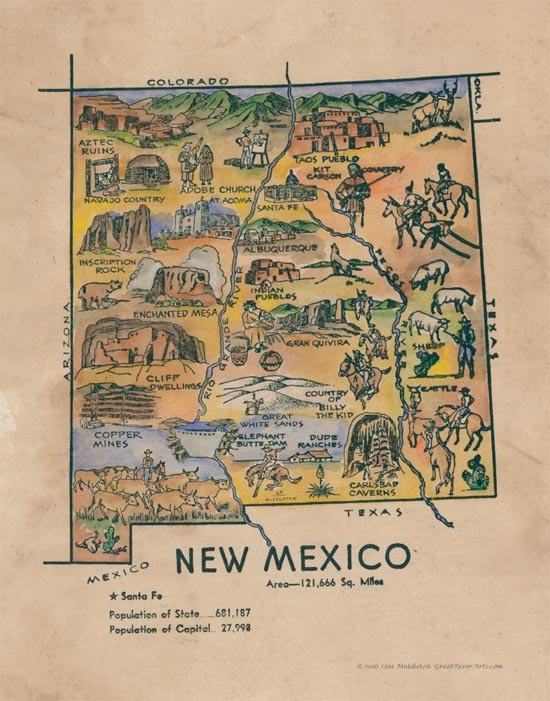 The map shows the geography of the region, illustrating mountains, rock formations (Inscription Rock), and rivers. In New Mexico, the Rio Grande flows from north to south, and the maps appears to depict it flowing in that direction through the cities of Santa Fe and Albuquerque from the mountains. The Rio Grande is a vital source of irrigation water for farming in the region. The map shows the Pecos River extending southward through the state, making its way into the neighboring state of Texas. It is one of New Mexico's primary streams for trout and fly fishing.
Particular New Mexico national monuments are also featured on the map. Notable monuments are the Aztec Ruins- large 12th century walled settlement in the northwest of New Mexico near Farmington; the Cliff Dwellings- ancient cave ruins deep in the Gila National Forest; and White Sands-spectacular dunes of pure white gypsum, entirely surrounded by the White Sands Missile Range today. These, among others, are important monuments that add to the character of New Mexico.
The map further illustrates the types of industries existing in New Mexico. Copper mining and the livestock industry were important to the economy of the state in the 1950s and still is today. The livestock industry, in particular, is important, and the map shows cattle along the Rio Grande and sheep along the Pecos River.
The story of New Mexico would not be complete without the legend of "Billy the Kid" and Kit Carson as the map indicates. Carson is remembered as the greatest tracker and Indian fighter in the West, and "Billy the Kid" as a gun swinging outlaw and killer who died in the prime of his life. This fun pictorial map tells the story of New Mexico by illustrating some of the most important things that shapes the state.
"Due to the unique nature of our maps all sizes are approximate. Please do not purchase a frame until you receive the map and measure it. Please allow up to 4 weeks for delivery of our large limited edition giclees"
For more maps in our Southwest Maps collection! Click Here