Travel Map Feature: 221 Custom map of The Historical Landmarks of Santa Fe
Santa Fe, New Mexico
Santa Fe, meaning holy faith in Spanish, was founded between 1607 and 1610 by Spanish colonists, and is the highest in elevation and oldest state capital in the United States. At an altitude over 7,000 feet situated in the foothills of the southern Rocky Mountains, Santa Fe is New Mexico's fourth largest city. Most of its residents are Hispanic/Latino or non-hispanic Whites, with Asian and Native American at five percent of the population of over 70,000. Rounding out the city's demographics are a mix of Pacific Islander, African-Americans, and a mix of more than two races. Santa Fe has a long and colorful history of conquest and violence. Today, Santa Fe is a center of arts that is shaped by the multiculturalism and ancient traditions of the region.
Between 1050 and 1150, the Santa Fe region was occupied by indigenous groups, who had built several Pueblo Indian villages, but there is little evidence of their remains in Santa Fe today. When Don Pedro de Peralta was appointed Governor-General in 1609, the Spanish capital was moved from San Juan Pueblo to present day Santa Fe. Beginning in the early 17th century, the Spanish, including missionaries, sought to subjugate and convert the Pueblo Indians of the region, but in 1680, the Pueblo Indians revolted against the Spanish colonists in New Mexico, killing hundreds of them. Between 1692 and 1821 Santa Fe flourished, in a period that was characterized by the Spanish policy of a closed empire, as trade was restricted to the Americans, the British and the French. Santa Fe became the capital of the province of New Mexico when Mexico gained its independence from Spain, which opened up the region to American trappers and traders. In the 1900s, Santa Fe's dry climate drew many people to the region who felt their health, particularly tuberculosis, could be improved.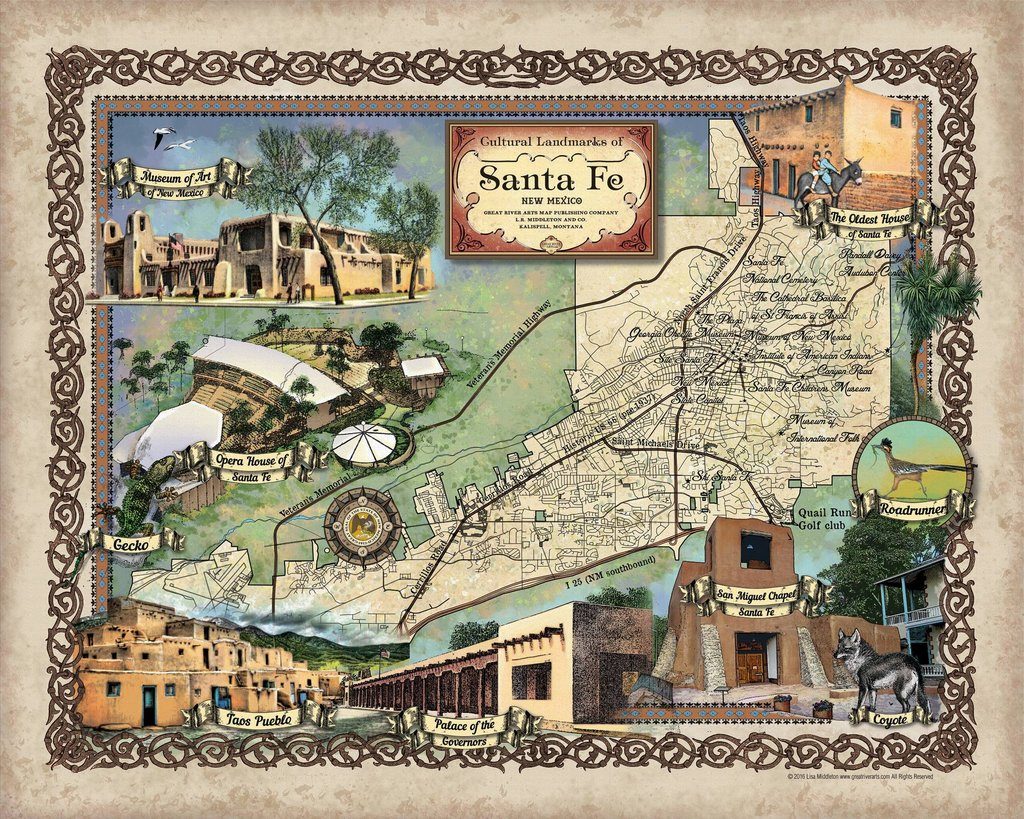 Santa Fe boasts low humidity and lovely, warm summer days and cool summer nights. Winters are beautiful with snow storms interrupted by sunny days. Autumns are bright and beautiful with blooming Chamisa and asters and yellow aspens, while the springtime offers up blooming fruit trees and delightful daffodils, tulips, and forsythia.
Today, Santa Fe is full of intrigue; the city preserves its historic buildings with a 1958 zoning code. This mandates the city's distinctive Spanish-Pueblo style of architecture, which features the adobe and wood construction of old. Additionally, the traditions of the city's rich cultural heritage make Santa Fe one of the most diverse and fascinating cities in the United States.
All sizes are approximate.
You will also love our antiquarian map collection! Click Here