Discovery Map Series: Nantucket, Massachusetts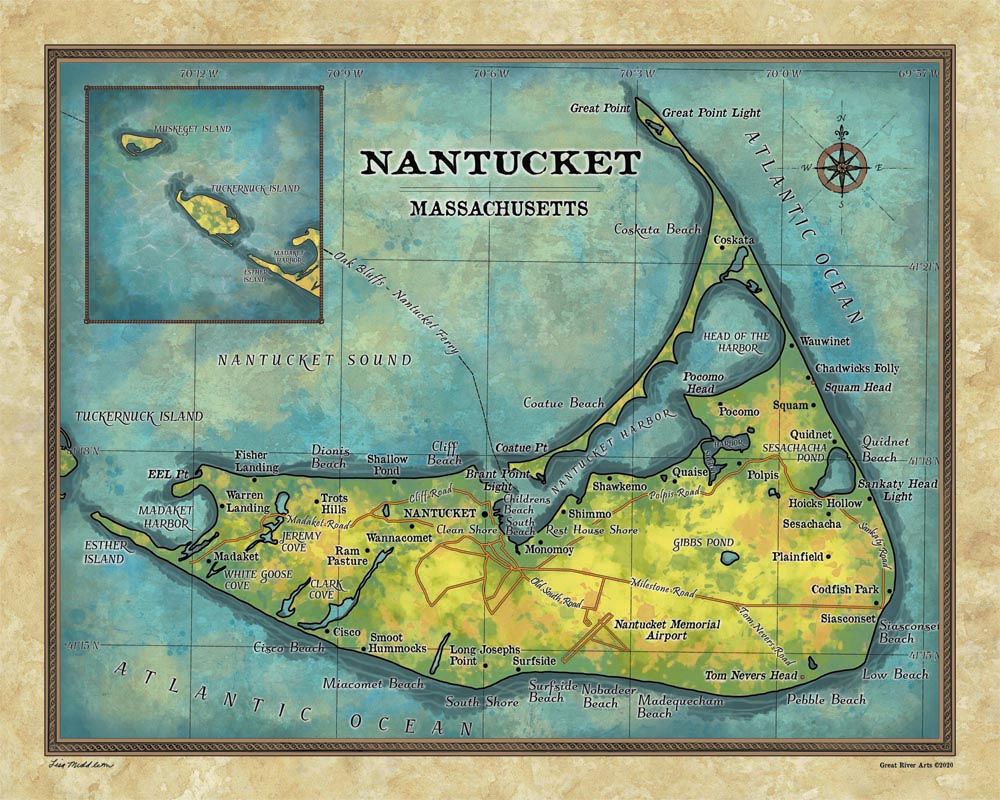 Delightfully colored with ocean blue, this Massachusetts wall art features modern data, but boasts a very classic and historic layout. Nantucket is a tiny island with sunbaked, perfectly windswept, beautiful beaches and this Massachusetts map doesn't disappoint. The whimsical motion that Lisa brings to this print makes it the perfect gift for any Massachusetts native.
The island's pristine beauty stretches for 14 miles long and 3.5 miles wide. The name "Nantucket" is believed to be derived from a Wampanoag word meaning "in the midst of waters," or "far away island. Nantucket is nicknamed "The Little Grey Lady of the Sea" because of its appearance from the ocean when it is fog-bound. Nantucket is distinct for boasting some of the finest and most authentic surviving architecture and landscape, reminiscent of a late 18th and early 19th century New England seaport town.

The original inhabitants of Nantucket were the Native American Wampanoag people, who lived undisturbed in the region until 1641, when the island was deeded by the British William, Earl of Stirling to Thomas Mayhew of Watertown, Massachusetts Bay. Captain Bartholomew Gosnold, an English Mariner, who chartered the "elbow of sand" and discovered Nantucket in 1602 is believed to be the first to spot the island, but he never stepped onto its soil. From 1683 to 1691, Nantucket was part of Dukes County, New York, then it became a part of the newly formed Province of Massachusetts Bay and eventually split off to form Nantucket County. It was not until 1659 that British settlement of Nantucket took place, when Thomas Mayhew sold his interest to a group of investors, including Tristram Coffin,, Peter Coffin, Thomas Macy, Christopher Hussey, Richard Swain, Thomas Barnard, Stephen Greenleaf, John Swain and William Pike, who are regarded as the founding fathers of Nantucket.

Between 1750 and 1850, Nantucket established a vibrant whaling industry, but offshore whaling began as early as 1673. It is said that the islanders took to whaling because Nantucket's sandy, dry, poor-nutrient soil was not conducive to farming. By 1766, dozens of whaling ships were going out of Nantucket and by 1819, it was regarded as the "Whaling Capital of the World." The whaling industry was lucrative business, which made Nantucket and other seaports rich.

A tradition of the summer vacation was established by the 1880s, and Nantucket became a hotspot for the tourism industry and is still a magnet today, drawing people to its natural and constant beauty. Picture an island with miles of splendid beaches and a landscape featuring moors, cranberry bogs, grasslands, aromatic flowers, church steeples, lighthouses, windmill, and breathtaking sunsets, Nantucket still remains a treasure.
SMALL PRINTS
11″x17″ or 11″x14″
Our small prints feature 650 dpi (dots per square inch) digital printing. Each small print features a nearly-flat finish, with an almost imperceptible sheen. This print ships flat, with a stiff board backing, wrapped securely in a plastic acetate sleeve, and ships in 1-4 business days.
LARGE PRINTS
18″ x 24″ or 20″x24″
24″ x 36″ or 24″x30″
Fine art large prints are best for discerning customers who demand only the best in fine art printing. Every large print is giclée printed on heavyweight paper, with inks guaranteed not to fade for 100 years. It features a smooth, uncoated matte surface with no shine. The large format prints are archival limited editions, each numbered and stamped or signed. Your large print ships rolled in a hard tube, also containing a certificate of authenticity. Each print requires TLC and takes up to 10 days of processing prior to shipping.
HAND PAINTED ORIGINALS
36″ x 45″ or custom for your space
A truly unique gift for those who want nothing but the original- get your very own, one-of-a-kind, hand-painted watercolor painting by Lisa Middleton. his option is not a print, but your own painting, hand worked by the artist herself. Each painting is shipped rolled in a hard tube containing a certificate of authenticity, and arrives numbered and stamped with a registered signature stamp or signed. Each painting takes 4 weeks processing prior to shipping.
ABOUT GICLÉE PRINTING
What's the difference between digital printing and giclée printing? Giclée printing is one of the best print reproduction methods available, and allows us to provide a quality product that is guaranteed to not fade for over 100 years. It is a process that uses a specialized 12 color inkjet printer, acid free papers, and pigment based archival inks. Digital inkjet printing is a more cost-effective option for those who love the artwork but are not ready to invest in an archival-quality print.
FRAMES
All four print sizes come solely on the acid-free paper. Mats and frames are not included. It is strongly recommended to withhold frame purchases until after print is received, so as to precisely measure the print for the correct frame size, as slight variation in actual size may occur.
SHIPPING
Every print is shipped via USPS with tracking and insurance. We are print on command so allow 7-10 business days for delivery.
RETURN POLICY
Full refund if returned in original condition within 14 days. Buyer must contact vis Etsy messages prior to return, and pay return shipping.