Travel Tuesday Map Series: Outer Banks, North Carolina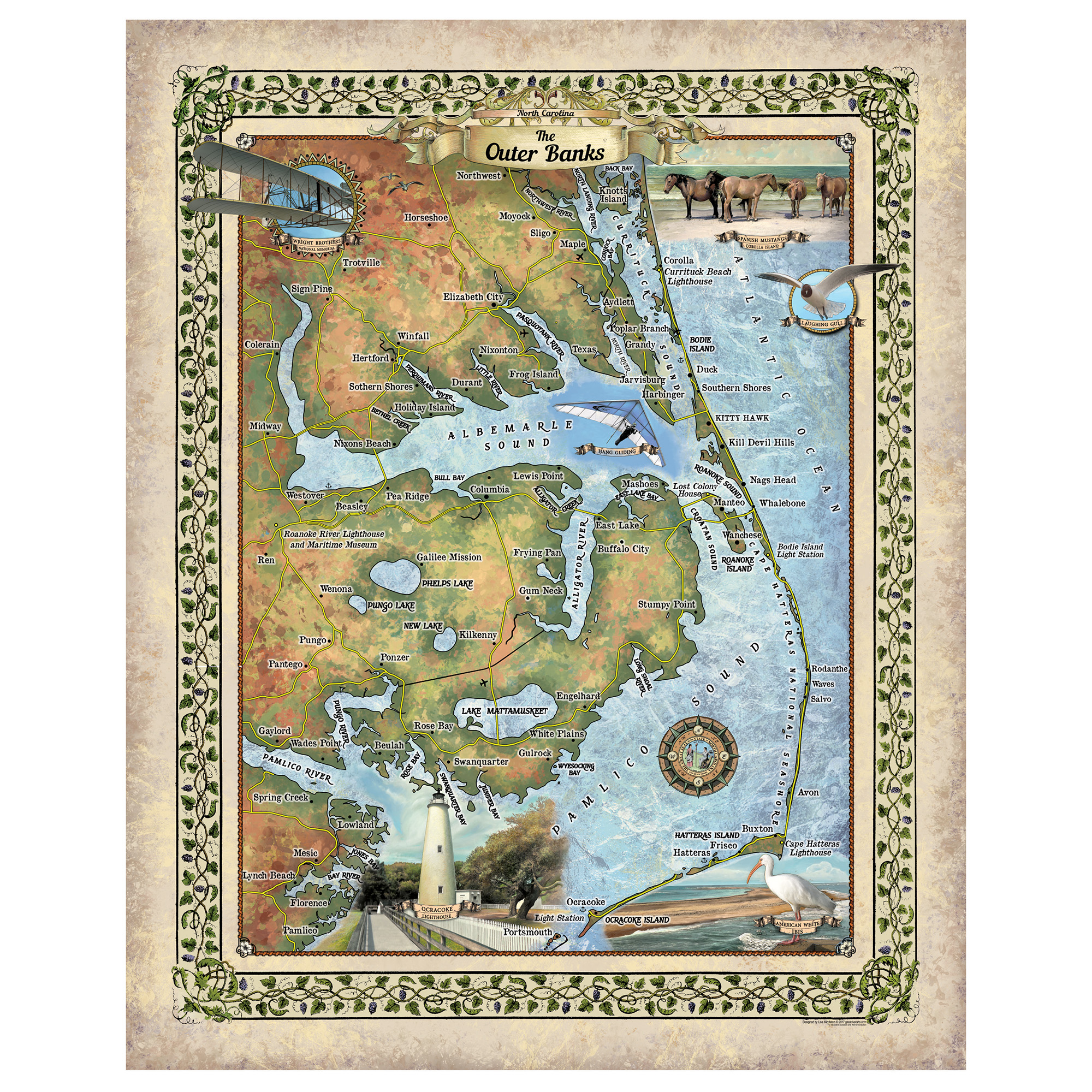 This carefully researched and exquisitely colored map of the Outer Banks, North Carolina is a, exquisitely rare jewel! New to the internet and gift shops this marvelous map is colored majestically and researched carefully. It will look great in guest rooms, foyers, and even bathrooms! Great as a gift for new residents or your own home or office, our UV prints are a real pleasure!
Available in four sizes, each art print is printed on acid free paper made from 29% recycled material. All of the prints feature rich and luxurious colors, perfectly consistent with the original image, which was hand-painted using refined watercolor techniques by the artist, Lisa Middleton. Your print will arrive professionally packaged in plastic acetate, ready for gift-giving, or to be excitedly opened and admired.
SMALL PRINTS
11″x17″
Our small prints feature 650 dpi (dots per square inch) digital printing. Each small print features a nearly-flat finish, with an almost imperceptible sheen. This print ships flat, with a stiff board backing, wrapped securely in a plastic acetate sleeve, and ships in 1-3 business days.
LARGE PRINTS
18″ x 24″
24″ x 36″
Fine art large prints are best for discerning customers who demand only the best in fine art printing. Every large print is giclée printed on heavyweight paper, with inks guaranteed not to fade for 100 years. It features a smooth, uncoated matte surface with no shine. The large format prints are archival limited editions, each numbered and stamped or signed. Your large print ships rolled in a hard tube, also containing a certificate of authenticity. Each print takes up to 10 days of processing prior to shipping.
HAND PAINTED ORIGINALS
36″ x 45″
A truly unique gift for those who want nothing but the original- get your very own, one-of-a-kind, hand-painted watercolor painting by Lisa Middleton. This option is not a print, but your own painting, hand worked by the artist herself. Each painting is shipped rolled in a hard tube containing a certificate of authenticity, and arrives numbered and signed. Each painting takes 4 weeks processing prior to shipping.
ABOUT GICLÉE PRINTING
What's the difference between digital printing and giclée printing? Giclée printing is one of the best print reproduction methods available, and allows us to provide a quality product that is guaranteed to not fade for over 100 years. It is a process that uses a specialized 12 color inkjet printer, acid free papers, and pigment based archival inks. Digital inkjet printing is a more cost-effective option for those who love the artwork but are not ready to invest in an archival-quality print.
FRAMES
All four print sizes come solely on the acid-free paper. Mats and frames are not included. It is strongly recommended to withhold frame purchases until after print is received, so as to precisely measure the print for the correct frame size, as slight variation in actual size may occur.
SHIPPING
Every print is shipped via USPS with tracking and insurance.
RETURN POLICY
Full refund if returned in original condition within 14 days. Buyer must contact vis Etsy messages prior to return, and pay return shipping.
ALL SIZES ARE APPROXIMATE
Due to the unique nature of our maps we size the maps to the ratio that fits them best, so sizes may vary slightly from those listed in the shop.
WE ARE PRINT ON COMMAND
Please allow up to 1.5 weeks to receive your map.
Off the coast of North Carolina and southeastern Virginia, stretching nearly 200 miles, is a series of peninsulas and barrier islands called the Outer Banks. With its starting point at the Virginia border, the Outer Banks cut through the counties of Currituck, Hyde, Dare and Carteret, separating the mainland from the outer islands of Bodie, Roanoke, Hatteras, and Ocracok are Albemarle Sound and Pamlico Sound. The islands got their names from the original Native American inhabitants, including the Kinnakeet, Chicamacomico, Ocracoke, Hatteras and Manteo.
During the 1500s, most Native Americans aided the new settlers in the region, like the Croatan Manteo, for example, who helped colonists settle the Roanoke vicinity. This friendly relationship soured around the 17th century, when continual fighting between tribes and settlers, along with disease, destroyed the Native American population occupying the Outer Banks. The first English colonists to settle the Outer Banks in the late 1500s included John White, along with more than 100 other compatriots, making their first attempt at settlement on Hatteras Island. However, they found the island to be too dry, making it unsuitable for living, and as such, the settlers sailed the Pamlico Sound and eventually settled on Roanoke Island. John White sailed back to England to gather supplies, but it was three years later before a supply team returned to find that the Roanoke settlement had vanished. The mystery of the "Lost Colony" remains unsolved to date.
For about a century, settlement of the Outer Banks was avoided, but the inlets and coves and the islands' isolation was a magnet for pirates and smugglers seeking a safe haven. As such, during the 1600s and early 1700s, pirates used the Outer Banks as a primary base of operations, as they targeted Spanish and British ships carrying gold. Blackbeard (Edward Teach) who made Ocracoke his home, became one of the most legendary and feared pirates associated with the Outer Banks, and his capture by the British Royal Navy concluded the Golden Age of Piracy in the region. In the late 18th century, the construction of several lighthouses and lifesaving stations on the islands of the Outer Banks to minimize shipwrecks along the coast.
The Outer Banks is a great place for fly fishing, brackish fishing, offshore fishing, inshore fishing and pier fishing. With acres of wetland habitats, the Outer Banks has a wide variety of animal life, including wood ducks, alligators, black bears and red wolves, along with plant species, including the Atlantic white cedar,
bald cypress, wildflowers and shrubs. The natural beauty of this isolated region is there for you to enjoy.
"sizes are approximate"Full refund if returned in original condition within 14 days. Buyer pays return shipping.
"Watermarks will not appear on product."