Discovery Map Series: Petoski Lakes, Beaver Island, and Traverse Bay Michigan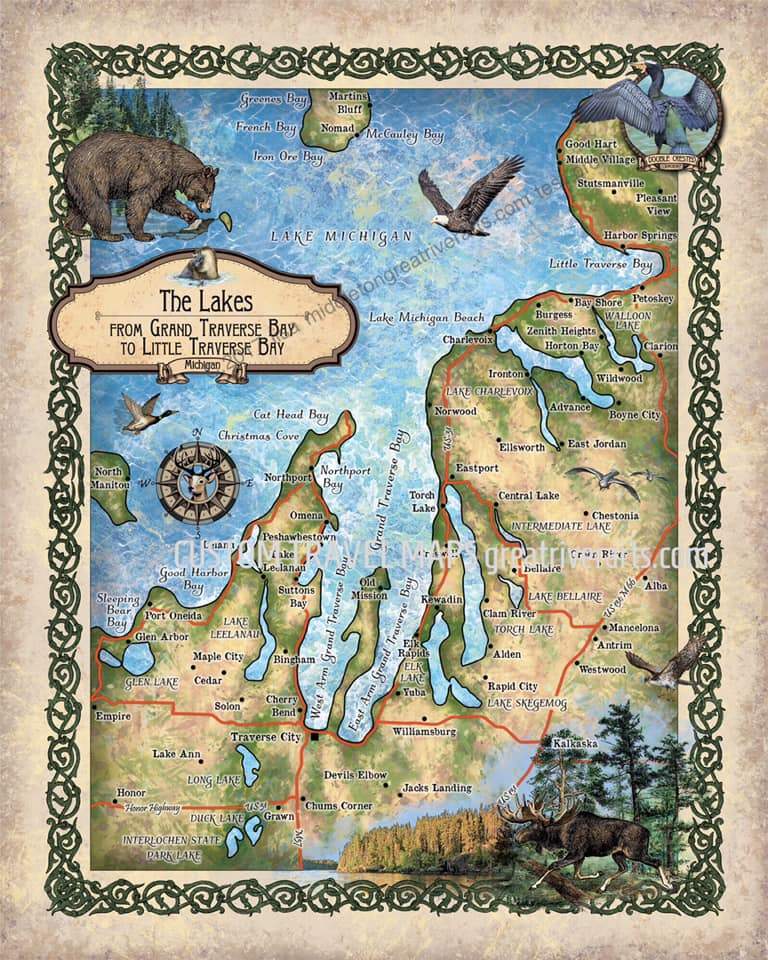 Michigan is known as the Great Lakes State, and the name Michigan comes from the Native American word "Mishigamaa" which means "large lake." Its beautiful, natural surroundings include 3,177 miles of Great Lakes shoreline, along with numerous other exquisite lakes, almost 200 waterfalls and 36,000 miles of streams, along with numerous islands. It can simply be said that water has an important influence in Michigan. This map draws attention to the lakes from Grand Traverse Bay to Little Traverse Bay, Michigan.
Located in Northern Michigan, the Grand Traverse Bay Area is known for its many lakes and beautiful lakeshores, cherry orchards, grapes, golden sand beaches and sapphire blue waters, as well as its exciting outdoor activities, like downhill skiing and boating. Grand Traverse Bay is 32 miles long, 10 miles wide, and roughly 620 feet deep in some parts, and is divided into two arms by the Old Mission Peninsula. This bay area includes several smaller, yet, significant bays, including Omena Bay, Bowers Harbor, Northport Bay, Suttons Bay and Old Mission Bay. Traverse City, the largest municipality in the Bay, is located at the base of Old Mission Peninsula and is a great stopoff point for exploring the Grand Traverse Bay Area. Some 60% of Grand Traverse Bay's surface water is supplied by the Elk River Chain of Lakes that is 55 miles long. It consists of 14 lakes, namely Wilson, Ben-Way, Intermediate, Lake Bellaire, Beals, Scotts, Six Mile, Clam, Torch, Skegemog, St. Clair, Ellsworth and Elk.
At approximately 45 square miles, 170 feet deep and 3.5 miles wide between Petoskey and Harbor Springs, the two cities found in this Bay, Little Traverse Bay is relatively small. It is situated off Lake Michigan in the northern region of the Lower Peninsula of Michigan. Little Traverse Bay Bands of Odawa Indians have their headquarters in Harbor Springs. Petoskey, located on the Bay's southeast shore is known for its underwater monument, an 11-foot tall crucifix with an 850 pound Italian White Marble statue of a 5 foot, 5-inch tall Jesus. Little Traverse Bay is known for its diverse shoreline, that boasts miles of sand dunes, a large recurve sand spit called Harbor Point, different sand beach ecosystems, and exposed limestone bedrock. Spirit (Wycamp) Lake, O'neal Lake, Larks Lake, Crooked Lake, Round Lake, Spring Lake, Walloon Lake, Susan Lake, Lake Charlevoix are some of the water sources that supplies Little Traverse Bay surface water.
The lake of both Grand and Little Traverse Bay regions and their lakes play an essential role in the region's economy and the quality of life of residents. The numerous lakes provide the opportunity to enjoy the beautiful shorelines, offering a host of activities from fishing to boating.