Travel Map Feature: 057 Ireland 1906
Ireland has long been known for being the Emerald Isle… and drinking. It seems that the two go hand in hand. As it turns out, things were not that much different in 1906. This map shows the basic layout and important cities of Ireland at the time. As it happens, there was quite a bit going on.
For starters, some pretty neat things happened that year, such as the completion of the Royal Victoria Hospital in Belfast. This made it the first building in the world to be air-conditioned. Another noteworthy achievement was the completion of the City Hall building in Belfast as well. Also, Alice Perry locked her name into the annals of world history by becoming the first Irish female graduate with a civil engineering degree. She completed her course at Queens College, Galway, in 1906, and was appointed that December as the first acting county surveyor for the region.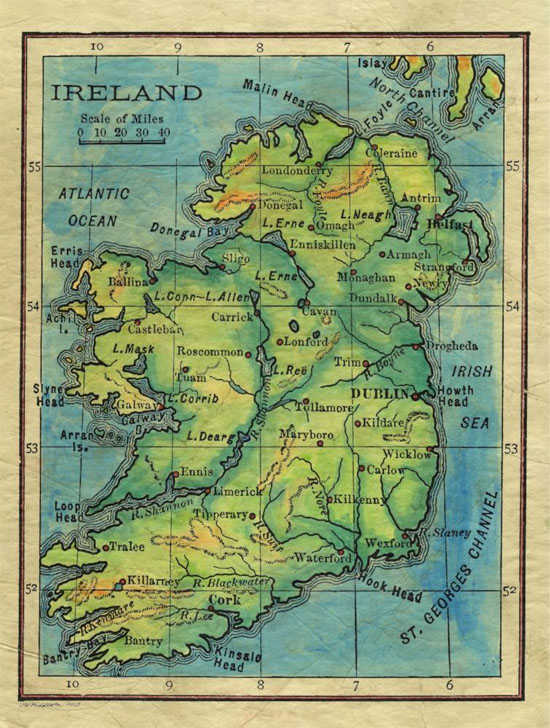 Referencing an earlier statement above regarding Ireland and drinking, tensions began to ramp up in that area as well. It seems that the temperance reformers thought that having public houses, or bars as we know them, should not be opened on Sunday. They should also close earlier on Saturday and licenses should be limited throughout the area. To that end, they met with the acting Lord Lieutenant and asked for those very things. No matter how effective they were at the time, Ireland and Public Houses go hand in hand today.
However, it was perhaps the performance by Peter O'Connor, that really marked a rebirth for the Irish motherland. He defined the Olympic committee, and went on to win silver and gold at the 1906 Athens World Olympics. However, it was his performance on the champions stage that took the cake. Just as he was about to be awarded his winning medals, he broke away in a dead run towards the flagpole.
After climbing to the top, he unfurled the old Irish flag, known as the flag of Erin, which contains the Gaelic promise, "Ireland Forever". His show of solidarity for Ireland sparked the Irish and Irish American participants to surround him so security could not muddy the matter. The medals have been contested since, however, they ultimately stood the test of time. Ireland is on record for claiming the gold and silver for their jump events. The Irish were just as lively then as they are today. They have a rich history and heritage, that is steeped with folklore. They have produced some amazing people who shine like jewels. No wonder they are known as the Emerald Isle.
All sizes are approximate.
For more maps in our treasured African Maps collection! Click Here