Travel Map Feature: Lake Michigan
The third largest of the gems that are the Great Lakes of North America, Lake Michigan is a natural lake entirely sheltered within the borders of the United States, and touches the states of Michigan, Wisconsin, Illinois and Indiana. Its name originates in the Ojibwa (Chippewa) word "michi- gami," meaning "large lake." At roughly 22,300 square miles, it connects to Lake Huron through the Straits of Mackinac, a 4-5-mile-wide channel in the north. In the northern end of Lake Michigan are numerous islands, including Washington Island, the North and South Manitou Islands and the largest, Beaver Island.
Lake Michigan was "accidentally" discovered around 1634 by Jean Nicolet, who under the instruction of French explorer Samuel de Champlain, was tasked with  finding the "Northwest Passage" but failed. Nicolet, in 1679, carried out exploration in the southernmost part of Lake Michigan, which is modern-day Chicago area. The Great Lakes' shipwreck history extends to Lake Michigan, with its most notable maritime disaster being the sinking of the Westmoreland steamer on December 7, 1854. This famous shipwreck was discovered on July 7, 2010, more than 150 years after the accident.
Lake Michigan provides important habitats for a diversity of wildlife, thanks to its incredible marshes, tallgrass prairies, savannas, forests and spectacular sand dunes. Thriving in Lake Michigan are trout, salmon, walleye, lake whitefish, lake trout, yellow perch, panfish and smallmouth bass. Other aquatic life found in the waters of the lake includes crawfish, freshwater sponges, and invasive species like sea lamprey, invasive species, such as round goby, zebra mussels and quagga mussels. A wide range of bird populations call the lake home, including, water birds like ducks, geese and swans, and other creatures of the air are also prevalent on the lake, such as crows, robins and bald eagles, and predatory birds- hawks and vultures.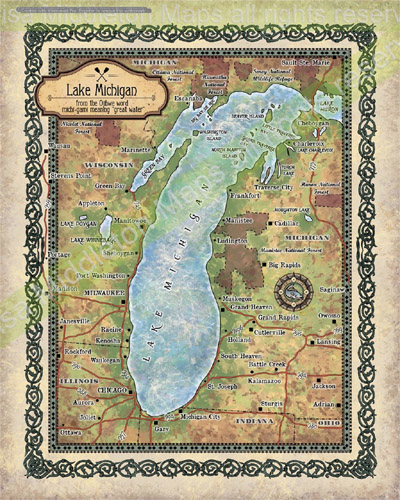 Several beaches, national forests, sand dunes and lighthouses are located on the shores of Lake Michigan. With miles of beautiful shoreline and crystal clear waters, Lake Michigan and its vicinity provides plenty of opportunities to enjoy fun and exciting activities, such as fishing, yachting, kitesurfing, sea kayaking, diving, lake surfing, boating, trekking, and hiking. Bird-watching can also be enjoyed on the shorelines of Lake Michigan, and the Beaver Island Birding Trail, especially, is a great spot to view migratory and nesting birds. Lake Michigan has plenty to offer, from a rich history, to natural, scenic beauty.
"Watermarks will not appear on product."
.
You will also love our antiquarian map collection! Click Here