Travel Tuesday Map Feature: Crystal Coast, North Carolina
The Crystal Coast is an 85-mile stretch of coastline extending from the Cape Lookout National Seashore to southwestward to the New River, encompassing the entire area along the Bogue Banks, a barrier island that stretches for more than 20 miles. It is a mixture of colorful history, quiet stretches of beaches, quaint small towns, historic homes, picturesque lighthouses and natural scenic beauty. The tourist-oriented coastline is situated in the eastern portions of Carteret County, North Carolina, including Harkers Island, Down East and Shackleford Banks, as well as the northern Onslow County areas of Bear Island/Hammock's Beach. It is believed that the name Crystal Coast was coined by the Carteret County Chamber of Commerce to describe the area's immensely clear waters and beautiful beaches.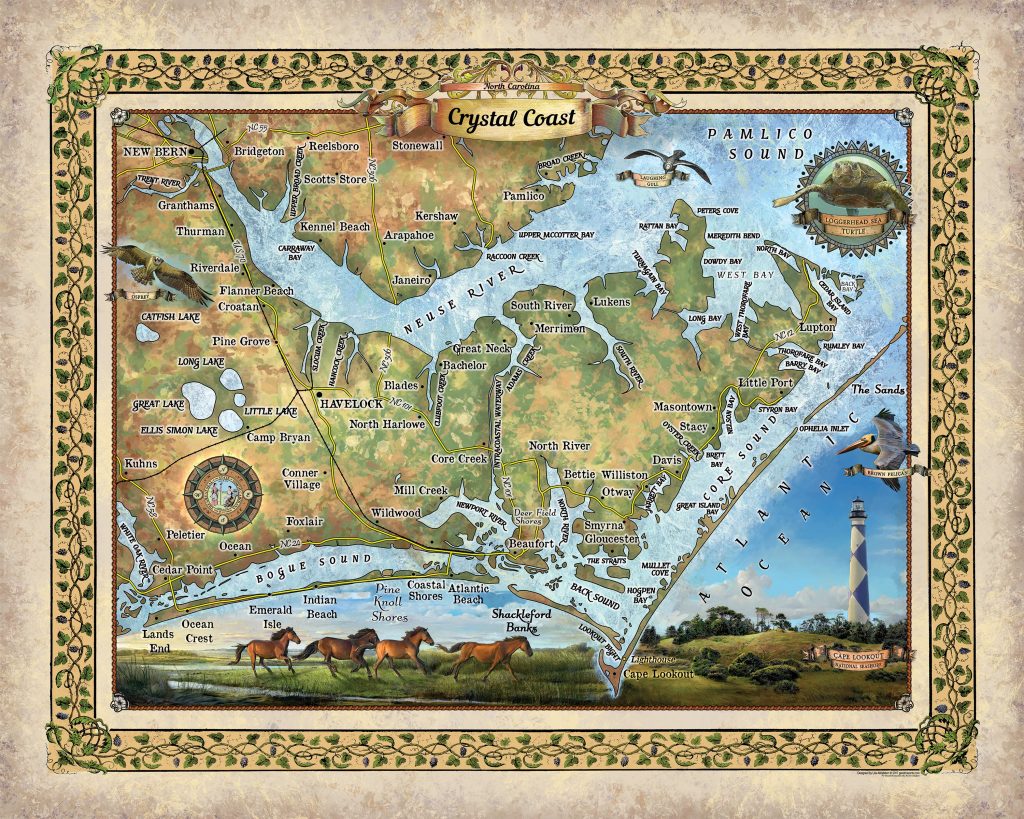 It is common for the Crystal Coast region to be referred to as the Southern Outer Banks, to place emphasis on its connection to the main barrier islands of the Outer Banks, that ends at Cape Lookout, which marks the northern extent of the Crystal Coast. Various Native American groups originally called the Bogue Banks home prior to the late 1800s, when settlers came to the North Carolina coast. Many different historical sites such as Fort Macon, site of a major battle in the Civil War and the Cape Lookout National Seashore, home to the Cape Lookout Lighthouse offers a glimpse of the colorful history of Crystal Coast as a player in the Revolutionary War and Civil War. Major historical actors in the region included pirates and pioneers, and the Crystal Coast was a notorious stomping ground for the infamous pirate Blackbeard, whose flagship Queen Anne's Revenge wrecked on the shoals of Bogue Banks.
The Crystal Coast's picture-perfect coastal towns include Atlantic Beach, Beaufort, Emerald Isle, Morehead City, Cape Lookout, Swansboro and Pine Knoll Shores, and 56 miles of the 85 miles of silken Crystal Coast coastline along the southern Outer Banks are in the protected Cape Lookout National Seashore. This paradise boasts incredible beaches, including Fort Macon, Atlantic Beach, Pine Knoll Shores, Indian Beach/Salter Path and Emerald Isle. For a walk in the great outdoors, Hammocks Beach State Park has numerous trails and the opportunity for wildlife sighting and bird watching. Fishing in the beautiful waters of Crystal Coast can be a treat for anglers, who can also participate in yearly competitive fishing tournaments, such as the Atlantic Beach King Mackerel Tournament in September and King Mackerel – Bluewater Fishing Tournament in the spring. Rich history, scenic beauty and pristine beaches make the Crystal Coast a treasure.
You will also love our antiquarian map collection! Click Here