Travel Tuesday Map Feature: Lake Erie Map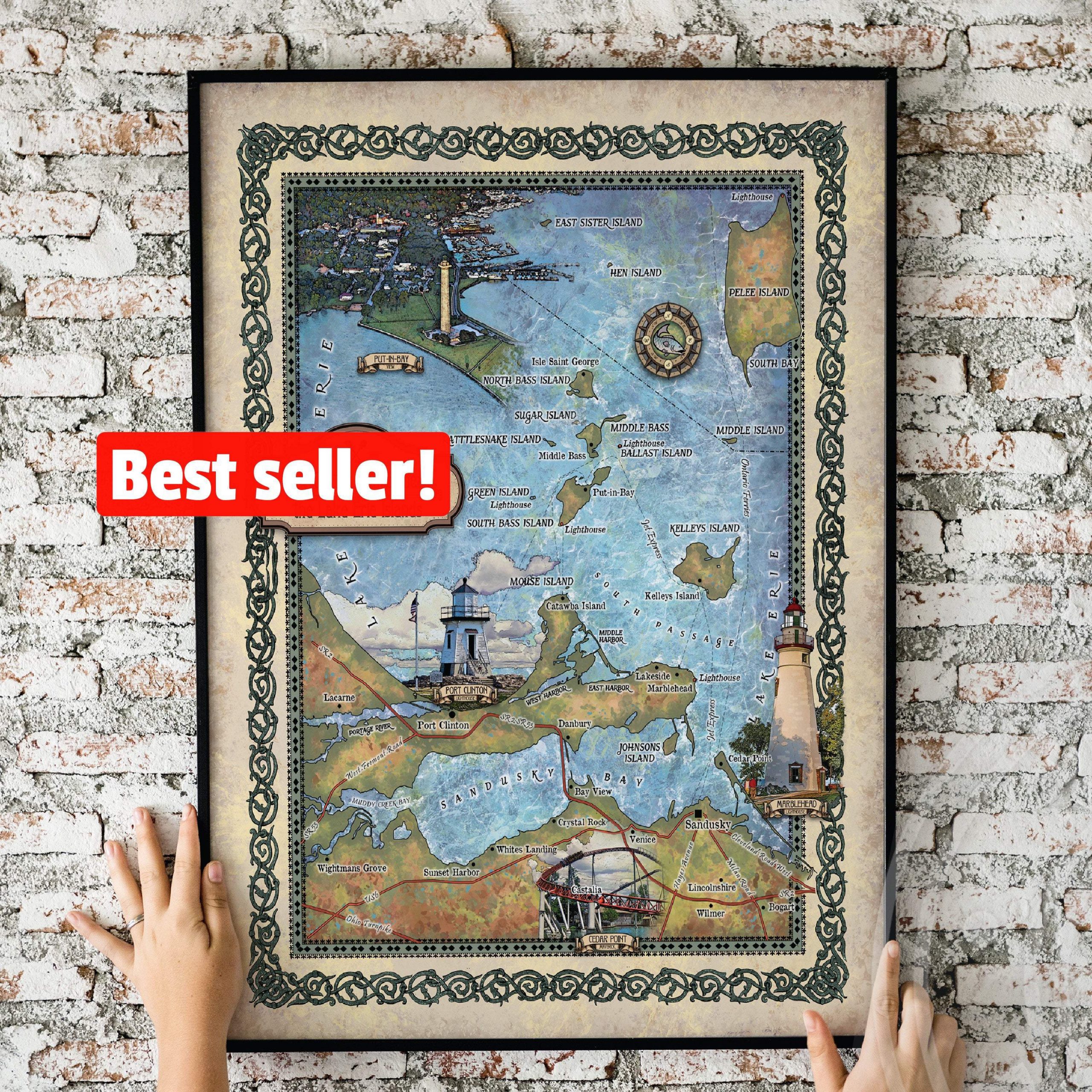 This is a beautiful Erie map features Lighthouses, the Great Lakes and makes a great Ohio gift. They arrive as Vintage style poster or fine art print. It features Put-in bay, Kelley Island, The Great Lakes, Marblehead and Port Clinton lake art. In between Toledo and Cleaveland on the Southern coast of Lake Erie, the Ohio regions of Port Clinton, Marblehead and Lake Erie Islands are rich in history and scenic beauty, and attracts many each year. From miles of beautiful shoreline, to fun-filled activities that nature facilitates, these Ohio treasures offer thrilling experiences and memories. Please more about this "Vacationland" below the product descriptions. Please message me to review a clearer picture of this map.
Available in four sizes, each art print is printed on acid free paper made from 29% recycled material. All of the prints feature rich and luxurious colors, perfectly consistent with the original image, which was hand-painted using refined watercolor techniques by the artist, Lisa Middleton. Your print will arrive professionally packaged in plastic acetate, ready for gift-giving, or to be excitedly opened and admired.
SMALL PRINTS
11″x17″ or 11″x14″
Our small prints feature 650 dpi (dots per square inch) digital printing. Each small print features a nearly-flat finish, with an almost imperceptible sheen. This print ships flat, with a stiff board backing, wrapped securely in a plastic acetate sleeve, and ships in 1-4 business days.
LARGE PRINTS
18″ x 24″ or 20″x24″
24″ x 36″ or 24″x30″
Fine art large prints are best for discerning customers who demand only the best in fine art printing. Every large print is giclée printed on heavyweight paper, with inks guaranteed not to fade for 100 years. It features a smooth, uncoated matte surface with no shine. The large format prints are archival limited editions, each numbered and stamped or signed. Your large print ships rolled in a hard tube, also containing a certificate of authenticity. Each print takes up to 10 days of processing prior to shipping.
HAND PAINTED ORIGINALS
36″ x 45″ or custom for your space
A truly unique gift for those who want nothing but the original- get your very own, one-of-a-kind, hand-painted watercolor painting by Lisa Middleton. his option is not a print, but your own painting, hand worked by the artist herself. Each painting is shipped rolled in a hard tube containing a certificate of authenticity, and arrives numbered and stamped with a registered signature stamp or signed. Each painting takes 4 weeks processing prior to shipping.
ABOUT GICLÉE PRINTING
What's the difference between digital printing and giclée printing? Giclée printing is one of the best print reproduction methods available, and allows us to provide a quality product that is guaranteed to not fade for over 100 years. It is a process that uses a specialized 12 color inkjet printer, acid free papers, and pigment based archival inks. Digital inkjet printing is a more cost-effective option for those who love the artwork but are not ready to invest in an archival-quality print.
FRAMES
All four print sizes come solely on the acid-free paper. Mats and frames are not included. It is strongly recommended to withhold frame purchases until after print is received, so as to precisely measure the print for the correct frame size, as slight variation in actual size may occur.
SHIPPING
Every print is shipped via USPS with tracking and insurance.
RETURN POLICY
Full refund if returned in original condition within 14 days. Buyer must contact vis Etsy messages prior to return, and pay return shipping.
Port Clinton is located along the Portage River and Lake Erie and is situated in Ottawa County. The port city was established in 1828 and is about 44 miles east of Toledo. It was named in honor of DeWitt Clinton, lieutenant governor of New York, 1811-1813. It is also a part of an area of Ohio that is referred to regionally as 'Vacationland", known as a popular summertime tourist destination, which encompasses the counties of Erie, Huron, Ottawa and Sandusky. The city has been dubbed the "Walleye Capital of the World," known for its annual Walleye Drop, commemorating the new year. Its fishing and boating industries are economic drivers. Attractions in Port Clinton include Monsoon Lagoon Water Park, Shade Acres Campground, Catawba Island State Park, Ottawa County Historical Museum, Liberty Aviation Museum and African Safari Wildlife Park.
Roughly 10.6 miles from Port Clinton is Marblehead, also situated in Ottawa County, at the tip of the Marblehead Peninsula, which divides Lake Erie proper from Sandusky Bay. Marblehead is also a part of "Vacationland" and is popular for its lake frontage and top quality sport fishery. It is home to the Marblehead Lighthouse that rests on the Marblehead Peninsula and is a part of the Marblehead Lighthouse State Park. It is the oldest continuously-operating lighthouse on the U.S side of the Great Lakes, in service since 1822. Marblehead is home to a United States Coast Guard station and is also a major commercial producer of limestone. Some of Marblehead's attractions include Marblehead Lighthouse Historical Society Museum, Marblehead Lighthouse State Park, Marblehead Lighthouse, Lake Point Park and Meadowbrook Marsh.
A ferry ride from Marblehead can take folks to the Lake Erie Islands, a chain of archipelagic islands in Lake Erie. There are over 30 islands that range in size from miniscule to larger inhabited land masses, that includes the more popular Kelleys Island, Pelee Island and the Bass Islands. Most of the islands are on the Ohio side of the U.S, while Pelee Island is the only major inhabited island that belongs to the Province of Ontario. Also a part of the collective area known regionally as "Vacationland," the Erie Islands offers the opportunity to enjoy water sports, like parasailing, and to explore attractions such as the Inscription Rock Petroglyphs, Glacial Grooves State Memorial, Kelleys Island State Park, Scheele Preserve and Jones Preserve.
These three "Vacationland" sites are unique and present the opportunity to experience and enjoy all they have to offer on the water and in nature.
"sizes are approximate" Full refund if returned in original condition within 14 days. Buyer pays return shipping.
"Watermarks will not appear on product." Available wholesale!