Discovery Map Series: Map of Virginia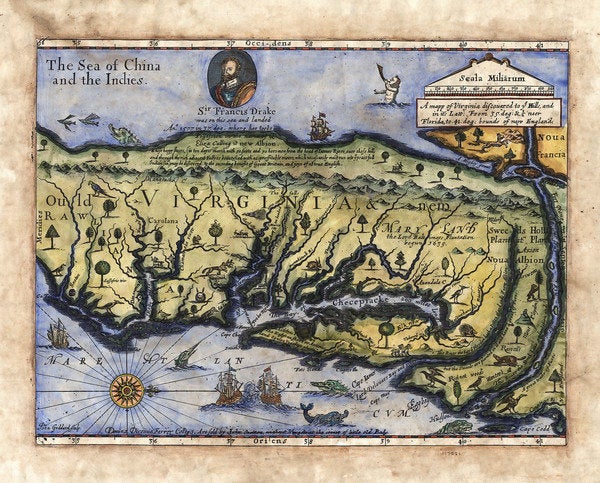 This rare find is a beautiful print of a restored and hand painted map by map archivist Lisa Middleton. One of her personal favorites, the colors will add some life to your room and historic authenticity to a regional space. This is a must have gift for your history loving husband or friend, is easy to frame, and will last a lifetime. This early map of the Virginia Territory is significant due to its depiction of North America. If you notice, our continent looks rather narrow. Furthermore, there is a strange Northwest passage in the form of a river that connects the Hudson to the "sea of China and the Indies". Of course, further cartographic efforts, coupled with years of exploration, would render a true and more accurate shape. Yet, this John Farrer original is widely regarded as an important piece of history more than anything else. He was an ardent promoter of the Virginia colony. He was such a fan that he named his daughter after it. This map was originally hand drawn, and included in his personal copy of Virgo Triumphans, known in English as Virginia Richly and Truly Valued, by Edward Williams. Yet neither he or Farrer is featured in the cameo at the top. That is Sir Francis Drake, who is credited for exploring much of the east coast before it was developed or claimed.
https://www.etsy.com/listing/166229895/18×24-large-maps-easy-to-frame-archaic?
To Order a 24×36″ Signed and numbered UV resistand Giclee please copy and paste this address in to your browser: https://www.etsy.com/listing/172861207/large-24×36-giclee-reproduction-of-any?
To order the Hand Painted Original of this map please copy and paste this address into your browser: https://www.etsy.com/listing/172893547/large-masterpiece-historic-map-paintings?
"Due to the unique nature of our maps all sizes are approximate. Please do not purchase a frame until you receive the map and measure it. "Full refund if returned in original condition within 14 days. Buyer pays return shipping.