Travel Tuesday Map Feature: Yosemite National Park California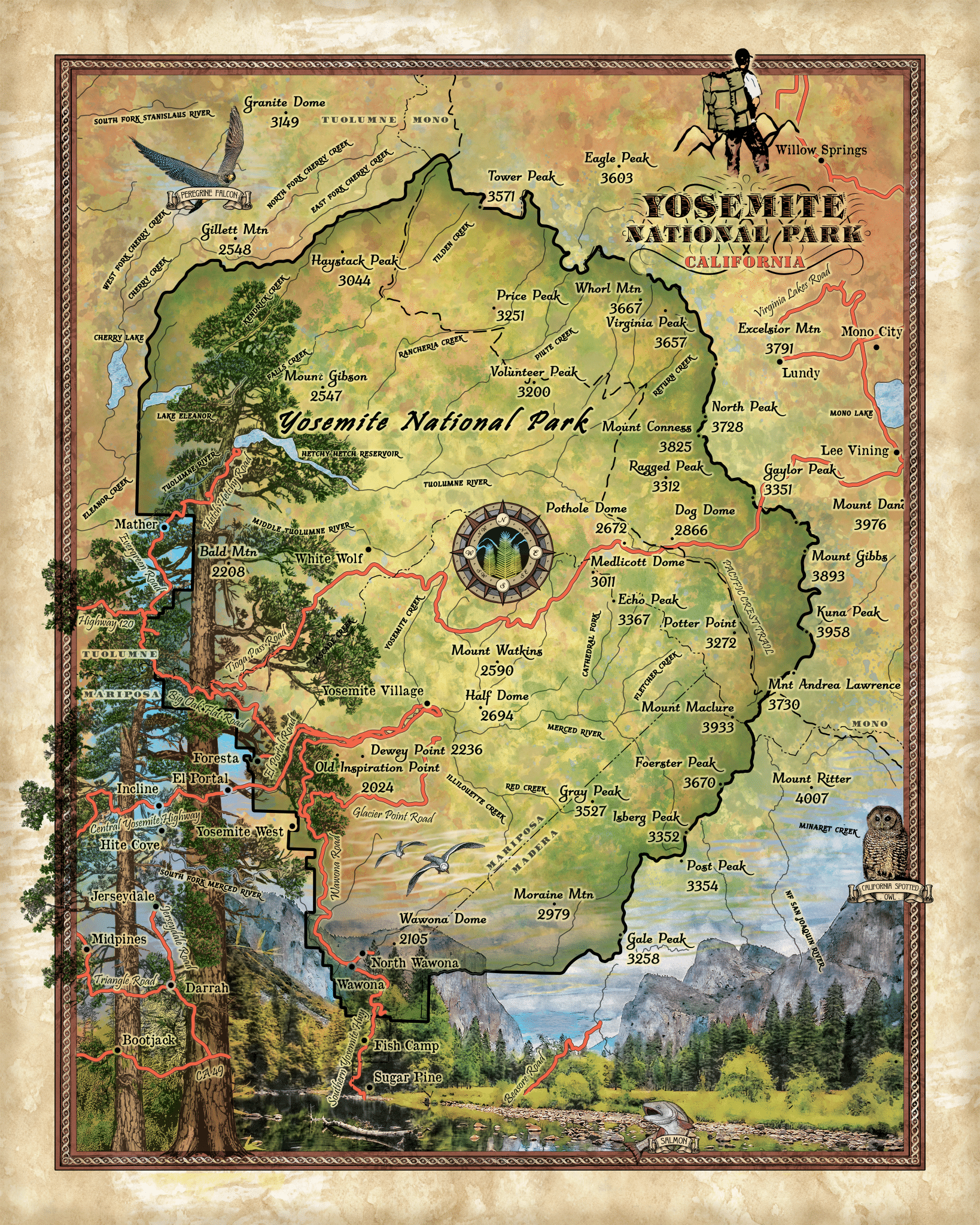 Yosemite National Park California Map Art Wall Decor Poster
There are several natural wonders across America and the Yosemite National Park is one of the breathtaking beauties that continues to give charm abundantly.
Naturalist, conservationist, and Scottish writer John Muir once said, "Yosemite Park… None can escape its charms. Its natural beauty cleans and warms like a fire, and you will be willing to stay forever in one place like a tree."
Yosemite National Park is situated in eastern California and encompasses roughly 748,000 acres of diverse flora and fauna, along with other land features like granite cliffs, lush deep valleys, and exquisite waterfalls, like the Yosemite Falls with a height reaching 2,425 feet.
The Park's giant sequoia trees (approximately 3,000 years old and 250 ft. tall) are a stark representation of the beauty that is derived from steadfast dedication to the preservation of nature. The park was established in 1890, some 26 years later after first being placed under the protection of the State of California through the signing of President Abraham Lincoln's Yosemite Grant.
Ever wondered who advocated for the establishment of Yosemite National Park? History has it that John Muir advocated and spearheaded the creation of the Park. In his publications, including books, essays, letters, and newspaper and magazine articles, Muir raised awareness of the distinct beauty and value of Yosemite. As a result of his activism and his role in the creation of the Park, he is also referred to as "Father of National Parks."
From the time of its early beginnings, Yosemite National Park has seen numerous arrivals, some visitors, and others settlers. Before early settlers, there were the American Indians who called Yosemite home. Did you know that an Euro-American militia was the first non-native group to enter Yosemite? The Mariposa Battalion, a Euro-American militia established to drive the native Ahwahneechee people onto reservations that brought about the Mariposa Indian War.
When the war ended, Yosemite opened to settlement and pioneering settlers took advantage of the land and the opportunity that was granted to them. Some became businessmen serving as tourist operators, building hotels and inns, and starting stagecoach companies. James Hutchings, one of Yosemite's earliest publicists, and Elvira Hutchings, for example, offered early travelers a soft bed to rest. Another notable character who played an integral role in the growth of Yosemite National Park is photographer Ansel Adams who captured the Yosemite in beautiful art form.
Yosemite's vast wilderness is the third oldest national park in the United States and one of the most visited annually. Its backcountry waterfalls, sheer cliffs, mountain meadows, hiking and horse trails, hidden vistas, and choice fishing and camping spots, among other magnificent offerings, make Yosemite National Park an awe-inspiring beauty that's waiting to be explored.
Bring in a Wonderful famous Print Poster like this Art Painted Print Poster is the best for discerning customers who demands the best fine artwork Printed wall decoration:
This wall decor print poster has some size variations like (11*14, 16*20, 20*24, 24*30 & 36*45) that give you oppurtunity to make choice which size is need for you.
Sometimes this type of historical or Wonderful famous Print Posters have some tears, folds, separations and other blemishes but our wall poster has no these types of errors. This is a high-quality reproduction art wall decor poster and its image has standard resolution, digitally enhanced and you can restored where necessary.
We used acid free matte paper & uv resistant inks that will prevent yellowing or fading and used the latest printing technology to create our product.
You can use this unframed print poster map in variety ways, it depends on upto you like you can use tape, putty, pins, poster hangers and poster frames etc.
This wall art poster print made for home, living room, office-room, classroom and drowing room etc decoration. Everybody loves historical art print poster wall Poster. All our wall arts are proudly made for customers all over the world who loves vintage style maps and we know you will too.
Finally we want to say you that this poster wall makes a beautiful timeless and unique gift for you.