Travel Tuesday Map Series: Geneva Lake, Wisconsin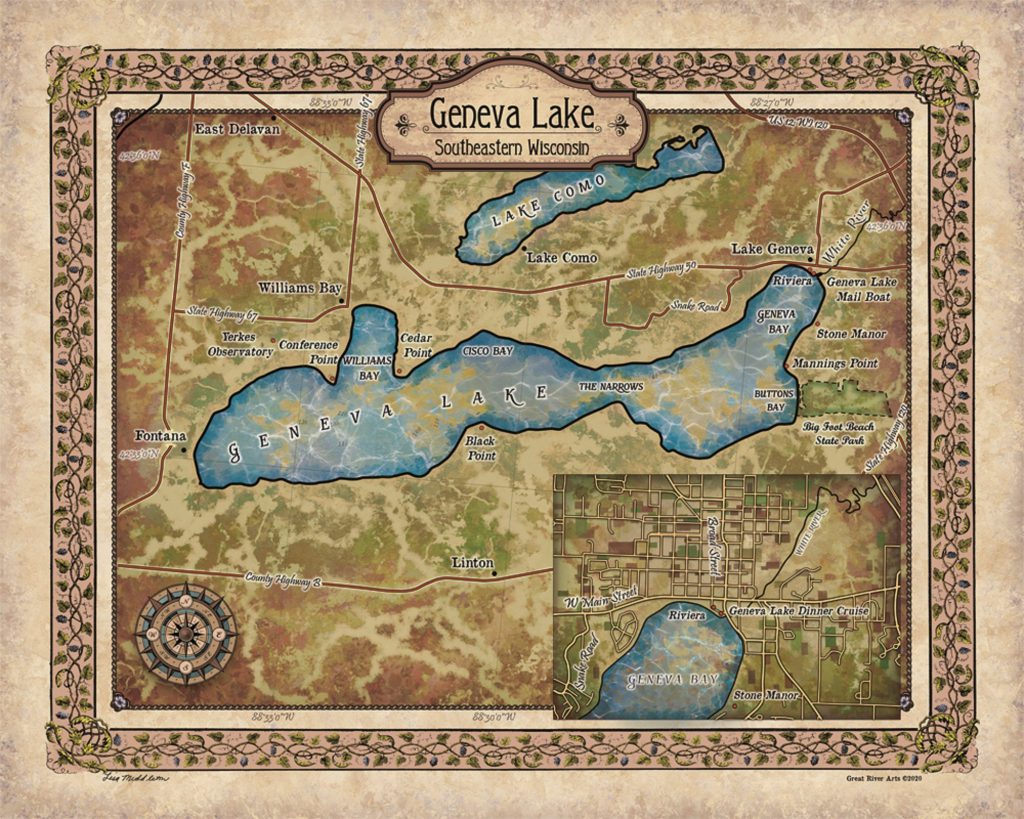 Welcome this vintage style map art for your lake house near Geneva Lake Wisconsin to give your home a regional feel and a reference to help guests familiarize themselves with the area. Great for Lake homes, new homeowner gifts, or traveler gifts, our lake map collection will help keep your special lake in your heart and mind throughout the day.
Geneva Lake lies in the pre-glacial Troy Valley in southeastern Wisconsin, in the City of Lake Geneva, the Villages of Fontana-on-Geneva Lake and Williams Bay, and Town of Walworth. It is a freshwater lake that covers an area of approximately 5,401 acres, is 2.1 miles wide at its widest point and has a maximum length of 7.6 miles and a maximum depth of 140 feet. This headwater (or drained) lake is believed to be a filled-in kettle, a shallow, sediment-filled body of water formed from a receding glacier some 18,000 years ago, that gorged-out and depressed the lake basin. It is fed by several small tributary streams, but depends primarily on groundwater and rainfall onto the lake surface for its source of water. Please read more about Geneva Lake below.
Available in four sizes, each art print is printed on acid free paper made from 29% recycled material. All of the prints feature rich and luxurious colors, perfectly consistent with the original image, which was hand-painted using refined watercolor techniques by the artist, Lisa Middleton. Your print will arrive professionally packaged in plastic acetate, ready for gift-giving, or to be excitedly opened and admired.
SMALL PRINTS
11″x17″
Our small prints feature 650 dpi (dots per square inch) digital printing. Each small print features a nearly-flat finish, with an almost imperceptible sheen. This print ships flat, with a stiff board backing, wrapped securely in a plastic acetate sleeve, and ships in 1-3 business days.
LARGE PRINTS
18″ x 24″
24″ x 36″
Fine art large prints are best for discerning customers who demand only the best in fine art printing. Every large print is giclée printed on heavyweight paper, with inks guaranteed not to fade for 100 years. It features a smooth, uncoated matte surface with no shine. The large format prints are archival limited editions, each numbered and stamped or signed. Your large print ships rolled in a hard tube, also containing a certificate of authenticity. Each print takes up to 10 days of processing prior to shipping.
HAND PAINTED ORIGINALS
36″ x 45″
A truly unique gift for those who want nothing but the original- get your very own, one-of-a-kind, hand-painted watercolor painting by Lisa Middleton. his option is not a print, but your own painting, hand worked by the artist herself. Each painting is shipped rolled in a hard tube containing a certificate of authenticity, and arrives numbered and signed. Each painting takes 4 weeks processing prior to shipping.
ABOUT GICLÉE PRINTING
What's the difference between digital printing and giclée printing? Giclée printing is one of the best print reproduction methods available, and allows us to provide a quality product that is guaranteed to not fade for over 100 years. It is a process that uses a specialized 12 color inkjet printer, acid free papers, and pigment based archival inks. Digital inkjet printing is a more cost-effective option for those who love the artwork but are not ready to invest in an archival-quality print.
FRAMES
All four print sizes come solely on the acid-free paper. Mats and frames are not included. It is strongly recommended to withhold frame purchases until after print is received, so as to precisely measure the print for the correct frame size, as slight variation in actual size may occur.
SHIPPING
Every print is shipped via USPS with tracking and insurance.
WE ARE PRINT ON COMMAND
Please allow 1.5 weeks to ship.
SIZES MAY VARY
Due to the vintage map style the size of each map may vary so please don't purchase a frame until you receive your map and measure it.
RETURN POLICY
Full refund if returned in original condition within 14 days. Buyer must contact vis Etsy messages prior to return, and pay return shipping.
Some of the earliest inhabitants of the Geneva Lake region where the ancient Oneota Tribes. These agricultural peoples built an advanced civilization on the shores of Geneva Lake, and their effigy mounds or ancient burial sites, serves as a testament to their culture, achievement and existence. The lost effigies of a panther and a Lizard are notable examples of these earthen mounds. Migrating forest tribes, like the Ho-Chunks and Potawatomis, who were hunters and fierce warriors, drove out the earlier inhabitants, but they too were only temporary residents, who were evicted by the United States Army to Lawrence, Kansas at the end of the Black Hawk War of 1831-32. Geneva Lake remained undiscovered until 1831, when an Army party, under the command of Major John Kinzie, made their journey from Fort Dearborn, Chicago, along Indian Trails to Fort Winnebago near present-day Portage, Wisconsin.
On the shores of Geneva Lake are the City of Lake Geneva, and the villages of Fontana-on-Geneva-Lake, and Williams Bay, all of which makes for delightful lake communities. Geneva Lake has a public path along the shore, which covers the entire 23 miles distance, with path conditions that range from easy to rugged. A number of activities and attractions abound on Geneva Lake and its shore; it is a great spot for fishing for panfish, white crappie, walleye, bluegill, northern pike, rainbow trout, smallmouth bass, largemouth bass and splake. Lakeshore attractions like Big Foot Beach State Park, Stone Manor and Yerkes Observatory are rich in history. Boating and hiking can also be enjoyed on the lake. Natural beauty and charm make Geneva Lake a spectacular gem.
"Due to the unique nature of our maps all sizes are approximate. Please do not purchase a frame until you receive the map and measure the art. "Full refund if returned in original condition within 14 days. Buyer pays return shipping.