5 Places in Your Home That Need a Custom Historical Map
Today we are going to take a look at the best locations in your home for you to display your custom historical map. Some of these might surprise you. But I promise there is a method to the madness so hang in there. If you follow the basic premise that historical maps are meant to be enjoyed then you will see why these spots make perfect sense.
A word of caution though…
Some of these locations may not necessarily be map friendly so pay attention to issues of humidity and sunlight exposure. A good UV museum glass can take the sting out of the suns rays, and some framing shops offer a way of sealing up important works to keep them at optimum humidity. Now that those items are taken care of, let's take a look at them, shall we?
Best Places To Display Your Custom Historical Map
Spice Up Your Living Room. This makes perfect sense because this is the largest gathering place in your home. Hanging a map in that locations promotes conversation, and gives your guests a glimpse into places that you find important If you have several, feel free to rotate them during the year.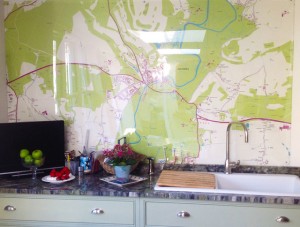 Give Some Formality Your Home Office. Placing a map here gives a sense of formality to an otherwise domesticated space. If you have a home office, and entertain potential clients in that space, it can be hard to overcome the sense of "home" that is endemic to the space. Placing a nice custom map on the wall gives the office a bit of formality.
Deck the Walls of Your Foyer. Why not put a custom map in the foyer? You can display family pictures around it to speak to the importance of the area. Maybe the map is of a frequent vacation spot, or the location of genealogical roots. Whatever the case, putting a map in the foyer makes a great statement to that end.
Get Cooking in the Kitchen. This is one of the best places to put a custom historical map because people are used to talking that space anyway. You have to talk while you cook, asking for spices, help with cutting veggies, or marinating meat. Putting a historical map reproduction in the kitchen is a great way to continue the conversation. Put one there and see what kind of conversation you can cook up!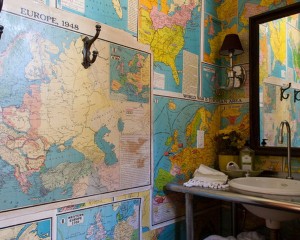 Replace the Book in Your Bathroom. This might be a bit of a surprise to you, but the bathroom is the perfect place to hang a custom historical map. Most of the time, you have a book in there for people to read should they happen to have a "prolonged restroom experience." A map will give them something else to look at while they are in there. It will also give them an out. When asked what took so long they can always say they were admiring the custom map you have hanging in the bathroom.
Now with this post I have given you two things. You either have inspiration or excuse. If the post inspired you then this is a guide for placement. If you were looking to purchase another hand painted historical map, I have given you five reasons to buy one, or better still, several reasons to buy five new custom historical maps!
Whatever the case, Great River Arts has it all. Be sure to shop our online store, and follow us on Facebook to stay up to date with everything we have going on. Finally, if you like this post, subscribe to our newsletter. Until next time!