The Art of Sherry Tuss: reflecting wildlife in watercolor
Great River Arts is proud to feature the art of Sherry Tuss in our new Living Legends collection. As Lisa has traveled the country she has met several artists to have been devoted to their trade for many years. This collection serves as additional representation for the artists and to supply affordable prints to the artists so they can then in turn sell to their customers and retailers at their shows around the country. In the spirit of our hand painted historical map collection we select artists with sincere dedication to their art form and who have a greater vision to share with the world around them.
Sherry Tuss
Raised in the beautiful state of Montana, Sherry Tuss is a realistic watercolor artist, who dedicated much of her life to teaching others about art. She moved away from home, and for a span of 15 years, Sherry was an elementary school Art instructor in the Las Vegas Clark County School District. She also taught adult classes of various themes. Now retired from the classroom, Sherry is back in Great Falls, Montana where she is enjoying her personal painting. She has a love for Montana, and that love lies in the natural beauty and picturesque landscapes that define the state. With two national parks, beautiful scenery, and an abundance of wildlife, there is much in Montana that gives Sherry ideas for her art.

Sherry has always been interested in art. She started as a child drawing horses-her first love. The subject really sparked her interest when she reached junior high. She recalled, "In junior high my Art teacher said, 'I want you to take something that is personal on you and paint it.' I took a tube of lipstick out of my purse. I set it in front of me and I drew it as a still life. I then painted it, and I got all the shading and highlight…and when I finished it I said, 'Oh my gosh, I really did a good job on this!' I still have it to this day." If you ask her why she paints, it is very likely that she will tell you that she "tries to see the beauty in all things," and that she strives to produce that in all her paintings. She believes that she is blessed with a gift and that she should use it to show the beauty in nature.
She is a versatile artist who paints with the utmost detail. She explained, "Teaching adults in particular, influenced and expanded my horizon. It empowered me to become versatile in my subject matter." Painting things in nature such as close-up flowers, wildlife, and landscapes are at the heart of her craft. The beauty in nature often inspires her. Furthermore, learning about different artists throughout history and teaching art to others have inspired her to become a better artist. She admires such artists as Georgia O'Keeffe for her floral and close-up work, Monte's scenery paintings, and Picasso for the depth of his work, among others. One of her proudest moments as an artist was when she entered a painting in a Montana State Fair and it was selected and bought by the state board to hang in their permanent collection. She wants viewers to continue appreciating her art, while she continues to grow as an artist.

When Sherry is not in her studio, she is entering art shows and participating in exciting quick finish art events. She shares her art by participating in benefit auctions and supporting organizations such as the Rocky Mountain Elk Foundation, the Missouri River Fly Fishers, among others. She also enjoys travelling and photography. Her journey has made her who she is today, and that journey is still unfolding.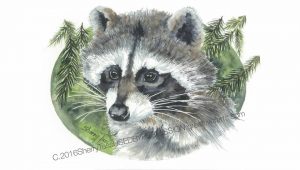 Sherry Tuss's work is now available in note cards, gift prints, and limited edition art prints! Click here to order!