Discovery Map Series: 016 Arizona Wagon Roads 1879
This is a historic railroad map of the proposed state, created in 1876, with the proposed state outlined in yellow.. However, it also shows us stage lines, roads, trails, a proposed mail route, and propose railroad lines in addition to those already existing.
The mail route would open up future business and grease the wheels of commerce by ensuring faster delivery of financial documents from other cities, towns, and states. This is a glimpse into Arizona just before it attained statehood.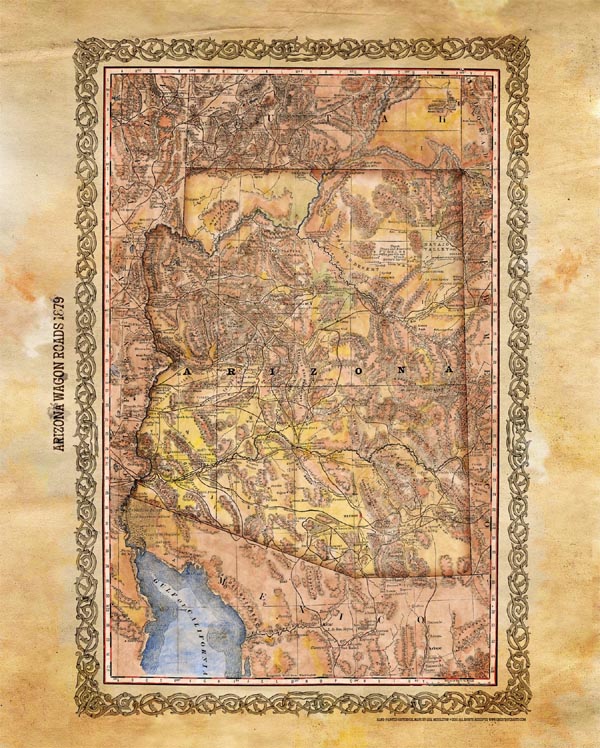 The state outline and only validates the transportation infrastructure that is featured on the map.
Of important mention are the mountains and valleys featured on the map via hatchure marks. Close attention and much detail were given to those areas in an effort to showcase the fertile land that Arizona possessed. This could later be used to persuade investors who were on the fence about potential natural resource projects such as mining and timber. Westward expansion was imminent and this map attests to that very thing with its impressive depiction of crisscrossed stage coach roads and railroad lines.
This map was designed to showcase transportation routes throughout the state. It was a testimony to the progress and improvements being made across the state. Arizona was no longer an after thought or an unexplored region. It was a land full of gold, silver, and copper. It had massive forests with endless supplies of timber. It was an economic boon as evidenced by the commerce routes displayed, as well as the ones proposed. It is one of the best examples we have of just a transportation map.
By this time the territory had expanded considerably, gaining three northern degrees up to the 37th
latitude mark as well as a few degrees to the south as well. The westward boundary of the state became much more natural, following the Colorado River. In the end, this impressive railroad map shows a territory that is being primed and courted to become a part of something larger and more determined. A few years later she would be come a state, and ultimately part of the United States.
Copyright2105 all rights reserved Great River Arts
For more maps in our Southwest Maps collection! Click Here