Discovery Map Series: Siesta Key Florida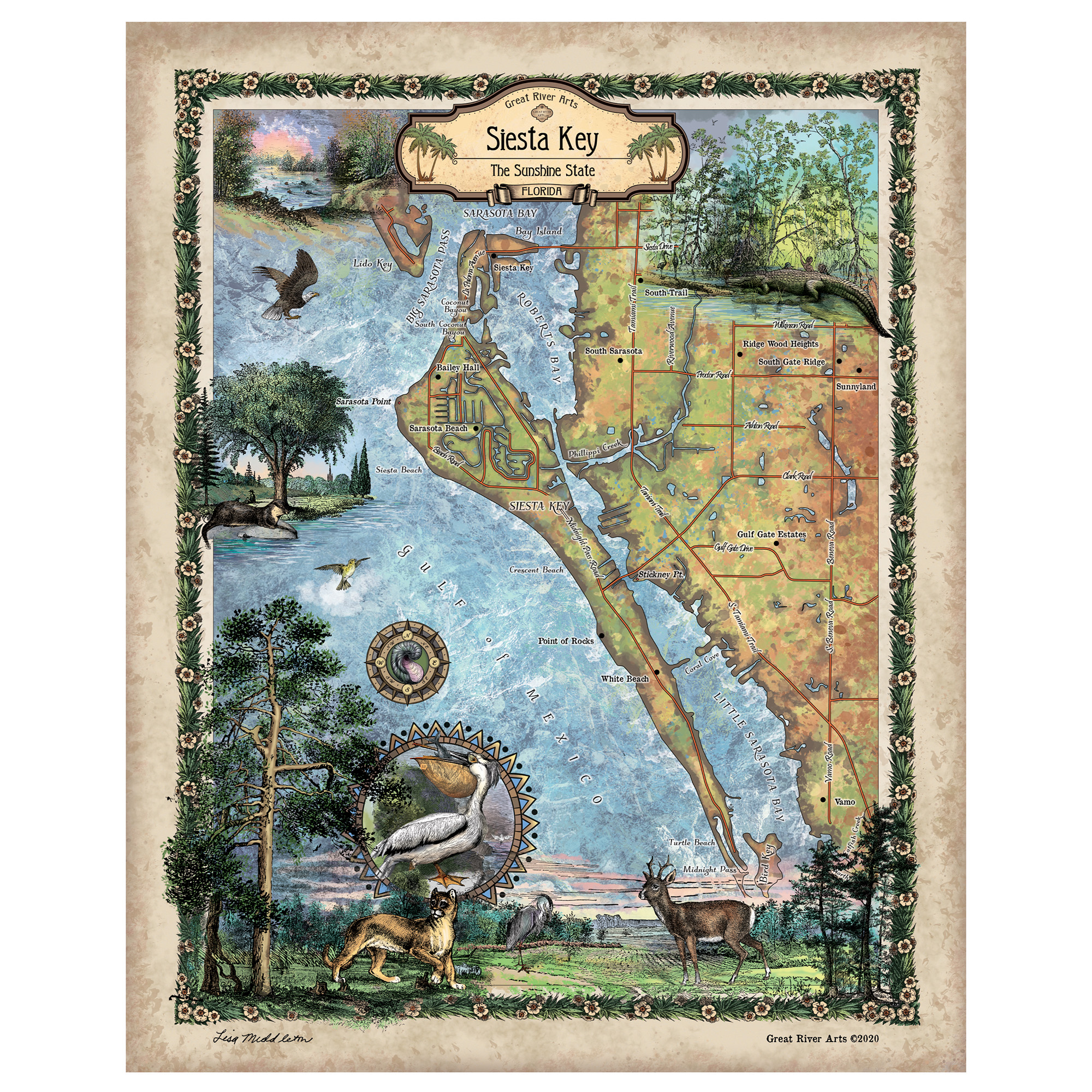 Brighten up your coastal decor with this rich and stunning Florida map. Created with accurate map data and vivid colors, this custom map gift is sure to add life to any beach house or living space. With a vintage feel, this map boasts beautiful landmarks, stunning coastal realism and a glimpse of the bounty the the Siesta Key has to offer!
Siesta Key is a crescent-shaped barrier island, located between the pristine and glittering shores of the Gulf of Mexico and Roberts Bay. It stretches for 8 miles, with a portion of it within the city boundary of Sarasota, but Siesta Key is largely situated in Sarasota County. There are four main areas that Siesta Key is divided into- Siesta Beach, Crescent Beach, Turtle Beach and Siesta Key Village, each showcasing a charm and distinct character that sets them apart. The Siesta Key North Bridge on the north end of the island and the Stickney Point Bridge toward the center of the island connects Siesta Key to the Mainland of Sarasota.

The original name of the island was "Sarasota Key," a name designated by European cartographers during exploration beginning in 1513, and likely to be derived from the Native American name Zarazote for the area and the bay. It was also known as Clam Island and Little Sarasota Island, and by the 1850's it was called Little Sarasota Key. This name "Sarasota Key" was labeled on maps from the early 18th century, including regional maps, until the name was changed to "Siesta Key" in the 1920s.

Up until the early 20th century, Siesta Key was an isolated, uninhabited island and not the tourist paradise that it is today. The island has long transformed from a place of dense vegetation and mosquito swarms, shortly after the beginning of the 20th century. In 1906, Capt. Roberts and his wife opened a hotel, and a year later, with two partners, Captain Louis Roberts and E.M. Arbogast, formed the Siesta Land Company, Siesta Village. Still, Harry L. Higel, a Philadelphia native, is regarded as the first developer of Siesta Key; he relocated to Sarasota shortly after the town was formed in 1902, and early into his arrival, he bought the Main Street dock and a store from the Florida Mortgage and Investment Company, became mayor of Sarasota in 1913, and in 1915, Higel built the Higelhurt Hotel on Big Pass.

The white sandy beaches of Siesta Key are a major attraction and includes Siesta Beach, which is regarded as one of the best beaches in the world, along with Crescent Beach and Turtle Beach. The island has plentiful wildlife, from brightly colored parrots, pelicans, cranes, storms, terns and other birds that live along the shore, to aquatic life, such as dolphins, manatees, sea turtles and species of fish. This little paradise is a charming and inviting island.
Available in four sizes, each art print is printed on acid free paper made from 29% recycled material. All of the prints feature rich and luxurious colors, perfectly consistent with the original image, which was hand-painted using refined watercolor techniques by the artist, Lisa Middleton. Your print will arrive professionally packaged in plastic acetate, ready for gift-giving, or to be excitedly opened and admired.
SMALL PRINTS
11″x17″
Our small prints feature 650 dpi (dots per square inch) digital printing. Each small print features a nearly-flat finish, with an almost imperceptible sheen. This print ships flat, with a stiff board backing, wrapped securely in a plastic acetate sleeve, and ships in 1-3 business days.
LARGE PRINTS
18″ x 24″
24″ x 36″
Fine art large prints are best for discerning customers who demand only the best in fine art printing. Every large print is giclée printed on heavyweight paper, with inks guaranteed not to fade for 100 years. It features a smooth, uncoated matte surface with no shine. The large format prints are archival limited editions, each numbered and stamped or signed. Your large print ships rolled in a hard tube, also containing a certificate of authenticity. Each print takes up to 10 days of processing prior to shipping.
HAND PAINTED ORIGINALS
36″ x 45″
A truly unique gift for those who want nothing but the original- get your very own, one-of-a-kind, hand-painted watercolor painting by Lisa Middleton. This option is not a print, but your own painting, hand worked by the artist herself. Each painting is shipped rolled in a hard tube containing a certificate of authenticity, and arrives numbered and signed. Each painting takes 4 weeks processing prior to shipping.
ABOUT GICLÉE PRINTING
What's the difference between digital printing and giclée printing? Giclée printing is one of the best print reproduction methods available, and allows us to provide a quality product that is guaranteed to not fade for over 100 years. It is a process that uses a specialized 12 color inkjet printer, acid free papers, and pigment based archival inks. Digital inkjet printing is a more cost-effective option for those who love the artwork but are not ready to invest in an archival-quality print.
FRAMES
All four print sizes come solely on the acid-free paper. Mats and frames are not included. It is strongly recommended to withhold frame purchases until after print is received, so as to precisely measure the print for the correct frame size, as slight variation in actual size may occur.
SHIPPING
Every print is shipped via USPS with tracking and insurance.
RETURN POLICY
Full refund if returned in original condition within 14 days. Buyer must contact vis Etsy messages prior to return, and pay return shipping.
ALL SIZES ARE APPROXIMATE
Due to the unique nature of our maps we size the maps to the ratio that fits them best, so sizes may vary slightly from those listed in the shop.
WE ARE PRINT ON COMMAND
Please allow up to 1.5 weeks to receive your map.
"sizes are approximate"Full refund if returned in original condition within 14 days. Buyer pays return shipping.
Watermarks will not appear on product."