Travel Map Feature: 171 The Bahama Out Islands
Rich in history, culture, heritage, and tranquil natural beauty, the Out Islands of the Bahamas calls to the connoisseurs of Caribbean island life, and those individuals who desire to retreat to a place that seemingly slows in time and offers up naturally wondrous  untainted pieces of paradise. The Out Islands of the Bahamas makes up approximately 84% of the Bahamian archipelago's landmass.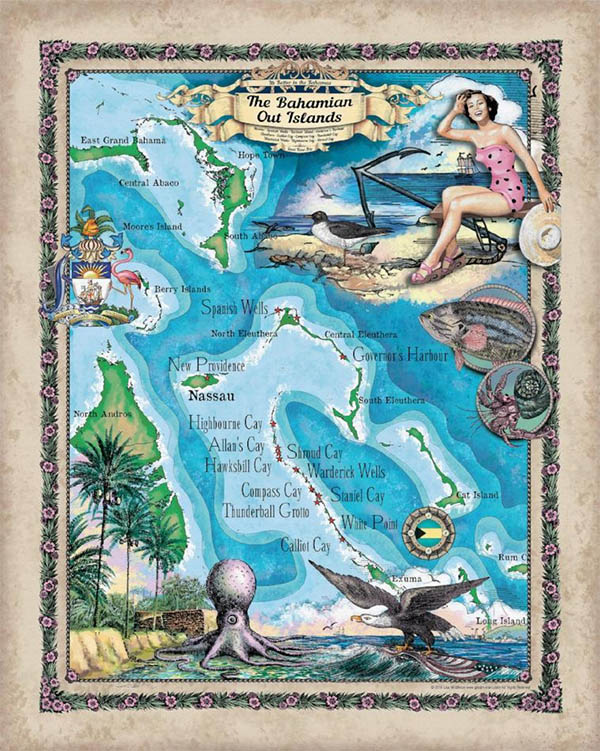 A journey to these islands is to discover an oasis unlike any other, filled with wanders and secrets untold. In the words of Martin Buber: All journeys have secret destinations of which the traveler is unaware. A journey to the Out Islands of the Bahamas is sure to reveal secret beaches, secluded spots, and inviting places travelers never dreamed about.
Largely untouched, underdeveloped, and sparsely populated, the Out Islands of the Bahamas has a deep history beginning with the landing of Christopher Columbus on one of the Bahamian Islands he called San Salvador in 1492. Different groups in search of a better life including the Lucayan Tribe, English Puritans, as well as skilled craftsmen settled in the region. Furthermore, remnants of slavery are evident in the region's rich West African heritage, very much alive in the music, dance, food, and particular celebrations that shape the region.
Nassau is not only the capital of the Bahamas, but it is the largest city and the commercial hub of the region. Away from the hustle and bustle of city life, Spanish Wells offers lobster fishing and is small enough to move about on golf carts. Harbor Island's pink sand beaches are one of the best in the Bahamas. The "no take zone" of Shroud Cay can be a real treat for bird sighting during the nesting season. One can explore the Victorian-era architecture and quaint atmosphere of Governor's Harbour- capital of Eleuthera. Journeying through the Exumas is not complete without a stop at Highbourne Cay, particularly for seasoned yachtsmen. The private beach of Galliot Clay, Compass Cay's white sand beach and turquoise water and its marinas in protected harbors, snorkeling in Hawksbill Cay, and the recreation center that is Warderick Wells, all offer their own unique Bahamian flavor.
These quiet collection of Bahamian islands are ideal for relaxing, reconnecting, exploring, and simply for one's enjoyment. Miles of untainted tropical beauty,  turquoise waters, pink and white sand beaches, secluded spots, beautiful wildlife and scenery, makes journeying to these islands an ideal activity to pursue.  There is an island out there for the beach and water enthusiast; snorkeling, diving, fishing, boating, and sailing are some best in the region. There is an island out there for you among the Out Islands of the Bahamas.
All sizes are approximate.
For more of our Alaska Maps! Click Here