Travel Tuesday Map Series: Beaufort Map, North Carolina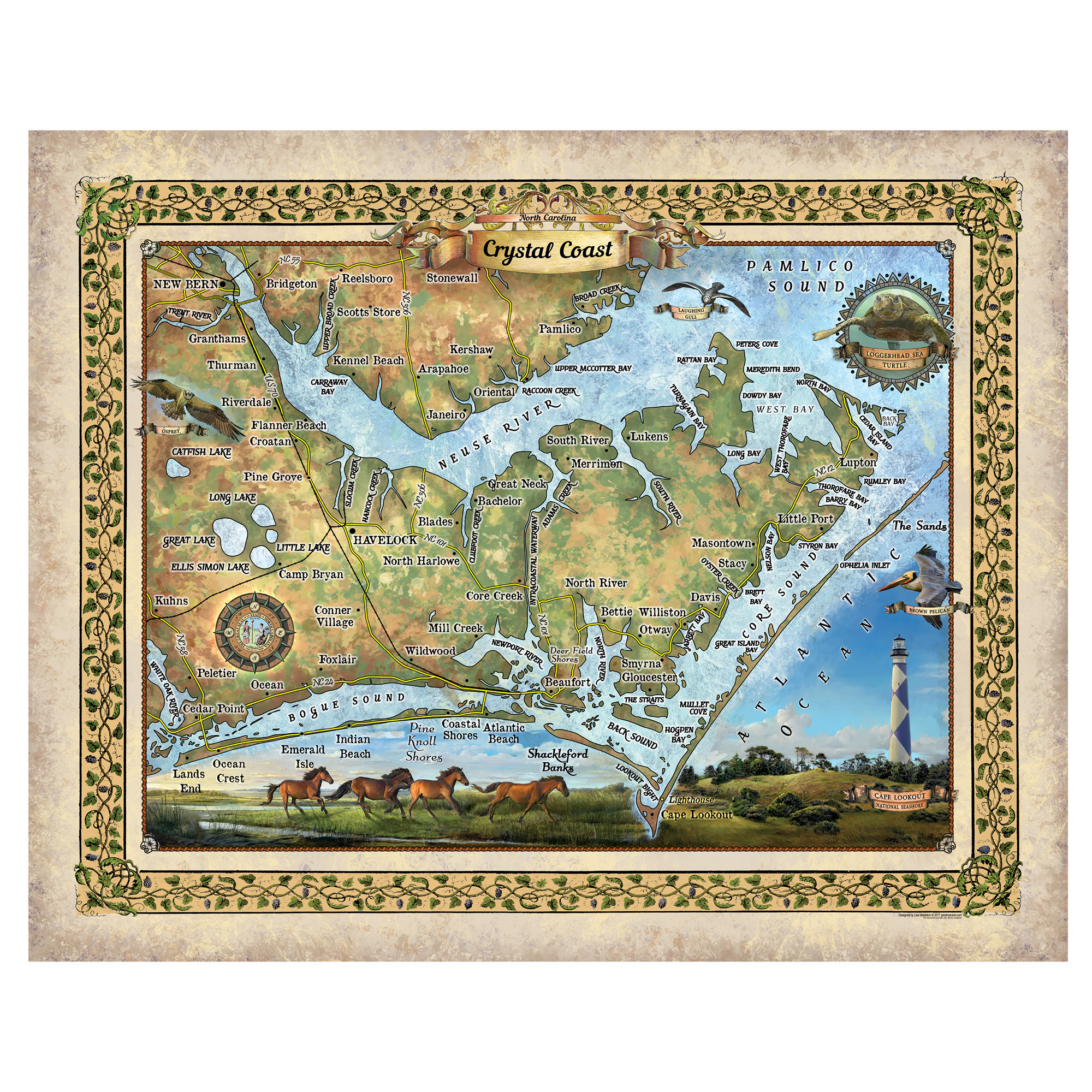 Invite this gorgeous North Carolina map into your home today. Carefully researched and exquisitely colorized with our distinctive and inviting colors, this vintage map of the breathtaking Crystal Coast in North Carolina is a great gift for a traveler, a housewarming gift, or just for you in your regional home. Please read more about the Crystal Coast below.
The Crystal Coast is an 85-mile stretch of coastline extending from the Cape Lookout National Seashore to southwestward to the New River, encompassing the entire area along the Bogue Banks, a barrier island that stretches for more than 20 miles. It is a mixture of colorful history, quiet stretches of beaches, quaint small towns, historic homes, picturesque lighthouses and natural scenic beauty. The tourist-oriented coastline is situated in the eastern portions of Carteret County, North Carolina, including Harkers Island, Down East and Shackleford Banks, as well as the northern Onslow County areas of Bear Island/Hammock's Beach. It is believed that the name Crystal Coast was coined by the Carteret County Chamber of Commerce to describe the area's immensely clear waters and beautiful beaches.
It is common for the Crystal Coast region to be referred to as the Southern Outer Banks, to place emphasis on its connection to the main barrier islands of the Outer Banks, that ends at Cape Lookout, which marks the northern extent of the Crystal Coast. Various Native American groups originally called the Bogue Banks home prior to the late 1800s, when settlers came to the North Carolina coast. Many different historical sites such as Fort Macon, site of a major battle in the Civil War and the Cape Lookout National Seashore, home to the Cape Lookout Lighthouse offers a glimpse of the colorful history of Crystal Coast as a player in the Revolutionary War and Civil War. Major historical actors in the region included pirates and pioneers, and the Crystal Coast was a notorious stomping ground for the infamous pirate Blackbeard, whose flagship Queen Anne's Revenge wrecked on the shoals of Bogue Banks.
The Crystal Coast's picture-perfect coastal towns include Atlantic Beach, Beaufort, Emerald Isle, Morehead City, Cape Lookout, Swansboro and Pine Knoll Shores, and 56 miles of the 85 miles of silken Crystal Coast coastline along the southern Outer Banks are in the protected Cape Lookout National Seashore. This paradise boasts incredible beaches, including Fort Macon, Atlantic Beach, Pine Knoll Shores, Indian Beach/Salter Path and Emerald Isle. For a walk in the great outdoors, Hammocks Beach State Park has numerous trails and the opportunity for wildlife sighting and bird watching. Fishing in the beautiful waters of Crystal Coast can be a treat for anglers, who can also participate in yearly competitive fishing tournaments, such as the Atlantic Beach King Mackerel Tournament in September and King Mackerel – Bluewater Fishing Tournament in the spring. Rich history, scenic beauty and pristine beaches make the Crystal Coast a treasure.
Available in four sizes, each art print is printed on acid free paper made from 29% recycled material. All of the prints feature rich and luxurious colors, perfectly consistent with the original image, which was hand-painted using refined watercolor techniques by the artist, Lisa Middleton. Your print will arrive professionally packaged in plastic acetate, ready for gift-giving, or to be excitedly opened and admired.
SIZING – SMALL PRINTS
11″x17″ or 11″x14″
Our small prints feature 650 dpi (dots per square inch) digital printing. Each small print features a nearly-flat finish, with an almost imperceptible sheen. This print ships flat, with a stiff board backing, wrapped securely in a plastic acetate sleeve, and ships in 1-4 business days.
SIZING – LARGE PRINTS
18″ x 24″ or 20″x24″
24″ x 36″ or 24″x30″
Fine art large prints are best for discerning customers who demand only the best in fine art printing. Every large print is giclée printed on heavyweight paper, with inks guaranteed not to fade for 100 years. It features a smooth, uncoated matte surface with no shine. The large format prints are archival limited editions, each numbered and stamped or signed. Your large print ships rolled in a hard tube, also containing a certificate of authenticity. Each print takes up to 10 days of processing prior to shipping.
*Please note that sizing is approximate.*
HAND PAINTED ORIGINALS
36″ x 45″ or custom for your space
A truly unique gift for those who want nothing but the original- get your very own, one-of-a-kind, hand-painted watercolor painting by Lisa Middleton. his option is not a print, but your own painting, hand worked by the artist herself. Each painting is shipped rolled in a hard tube containing a certificate of authenticity, and arrives numbered and stamped with a registered signature stamp or signed. Each painting takes 4 weeks processing prior to shipping.
ABOUT GICLÉE PRINTING
What's the difference between digital printing and giclée printing? Giclée printing is one of the best print reproduction methods available, and allows us to provide a quality product that is guaranteed to not fade for over 100 years. It is a process that uses a specialized 12 color inkjet printer, acid free papers, and pigment based archival inks. Digital inkjet printing is a more cost-effective option for those who love the artwork but are not ready to invest in an archival-quality print.
FRAMES
All four print sizes come solely on the acid-free paper. Mats and frames are not included. It is strongly recommended to withhold frame purchases until after print is received, so as to precisely measure the print for the correct frame size, as slight variation in actual size may occur.
SHIPPING
Every print is shipped via USPS with tracking and insurance. We are print on command so allow 7-10 business days for delivery.
RETURN POLICY
Full refund if returned in original condition within 14 days. Buyer must contact GreatRiverArts via Etsy messages prior to return. Buyer is also responsible to pay return shipping.