Travel Tuesday Map Series: Lakes of Sawyer County, Wisconsin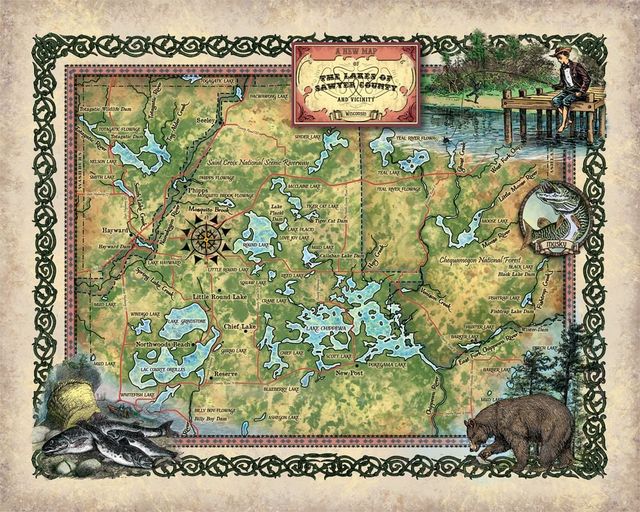 Lakes of Sawyer County & Vicinity Wisconsin Historic Map
There's more to a lake than it simply being a body of water. Many lakes have helped to shape the vibrant history and culture of certain regions. Lakes provides environmental benefits, influence quality of life, strengthen economies through tourism, provide amazing opportunities for recreation and cottage/residential living, and serve as a source of drinking water and irrigation for farming. Thanks to the presence of lakes, lake life, lake decor, lake houses and awesome lake map art have all helped to make lakes far more interesting and special. Lake life is unlike any other lifestyle one can experience. 
The scenery, atmosphere and mood that lakes offer are unrivaled and unique. Relaxation, comfort and happy feelings can be provided by a lake on a daily basis. Typically, lake properties tend to be a little isolated, with mature trees surrounding a home, allowing greater natural privacy that shields the home from passersby, roads and intrusive traffic noises and neighbors. Being closer to nature, there is a greater opportunity to encounter beautiful and majestic animals. Furthermore, lakes scream fun and excitement since they create the opportunity to host events like cookouts, birthday parties and annual fishing competitions. There is also the chance to enjoy activities like swimming, sailing, kayaking, or just hanging out on the dock.
A lake house is the ideal place to spend time with family, unwind after a stressful day, or take a break from work, vacate and entertain. Lake house decor should reflect lake living, accenting the location of the home with flair, through textures, colors (blues, greens, browns, autumn colors-russets, yellows, oranges) and accent pieces. Lake map art are versatile pieces to have in a lake home, either as an accent accessory or the focal point of a room. This type of art can provide modern interpretations of a lake and its surroundings through customizable options, or can be restored to their original exquisite design to evoke newfound appreciation and can add a stylish touch to a lake home decor.
Lake map art offers the ideal way to display the nostalgia in a lake home. They make great, unique gifts for family and friends, and the perfect keepsake for decorating a home or cottage, as well as to commemorate that special lake in one's life, or events like anniversaries, birthdays and retirements. They can also celebrate on a personal level a person's very own lake house lifestyle. Lake map art are nostalgic and can remind a loved one of a favorite vacation spot and stir childhood memories. It can remind a gift recipient of their roots, such as their hometown.
At Great River Arts, you can find beautiful handcrafted and customizable lake map art that can enhance the decor of you lake house, or make for an amazing gift for yourself or that special someone.  
Here at Great River Arts Lisa and her map specialists are always busy designing new maps! Here is one of our newest!
Always fresh new colors and ideas.
What do you think?