Tuesday Travel Feature: Custom Map Of Lake Washington And Vicinity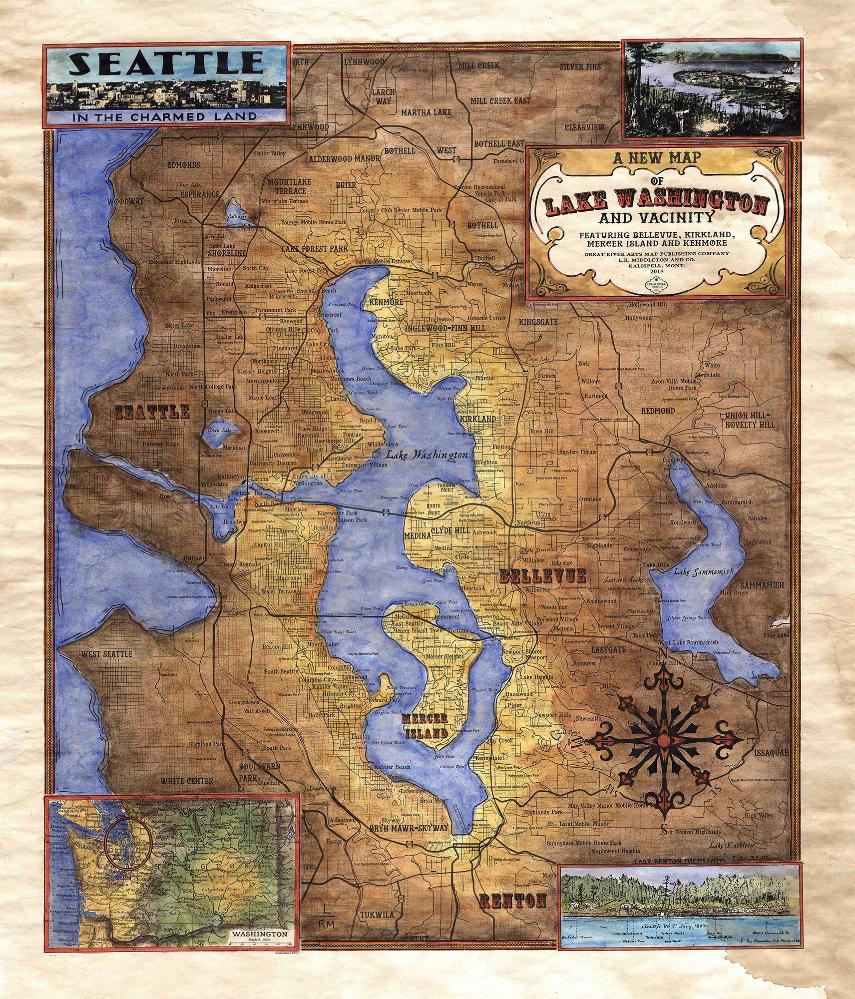 This is a map depicting Lake Washington, located in Cook County. The insets depict various things that have happened close to Lake Washington over the past century. The battle of Seattle was waged by the Native Americans in 1856. And a surprise ambush, they engage the early settlers of the Washington territory for four days. At the end of it although, the settlers one, backed by the full might of the U.S. Navy. Is estimated that around 30 Native Americans perished in the attack with 80 more wounded. Only two settlers died during the ambush. The inset featuring a sketch drawn by Lieutenant Phelps, gives a panoramic view of what Seattle would have looked like during the time of the attack.
Lake Washington sits adjacent to the Emerald City and is itself a hotspot for sport fishing. Bass, perch, crappie, and trout are the main catcjes on any given day. It is a ribbon lake, forged by an ice sheet stemming from the Puget load over thousands of years. This creates a unique freshwater environment.
It is also what makes the lake so popular. In addition to being close to the city, it is far enough for residents to escape the hustle and bustle when need be. The Lake completely surrounds Mercer Island. Many residents of the island and Seattle enjoy spending time on the lake over weekends. Its two rivers provide miles of waterway for weekend recreation and exploration. It was named after George Washington at the suggestion of Thomas Mercer in 1854, and was previously known by its Duwamish name Xacubas (great amount of water).
If Seattle is the Emerald City of the Charmed Land, then Lake Washington is its heart. Surrounded by lush evergreens and fed on either end by two rivers, it continues to be a destination for both residents and tourists alike.
All sizes are approximate.