Local Artist Breathes New Life into Old Maps
From Hungry Horse News, Chris Peterson 5-13-2015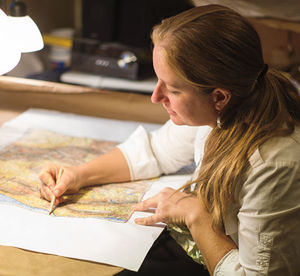 Lisa Middleton lives for maps. She has maps in her garage, maps in her Kalispell living room, in the closets and on the walls, and in books and in big piles in her basement studio.
Middleton is not a map maker, however. She's an artist, transforming old maps into art. She starts by searching for old maps and map books — even buying some on eBay.
She has the black and white maps professionally scanned by a local graphic arts firm and reprinted on thin paper.
Middleton then stains the paper with tea — Lipton preferably — in a secret process. She boils the tea for two days in a big crockpot. The tea stains make the paper look 200 years old. Using watercolors, she then paints in the features.
"Maps create mood and atmosphere, just like any other piece of art," she said last week.
Transforming a single map can take a week, sometimes two.
Middleton grew up in LaCrosse, Wis. at the headwaters of the Mississippi. She started painting as a child, but it was her mother Pat, who owns a publishing company, who first encouraged her to paint maps.
Middleton first came to Montana at the age of 19. She was the assistant manager of the Swiftcurrent Motor Inn Restaurant in the Many Glacier area of Glacier National Park.
"I fell in love with hiking," she said. "And ran into a lot of bears."
She moved here permanently about nine years ago and until recently worked at Kalispell Regional Medical Center. Now she's painting maps full-time.
Some of her most popular maps are of Montana, as a territory and as a state. She's transformed maps of other states and regions across the country, including a 1718 map of the U.S., rich with green and yellow, and a 1937 map of Glacier Park.
One of her more unique local pieces is a birds-eye view of Kalispell from 1897, that shows the street layout and identifies individual buildings, like the Conrad Mansion.
In a sense, Middleton is doing more than making art, she's helping to preserve history.
"We'll never have old maps like this again," she said.
Middleton's work can be viewed online at www.greatriverarts.com.