Travel Map Feature: Danube River, Passau to Budapest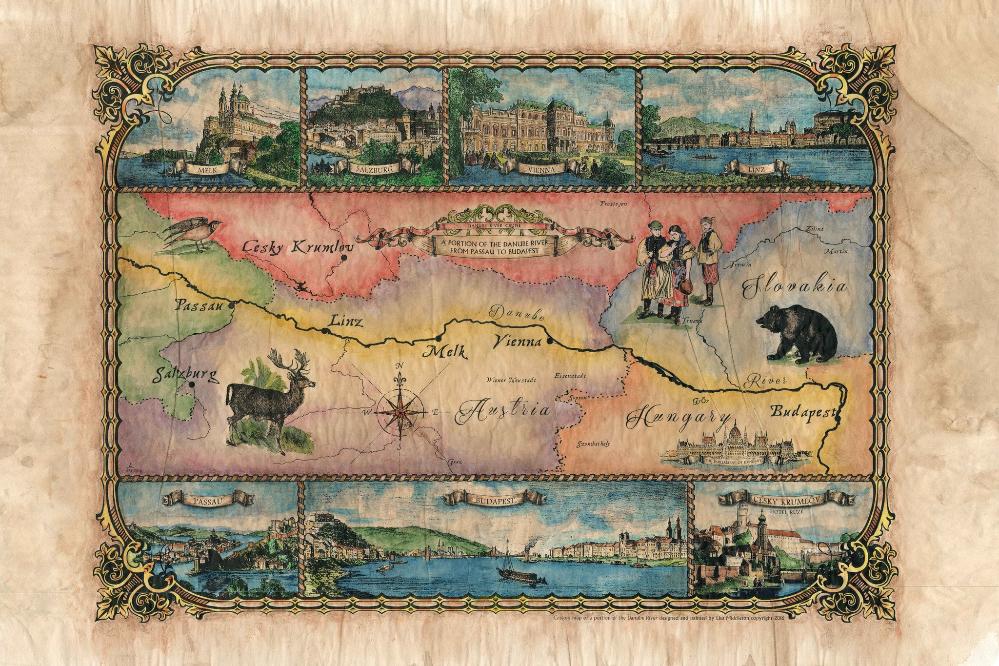 A lot can be said about the Danube. In fact, a lot has been said. Songs and poems have been written about life on and around its banks. It has served as a dividing line for countries and empires. Rome gave the Danube its significance by establishing it as a primary medieval trade route. Previously it served as a primary divider between the Roman Empire and the "barbarian" invaders.
After Rome fell, the Danube gave rise to the Austrian and Hungarian Empires. They would later merge into the Austro-Hungarian Empire. Yet, travel further south on the Danube and you will find it divides Austria from the rest of the Ottoman Empire. True, that border is not as terse as it is today, but the language and culture of the people who dwell along that line are as distinct as a pair of contrasting colors.
This is what makes the Danube so historically whimsical. It houses cities like Salzburg, on the German border, which was the home of Mozart. It holds places like the "crooked meadow" city of Cesky Crumlov. Today it is known for its spectacular castle, as well as the Hotel Ruze, a former Jesuit dormitory from the 16th century. The Danube runs right through Linz, Austria, the geographical enter of Europe. Johannes Kepler, the great mathematician spent several years teaching in Linz. Vienna, of course, makes an appearance as well. Drift past on a boat at night and watch her banks light up like a jewel. You could write several books about any of these destinations, as they have seen more history than most parts of the known world.

If you did write a book, you would have to mention Budapest. It is perhaps a favorite turn in the bend. Ancient and modern, it is a traveler's delight. Marvel at museums that hold relics from the past, be mesmerized by one of the old cathedrals, or find yourself sunning in one of the massive fountains on the island in the center of the river. True, the water there is bluer than any water you might find in the "Blue Danube", but the river has much more to show you, if you simply take a ride down stream.
All sizes are approximate.