Discovery Map Series: 050 Hawaii 1906, Bartholomew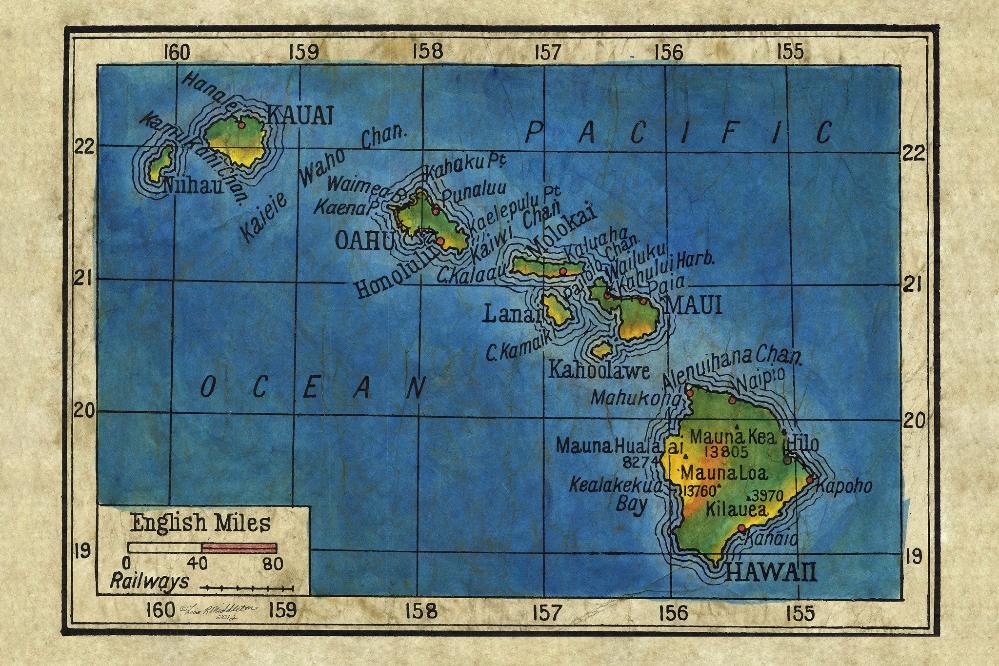 This hand-painted map, Hawaii, 1906, is derived from the work of John Bartholomew of Edinburgh, Scotland. Bartholomew was a cartographer, as well as a map and atlas publisher, who emerged from a renowned line of map-makers that created the map-making business that was known as John Bartholomew and Son Ltd. Along with his brothers, Peter and Robert, the last generation of the Edinburgh cartographic family, the business thrived under his administration as one of the most admired cartographic publishing establishments in the world until 1980 when ownership changed. In the end, it was five generations of Bartholomew that were involved in the cartographic family business.
John Bartholomew understood and anticipated the needs of travelers in the late nineteenth and early 20th century and published such cartographic work, like street maps of major cities, railway timetable maps, cycling maps and road maps designed for early motorists with automobiles. Bartholomew enhanced the standards of British cartography, introducing the use of contours and systematic color layering to represent topographical features, like relief. These techniques in map production elevated the Bartholomew mapmaking status, granting them considerable cartographic merit and boosting their institution's cartographic excellence.
This 1906 map of Hawaii shows the eight main islands in the Pacific, namely Kauai, Oahu, Lanai, Hawaii, Molokai, Niihau, Kahoolawe and Maui. There are coastal features as well and the names of volcanoes on the Big Island of Hawaii and their elevations, such as Mauna Kea, which is dormant today and is the highest point in the state of Hawaii and tallest sea mountain in the world; Mauna Loa is the largest subaerial volcano and one of the most active volcanoes on earth; Kilauea is the most active Hawaiian shield volcano, and is the youngest of the volcanoes in the Hawaiian Chain; and Hualalai last erupted in 1801, has remained quiet today, but is still considered an active volcano.
The Hawaiian Islands are depicted in the center of the Pacific Ocean, perhaps as a representation of the islands as a dominant force in the region. It could also be viewed as a source that was likely used in defining the boundaries of a newly established Hawaiian Territory in 1900. This map puts the Hawaiian Islands center-stage in the Pacific at a time when the island chain was being reshaped on a political and economic level.
For more of our Family Legacy Maps! Click Here