Discovery Map Series: Na Mokupuni O Hawaii Nei Historical Map Of Hawaii 1837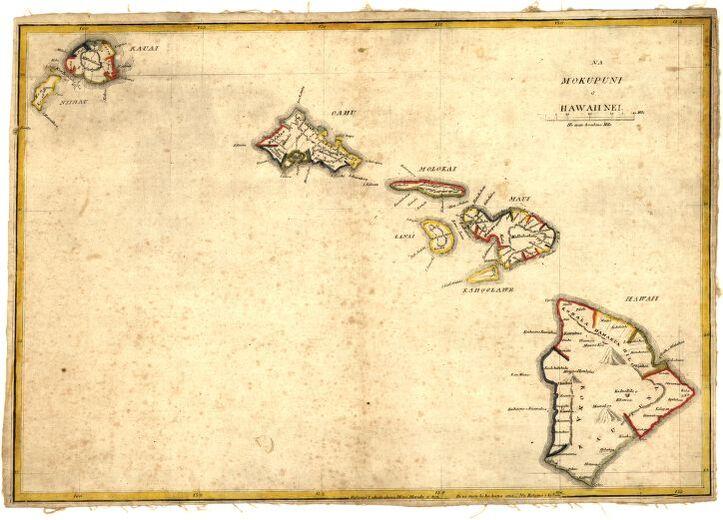 The map "Na mokupuni O Hawaii Nei," published in 1837 by Kulanui Lahainaluna, Maui is the first separate map of the Hawaiian Islands published in Hawaii and the first Hawaiian-language map of the islands. It is the work of Simona P. Kalama, who engraved and drew the map. Kalama was a top student engraver at the Lahainaluna Mission School on Maui. Lahainaluna Seminary was essentially a missionary high school established in 1831 by early American missionaries to Hawaii. Opening its doors to twenty-five students, lessons included mapmaking, the engraving of copper plates and printing. Kalama later became a prominent surveyor in Hawaii.
At the time that Na mokupuni O Hawaii Nei was published, it became the most detailed map published showing the Hawaiian islands place names that did not appear in explorers James Cook and George Vancouver's early maps of the islands. Maui, Hawaii, Molokai, Oahu, Kaui, Niihau, Lanai and Kahoolawe are the named islands in the Hawaiian Island Chain. Want to learn more about these islands? Kahoolawe is the smallest and oldest of the eight main islands in the Hawaiian Island Chain and the summit of a single volcanic dome. Lanai is known as the Pineapple Island and the majority of the island is owned by a single individual, Larry Ellison, with limited public access. Commonly called the "Gathering Place," Oahu is the most populated of the Hawaiian Islands, while the island of Niihau is privately owned in its entirety, first purchased in 1864 by Elizabeth Sinclair from the Kingdom of Hawaii. Private ownership has since remained with the Robinson Family, the descendents of Sinclair. Nicknamed "The Friendly Isle," the Island of Moloka'i is known traditionally for its powerful Kahuna or spiritual guides and Molokai warriors were trained to protect the people and their abundance of natural resources. Hawaii is the "Big Island," the largest in the Hawaiian Island Chain with varying landscape and the most volcanically active.
The map is a simple one and isn't particularly detailed in its depiction. Relief is shown pictorially and by hachures, and the Hawaii Island shows three volcanoes, which includes Mauna Loa, Mauna Kea and Hualalai. There are small crosses throughout the Hawaii Island, which perhaps symbolizes the presence of missionary establishments. The first Christian missionaries arrived in Hawaii in 1820, and from 1837 to 1840, roughly 20,000 Hawaiians accepted Christianity as their new religion. This map was important at a time then there was uncertainty over boundaries and the development of the Hawaiian Kingdomʻs economy was taking shape.
For more of our Family Legacy Maps! Click Here