Discovery Map Series: 147 Zachary Taylor's Seat of War in Florida, 1839
This map was produced by the United States Bureau of topographical engineers in the year 1839. It was produced at the order of Brvt. Brig. General Z. Taylor depicting the territory of what would later become the state of Florida. Much detail went into its creation by the Bureau of topographical engineers. If you look closely you can see battlegrounds, Seminole villages, vegetation, army forts, and a large network of various trails and roads. Many of these locations are labeled in conjunction with their military action.
Colored lines differentiate land that was assigned to the Seminoles and any time you see crossed swords they are indicative of a battle that was fought. Much care and great attention to detail was used to chronicle the history of events that played out during this period of time.
"The Seat of War in Florida 1839" was produced towards the end of the second Seminole war. The US halted hostilities in 1842, however, a few small skirmishes continued until the aggression finally ceased. In 1855 the hostilities ignited once again and what would become known as the third Seminole war. This map is a great piece of history and has significant value as it helps tell a story that is often forgotten. The Untied States acted in a duplicitous manner during its negotiation with the Seminole Indians in some regards.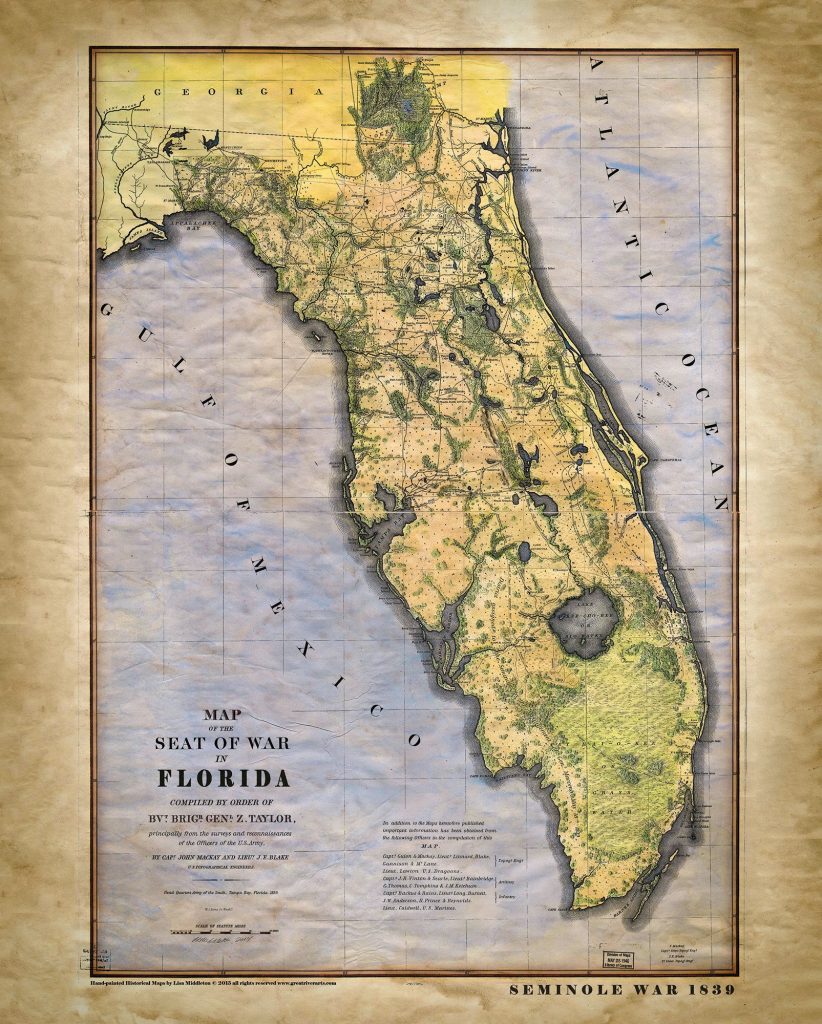 For instance, when the Seminole wanted to leave peacefully and take their livestock with them as they headed west, the United States government told them that it was not allowed. Instead, they purchased their livestock (at a questionable market rate), and ousted the Seminoles from the area with no almost nothing by 1842. What began as a treaty ended in broken promises and death. This map highlights that by showcasing sites where many Americans and Seminole Indians lost their lives over land rights.
Enjoy this map in great detail by ordering today. This map will be a wonderful contribution to your old American map collection, and a great art piece for your office or regional home.
All sizes are approximate.
You will also love our antiquarian map collection! Click Here