Discovery Map Series: The sites of Death Valley National Park, California
Straddling the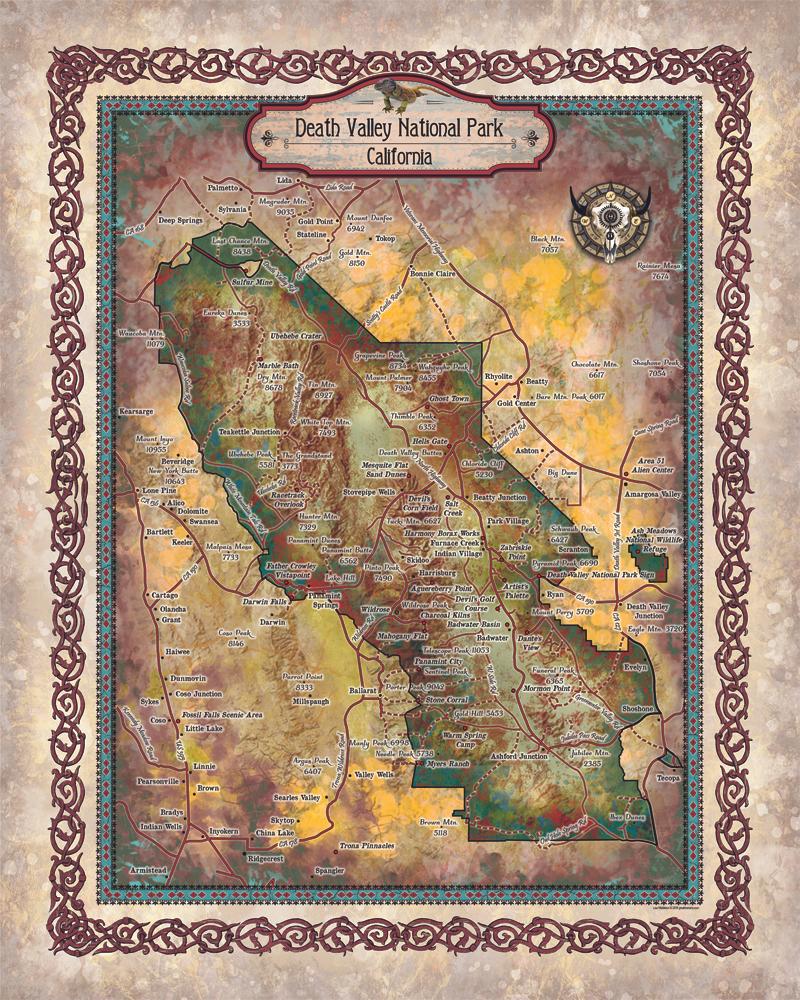 California-Nevada border, Death Valley National Park occupies a desert valley area between the arid Great Basin and Mojave deserts. It is the hottest and driest place in America, and the lowest of all the national parks in the lower 48 states. Covering 3.3 million acres, this park features salt-flats, mysterious rocks, sand dunes, badlands, colorful sandstone canyons and mountains. This land of extremes offers many breathtaking sites across its expanse.
Situated at the south end of the park, Badwater Basin is 277 feet below sea level and the lowest point of land in North America. This scorching basin features vast white salt flats that cover nearly 200 square miles. Badwater never dries out fully, and support a unique species of small bluish fish called the Death Valley pupfish.
The Race Track is a scenic dry lake, characterized by dried beige colored mud, at least 1,000 feet thick, and is known for its mysterious moving stones. These stones vary in size and appear to have long tracks trailing behind them, giving the impression that they have been pushed through the mud.
Looking out over a dreamlike landscape of wavy, unique hard-packed ridge formation of gold, orange and brown earth, Zabriskie Point offer spectacular views of the valley and the Panamint Mountains.
Overlooking Death Valley is Dante's View, a 1,669 meters high viewpoint terrace that give the best panoramic view of Death Valley. This view extends over the valley floor for miles, across Badwater Basin and the mountains lining the far side of the valley.
Artist's Palette is an area located along Artist's Drive, a one-way, nine-mile paved loop. It is a colorful section of hillside, with a blend of multiple colors including, orange, pink, brown, green and turquoise created by metals in the rock.
Situated south of Furnace Creek, Devil's Golf Course is a flat expanse of sharp salt crystals that form a huge field of jagged salt boulders. This vast area of solitude offers an unusual sight.
Twenty Mule Team Canyon is a 2.7-mile one-way dirt road bounded in particular sections by rock walls, barren flats and vibrantly colorful hills that make for incredible scenery.
Located at the north end of Death Valley, the Ubehebe Crater is roughly half-mile wide and 400 feet deep. It is formed from a volcanic explosion and the ground is dark, featuring lava flows and cinders.
Death Valley is nature untamed, spectacular and awe-inspiring.