Travel Tuesday Map: Adirondack State Park, New York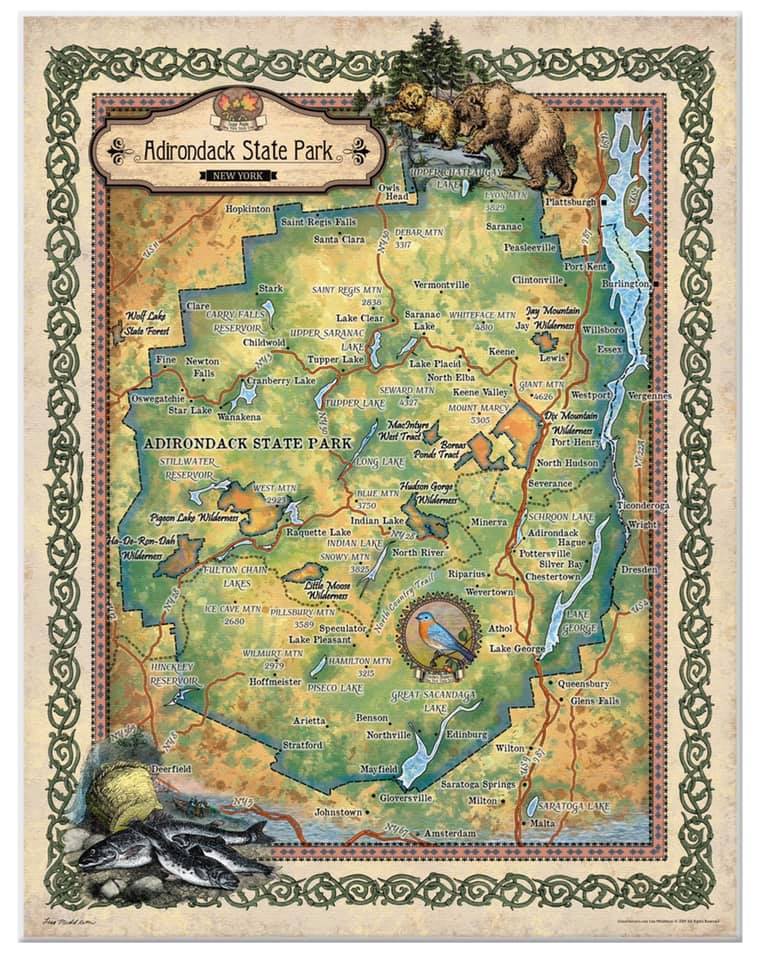 Among the many beautiful state parks in New York is the Adirondack Park. It was created in 1892 and is known for its diverse landscape that features pristine waterways, towering mountains and boreal forests. It's earliest known human inhabitants were Paleo-Indians, evident from sites found around the region dating to 9,000 B.C. Escaping the chop of wide-spread deforestation, in 1894, the Adirondack Forest Preserve was created and designated a constitutionally protected Forever Wild area aimed "to preserve the exceptional scenic, recreational and ecological value." The Adirondack Park encompasses the largest publicly-protected wilderness area east of the Mississippi.
Some 2.6 million acres of the park are owned by New York State, while private ownership constitutes the remaining 3.4 million acres, allowing conservation efforts and development to thrive at the same time. The state-owned portion of the Adirondack Park is made up of state-designated areas, such as wilderness, primitive, wild forest, canoe, historic and state administrative lands. On the privately owned portion that includes towns, timberlands, camps, farms and businesses, the land use is regulated by the Adirondack Park Agency.
The Park's waterways are vast and primal with 3,000 lakes and ponds, along with 30,000 miles of rivers and streams. Freshwater wetlands in the Adirondacks include marshes, fens, bogs, open river corridors and swamps. Within the park are the Adirondack High Peaks that comprises of the 46 tallest mountains in Adirondack Park, boasting Mount Marcy as the highest point in the entire state of New York, climbing 5,343 feet, with an isolation of 130 miles. Between the forested wetlands of the park is the mixed wood forest that features trees such as Red Spruce, Red Maple, Eastern Hemlock, Balsam Fir and Yellow Birch. The northern hardwood forest is dominated by deciduous trees, like the Sugar Maple and the American Beech. A variety of shrubs, wildflowers mosses and ferns can be found in both areas as well.
There are a variety of wildlife in the Adirondack State Park, that includes numerous species of birds, mammals, reptiles and amphibians and butterflies. Summer resident birds include raptors, ducks, the park's iconic Common Loon and the warbler songbirds. Winter birds include the Black-capped Chickadees, Blue Jays, Red-breasted Nuthatches and Golden-crowned Kinglet. Mammals that flourish in the park include moose, American Black Bears, beavers, Snowshoe Hares, Red & Gray Fox and river Otters, just to name a few. Butterflies and moths are the most dominant species of invertebrates in the Adirondack, notably the Eastern and Canadian Tiger Swallowtail and American Lady, and the Luna Moth and the hummingbird-like Hummingbird Clearwing respectively.
The Adirondack State Park offers incredible outdoor recreation experiences, such as authentic wilderness adventure, multi-skilled level hiking, boating, fishing and alpine and cross-country skiing and wildlife watching. This scenic piece of paradise is a place where you can have fun and make incredible memories.